My kids and I picked up some round and flat rocks on a recent nature walk and turned them into an adorable pet rock lion craft.
They are super cute to have on display on a shelf or dresser or can even be used as a paper weight on a desk. This makes a great summer afternoon craft after getting outside and going on a nature walk with you children. If you love rock crafts, make sure to check out our patterned rock snake.
Find some fun book recommendations at the end of this post.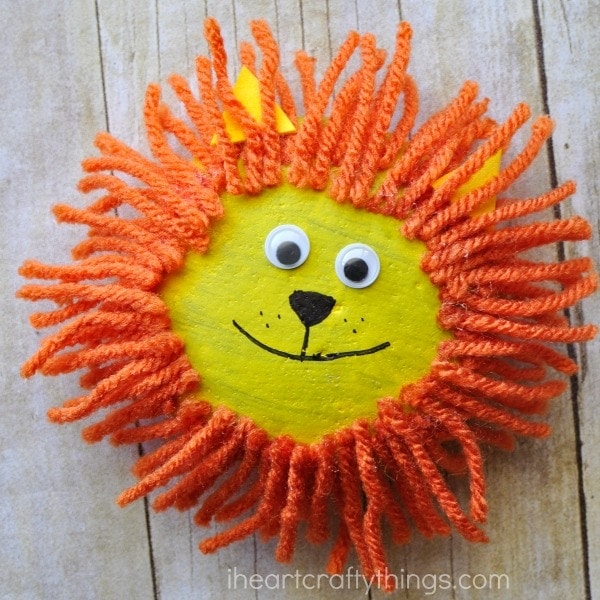 This post contains affiliate links to the products mentioned. Read our disclosure policy for more information.
How to Make a Pet Rock Lion Craft

Supplies Needed for this Pet Rock Lion
– flat & round rock
– yellow acrylic paint
– paintbrush
– orange yarn
– yellow craft foam sheet
– googly eyes
– black marker
– scissors
– tacky glue
Directions for this Rock Lion Craft
1. Start by painting the front of your flat and round rock with your yellow paint. Let it dry completely.
2. Cut up a handful of small yarn strands for your lion hair. Add a line of tacky glue around the outside edge of your painted rock and then place your orange yarn strands around your rock on the glue. Then add a second circle of tacky glue and add one more layer of lion hair to make a full mane.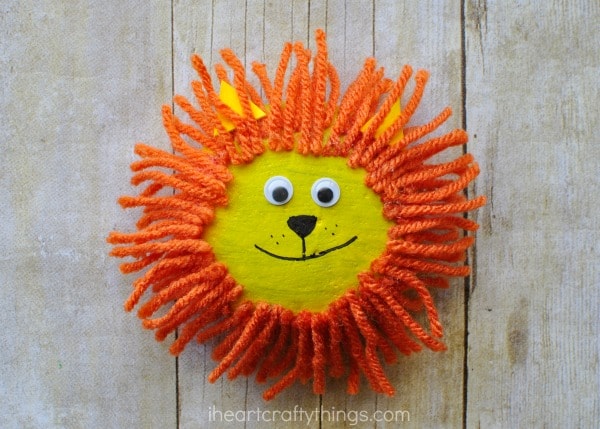 3. Cut triangle lion ears out of your yellow foam sheet and glue them underneath your first layer of yarn.
4. Finish your pet rock lion craft by gluing on googly eyes and using your black marker to draw on a nose, mouth and whiskers.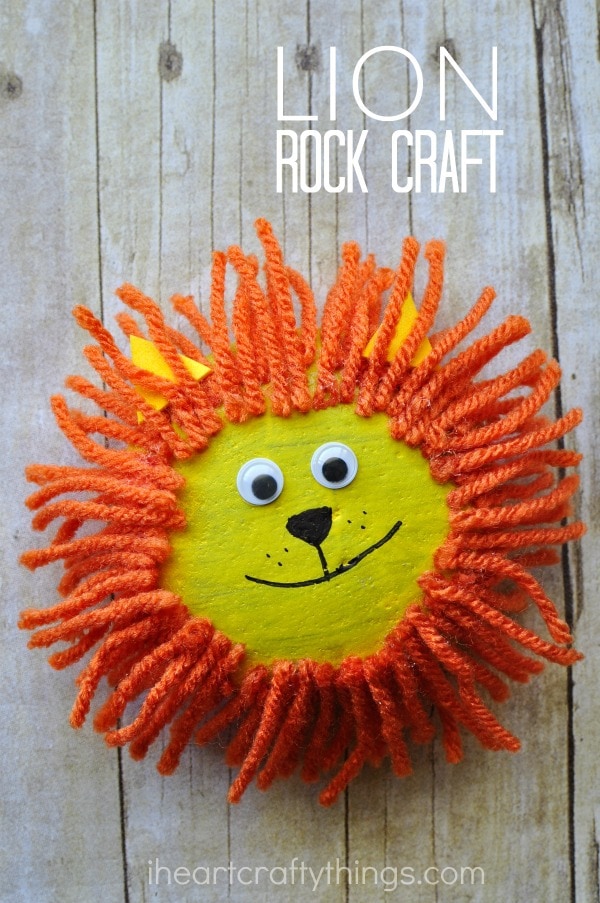 Try coupling this fun lion craft with one of these children's books:
– Tawny Scrawny Lion by Kathryn Jackson
– How to Hide a Lion by Helen Stephens
– The Gentle Lion and the Little Owlet by Alice Shirley
– The Happy Lion by Louise Fatio
– Eli by Bill Peet