Paper Plates are a staple at our house, not only for eating but also for creating. When my boys were 5 and 3, one of their favorite bedtime stories was Giraffes Can't Dance by Giles Andreae. I got it off their bookshelf the other night and reminisced for a moment of the sweet memories. Then I instantly thought, hey, this would be a fun book to make a giraffe craft with. Our paper plate giraffe was so simple and fun to make.
[This craft was originally posted on April 20, 2012.]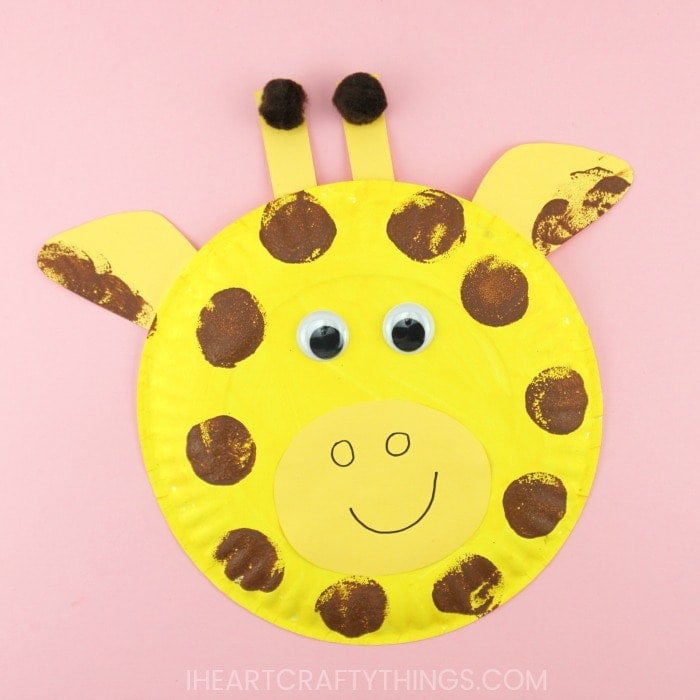 How to Make a Paper Plate Giraffe Craft
This post contains affiliate links to the products mentioned. I Heart Crafty Things is a participant in the Amazon Services LLC Associates Program, an affiliate advertising program designed to provide a means for sites to earn advertising fees by advertising and linking to amazon.com.
Supplies:
– paper plate
– yellow paint
– brown paint
– paint brush
– circular sponge brush
– yellow cardstock or construction paper
– scissors
– glue stick and/or school glue (We also love Glue Dots.)
– large wiggly eyes
– pencil
– black marker
– 2 brown pom-poms
Directions:
1. Paint the bottom of a paper plate yellow and let it dry completely.
2. On a sheet of yellow paper (I used a different shade of yellow than what we painted the paper plate), draw two ears and a large circle for the giraffe muzzle.
3. Have your child cut out all the giraffe pieces, then glue them onto the giraffe. From the same sheet of paper also cut out two small strips for the horns and glue them onto the giraffe.
4. Next glue on some large wiggly eyes and some brown pom-poms for the brown hair at the top of the horns.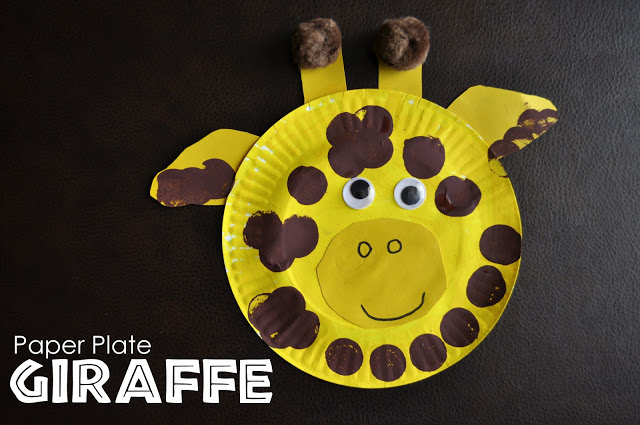 5. Draw a nose and mouth on your giraffe. We used pencil first and then traced it with black marker. It took my son a couple tries to get his nose how he wanted it so I'm glad we did it this way.
6. Use a circular sponge brush to dab the brown spots on your giraffe. My son looked at the picture of Gerald in the book and saw that he had some brown at the bottoms of his ears, so he added that too.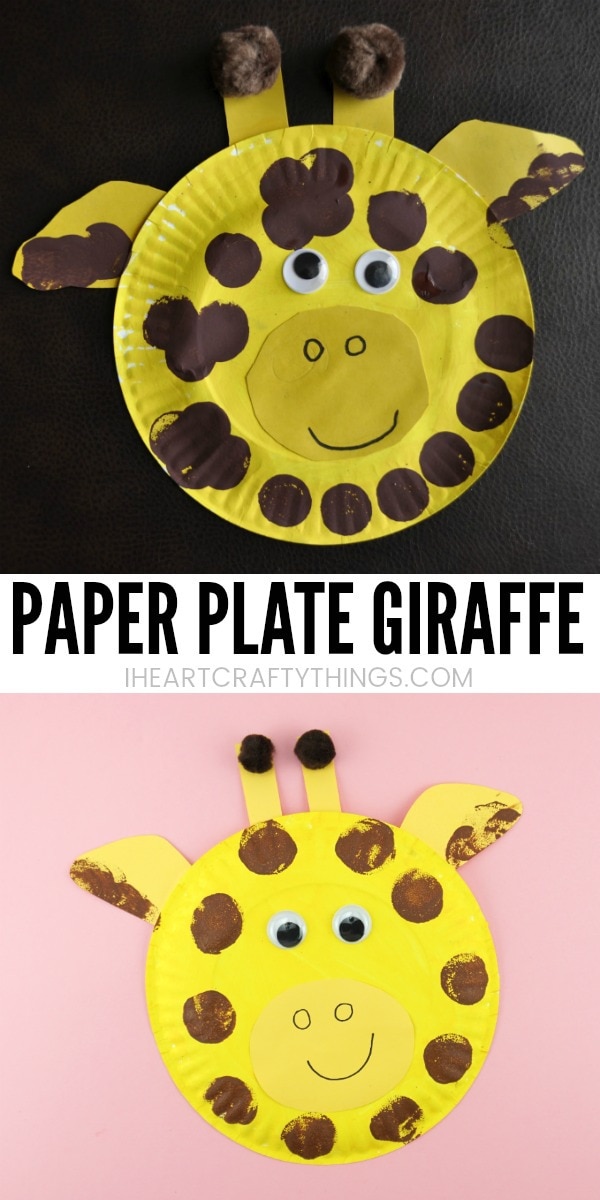 More Fun Paper Plate Animal Crafts You'll Love
Looking for more fun zoo animal crafts? Kids will love making an adorable paper plate koala craft.
Here's a fun way to use paper plate to make an owl craft. It was also inspired by a favorite children's book.
Paper plates make a great base for a fun kids mask. These paper plate polar bear masks are always a bit hit!