I've always thought it would be fun to have a pet turtle. One of my neighbors has a huge pond in her backyard and she has several pet turtles that live in it.
She often posts pictures on Facebook about what they are up to and I don't know why, but I think it's the coolest thing ever. We aren't ready for a pet turtle anytime soon, so we decided to do the next best thing, make a turtle craft.
This paper bowl turtle craft for kids is probably one of the simplest crafts ever to make and it's just simply cute.
It works great for a fun summer kids craft and there are some fun kids books you can pair with it (look for some recommendations at the bottom of this post).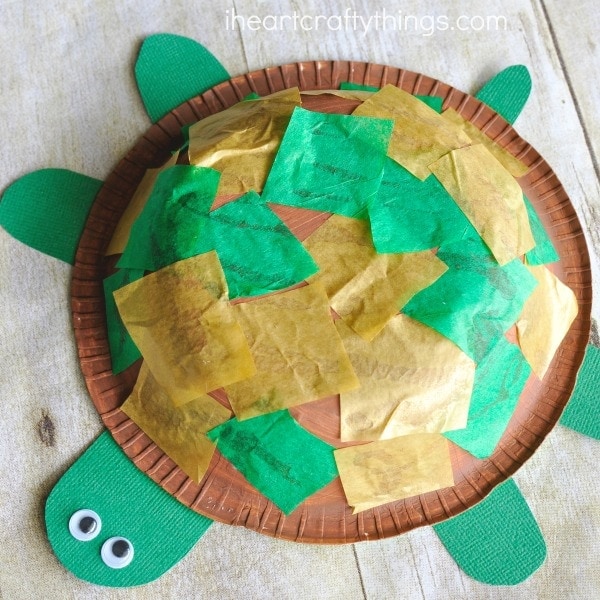 This post contains affiliate links to the products mentioned. Read our disclosure policy for more information.
How to Make a Paper Bowl Turtle Craft

Supplies Needed for this Turtle Craft
– small paper bowl
– brown paint
– paintbrush
– green cardstock paper
– green and gold (or tan) tissue paper
– googly eyes
– glue
Directions for this Paper Bowl Turtle
1. Start by painting the bottom of your paper bowl with your brown paint. Let it dry completely.
2. When your bowl is finished drying, cut out 4 legs, a head and a tail from your green cardstock paper. Glue them onto your painted paper bowl.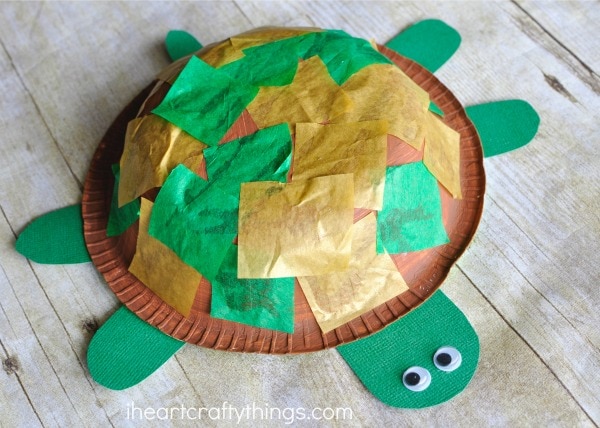 3. Cut your green and gold (or tan) tissue paper into small squares. Cover your bowl with school glue and glue the squares all over your bowl to make a turtle shell. We used gold tissue paper because we didn't have any tan but I actually love the way it looks.
4. Finish your paper bowl turtle craft by gluing your googly eyes onto the turtle face.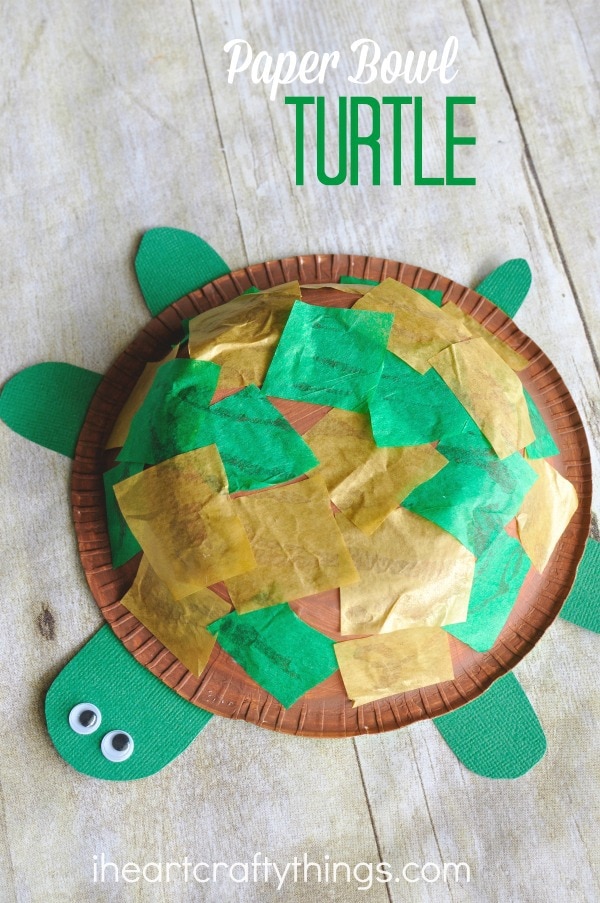 Looking for some fun turtle books to go along with this craft? Try one of these:
– Turtles in my Sandbox by Jennifer Curtis
– Franklin's Neighborhood by Paulette Bourgeois (or any in the Franklin book series)
– Turtle Splash! Countdown at the Pond by Cathryn Falwell
– Mossy by Jan Brett (Beautiful illustrations!)