When drawing, there are many tricks that one can use to create the illusion of 3D perspective on a flat page.
These techniques trick the brain into seeing a perspective that isn't there, and they can be a bit tricky to pull off.
One of these tricks is using a one-point perspective. This basically entails having an image with a single vanishing point, and it is common for images such as roads and horizons.
Learning how to draw a one-point perspective will help you to craft many different interesting scenes and landscapes, and is a great tool to have in your drawing arsenal.
By the end of this tutorial, you will know everything there is to know about replicating this trick.
We hope you have a great time as we work on this step-by-step guide on how to draw a one-point perspective.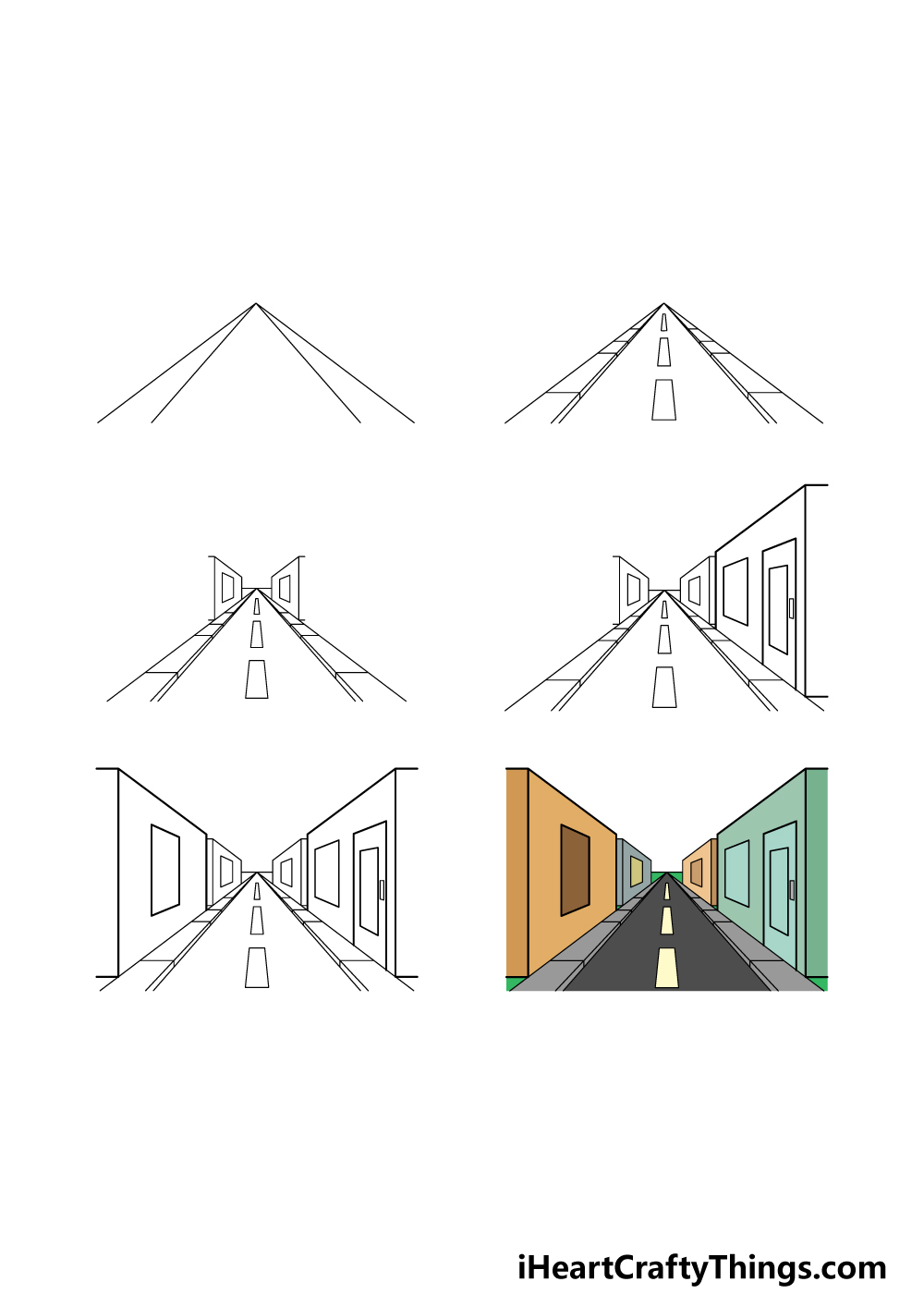 How to Draw A One-Point Perspective – Let's Get Started!
Step 1
Throughout this guide on how to draw a one-point perspective, you will definitely need a ruler on hand or you'll have a really hard time with the whole guide.
With that in mind, once you have your ruler and your favorite drawing tool we can begin with the guide.
For this first step, we will be drawing several lines, and the important aspect is that they must all originate from a single point.
Draw a dot in the center of the page, and then draw four lines moving outward.
Try your best to position them as identically to our reference image as you can, as this will serve as the street and sidewalk for the image.
Step 2 – Now, draw some details for the street
You drew the basic outline for the street in the previous part of your one-point perspective drawing, and in this next part we will be adding some more details to it.
First, you can begin by drawing some lines horizontally along the side sections of the sidewalk.
You can also draw some lines along the inner perimeters of the sidewalks, as these will give the concrete slabs a little bit of height.
Then, we will draw three rectangles in the center of the street. Each one will get progressively smaller the higher up they get, and these will further help to show the perspective of the picture.
Once these parts are all drawn, we can then move on to the third step of the guide.
Step 3 – Draw the start of the buildings on the street
The street is done now, so for the next few steps of this guide on how to draw a one-point perspective we will be focusing on the buildings lining the street.
This aspect can be a bit trickier to draw than you may expect, so this is another one where you should try to closely follow the reference image.
You can start by drawing a short horizontal line over the tip of the road where it disappears into the horizon.
Then, we will be drawing several square and rectangle shapes for the sides of the buildings and their windows.
To fit the perspective, they will be at an angle that is consistent with the angle of the sidewalks.
Step 4 – Next, draw the next section of the buildings
In this fourth part of your one-point perspective drawing, we will be adding another section of buildings.
This section will be on the right-hand side, and structurally it will be similar to the first section that you drew. Because it's much closer to the viewer, this section will be much larger than the first one.
You can add some more straight lines for a door and window for the section. Once this is done, we will finish off the final elements and details in the next step of the guide.
Step 5 – Add the final details to your one-point perspective drawing
Now you're ready to finish off the composition in this step of our guide on how to draw a one-point perspective.
In this one, we will be drawing one more buildings section that in terms of size and shape will be identical to the previous one that you just drew.
For a bit of variety, the only detail we will draw for this section will be a single window.
When you have drawn this section of buildings, you can then add any extra details of your own you may like!
These could include some signs above the doors or sky details such as clouds or the sun.
If you do add extra details, try to keep them at the correct angles in relation to the rest of the image that you have been working on.
Step 6 – Finish off your one-point perspective drawing with color
You've done a great job working on this one-point perspective drawing, and now you can relax with some coloring fun! With your image, you have a lot of options for how you could color it in.
You could use all of your favorite colors to finish it off and it would work brilliantly!
We showed you just one of the ways that you could color in your image in our example picture, but this is your chance to let your creativity flow as you finish it up.
What color scheme and art mediums will you use to bring this image to life?
Your One-Point Perspective Drawing is Complete!
You have completed this guide on how to draw a one-point perspective, and now you have learned one of the handiest tricks in drawing!
It can be a bit of a tricky technique to get right, but as long as you follow the steps in this guide then you should get the hang of it in no time!
Once you have mastered this technique, you could take what you have learned and apply it to all manner of settings that will have some realistic perspective.
What kind of setting would you like to draw with this technique?
If you had fun working on this guide, you'll want to check out our website for access to many more awesome guides. We have more on the way soon, so be sure to check out the website often!
We would also be thrilled to see how your one-point perspective drawing turned out, so please go ahead and share it on our Facebook and Pinterest pages for us to admire!