It's simply amazing the fun things you can create with newspaper! I'm beginning to lose count on all of the fun creations we've made so far. Our latest is this newspaper polar bear craft and it's perfect for a winter kids craft. It's super simple to make and the added bonus of our polar bear craft pattern makes prep time a breeze. Kids of all ages will enjoy creating this darling newspaper polar bear craft. Find some book recommendations at the end of this post.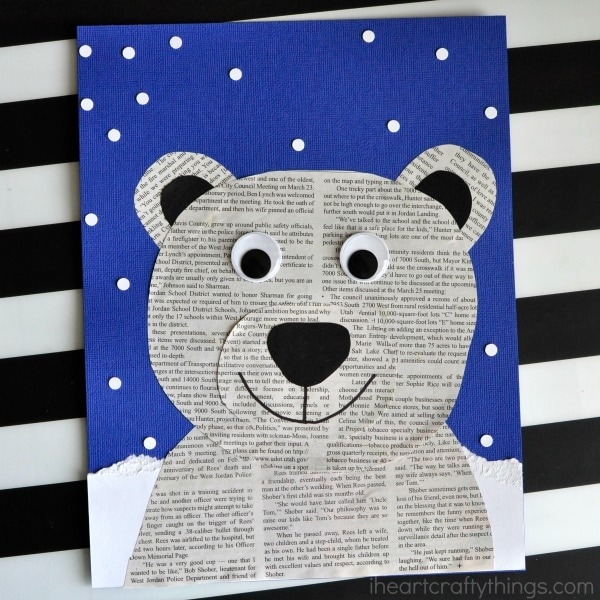 This craft was inspired by this darling polar bear art project at ARTventurous.
How to Make a Newspaper Polar Bear Craft
This post contains affiliate links to the products mentioned. Read our disclosure policy for more information.
Supplies:

Watch the full tutorial of us making this darling Newspaper Polar Bear Craft before you get started. Don't forget to subscribe to our YouTube channel so you never miss a new craft video!
Instructions:
1. Begin by cutting out several pieces from your newspaper to make your polar bear. Start with a large circle for the polar bear head. Another half circle for the the polar body body. Two ears and circle/oval shape for the polar bear muzzle.
2. From your black cardstock cut out two half circles for the ears and a nose.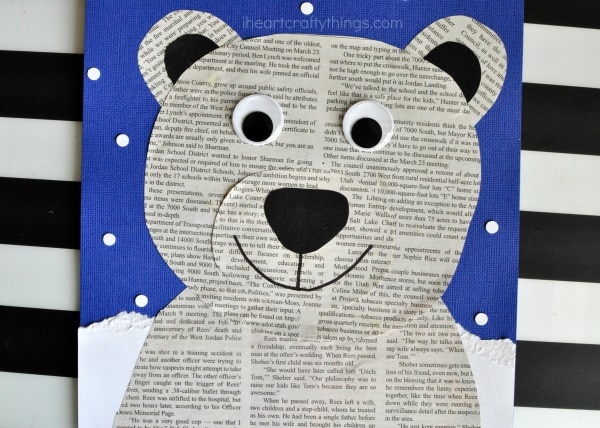 3. Tear a piece off of your white cardstock and glue it to the bottom of your paper for the arctic snow.
4. Glue the polar body at the bottom of your page, on top of the snow. Then glue the black nose inside the muzzle and the black inside ear pieces onto the ears. Glue the muzzle on the polar bear face and the ears at the top of the polar bear face.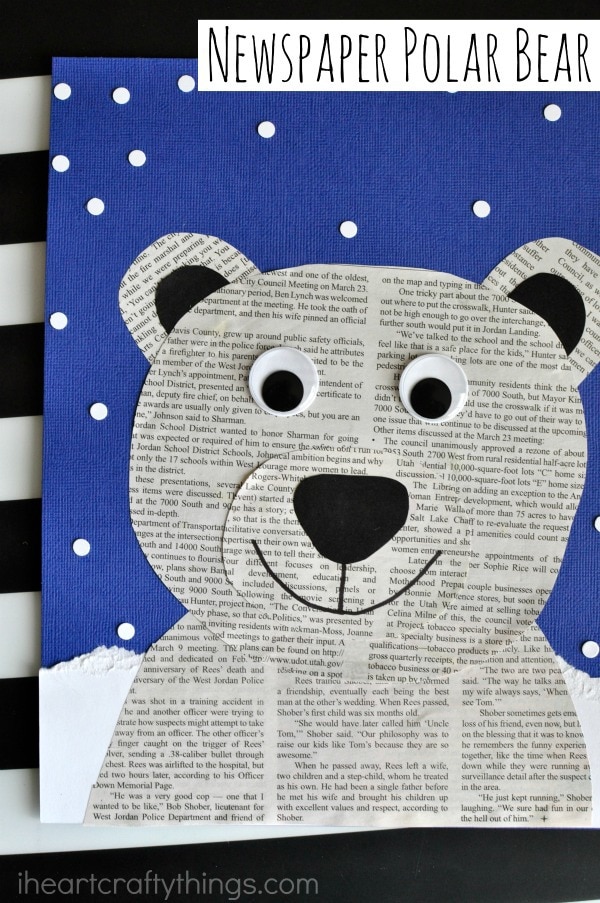 5. Glue the the polar bear face on top of the polar bear body. Now glue on the googly eyes. Draw a mouth on your polar bear with your black marker.
6. Use your hole punch to punch out several white circles. Finish your newspaper polar bear craft by gluing the snow all around your polar bear.
Pair this craft with Children's Polar Bear Book:
– Polar Bear, Polar Bear, What Do You Here? by Bill Martin Jr. and Eric Carle
– The Three Snow Bears by Jan Brett
– Bed Time for Little Bears by David Bedford
– Polar Babies by Susan Ring