We recently shared how simple it is to make a raccoon out of newspaper and now we are super excited to share how easy it is to create a newspaper fox craft.
Woodland animals are a popular theme during the fall season. While these types of animals are not approachable out in the wild, they sure are adorable to look at and also to craft. This cute newspaper fox craft combines using recyclable materials and painting with watercolors so you are in store for an afternoon full of crafting fun.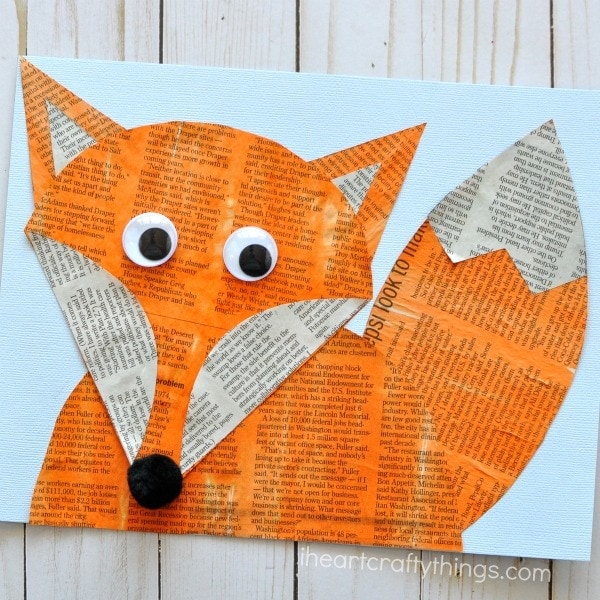 How to Make a Newspaper Fox Craft
This post contains affiliate links to the products mentioned. Read our disclosure policy for more information.
Supplies needed for this Newspaper Craft:

NOTE: If you are in the EU, please visit our TpT Store to purchase any of our templates.
Newspaper Fox Craft Instructions:
1. Begin by painting a sheet of newspaper with orange watercolors. We love using liquid watercolors for this to achieve bright colors. Your newspaper will be saturated but let it sit to dry completely and it will crisp back up as it dries.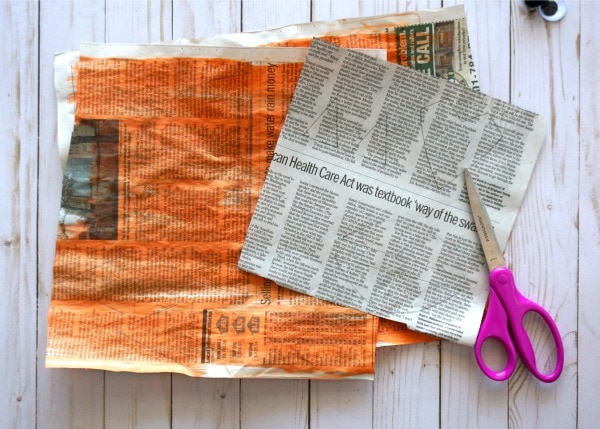 2. You'll need to cut out several different pieces from your newspaper for your newspaper fox craft. To make the process simple we have a pattern available for purchase in shop.  (We appreciate your support as it helps to run our website!)
As you can see pictured below, from your painted newspaper you'll need to cut out a fox face, body, tail and two triangle ears. From non-painted newspaper you'll need to cut out strips for the fox face, two small triangles for inside the ears and a piece for the end of your fox tail.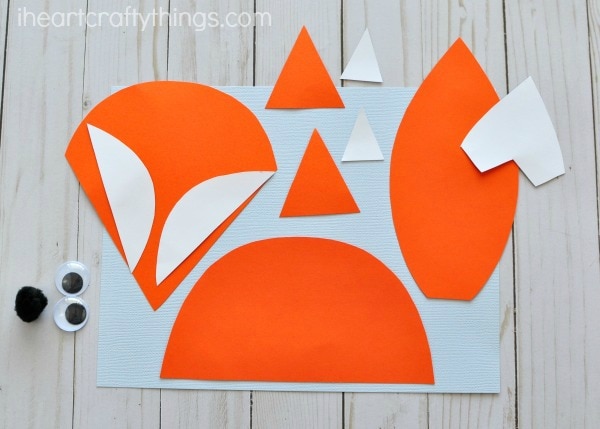 3. Glue the non-painted newspaper pieces onto the corresponding orange newspaper pieces. Do this by gluing the small triangles inside the fox ears. Then glue the face strips on the fox face. Lastly, glue the end of the tail onto the orange fox tail.
4. Arrange your pieces together on your light blue cardstock. Glue the tail onto your cardstock. Then glue the body in front of the tail. Glue the ears onto the back of the fox face and then glue the face onto the fox body.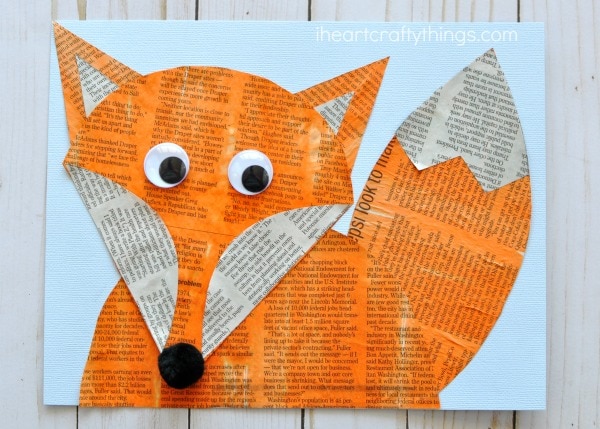 5. Finish your newspaper fox craft by gluing googly on the fox face and then a 1-inch black pom at the bottom of the fox face.
Your Cute Fox Craft is complete!
Looking for more fun newspaper animal crafts?
This newspaper raccoon craft would pair along great as another woodland animal. This newspaper polar bear craft makes a fabulous winter craft!