Monsters, Inc was a film that thrilled animation lovers of all ages upon its release in 2001. Since then, the characters and concepts from this classic Pixar film have been featured in a prequel, TV series, video games and more!
The two main characters are the intimidating yet kind-hearted Sulley and his sarcastic and intelligent friend Mike Wazowski.
Mike has become one of the most popular characters created by Pixar, thanks to his simple yet effective design and fast wits.
Fans around the world like to learn how to draw Mike Wazowski so that they can put him in some unique situations!
If you love this character, then you'll have a ball with this step-by-step guide on how to draw Mike Wazowski!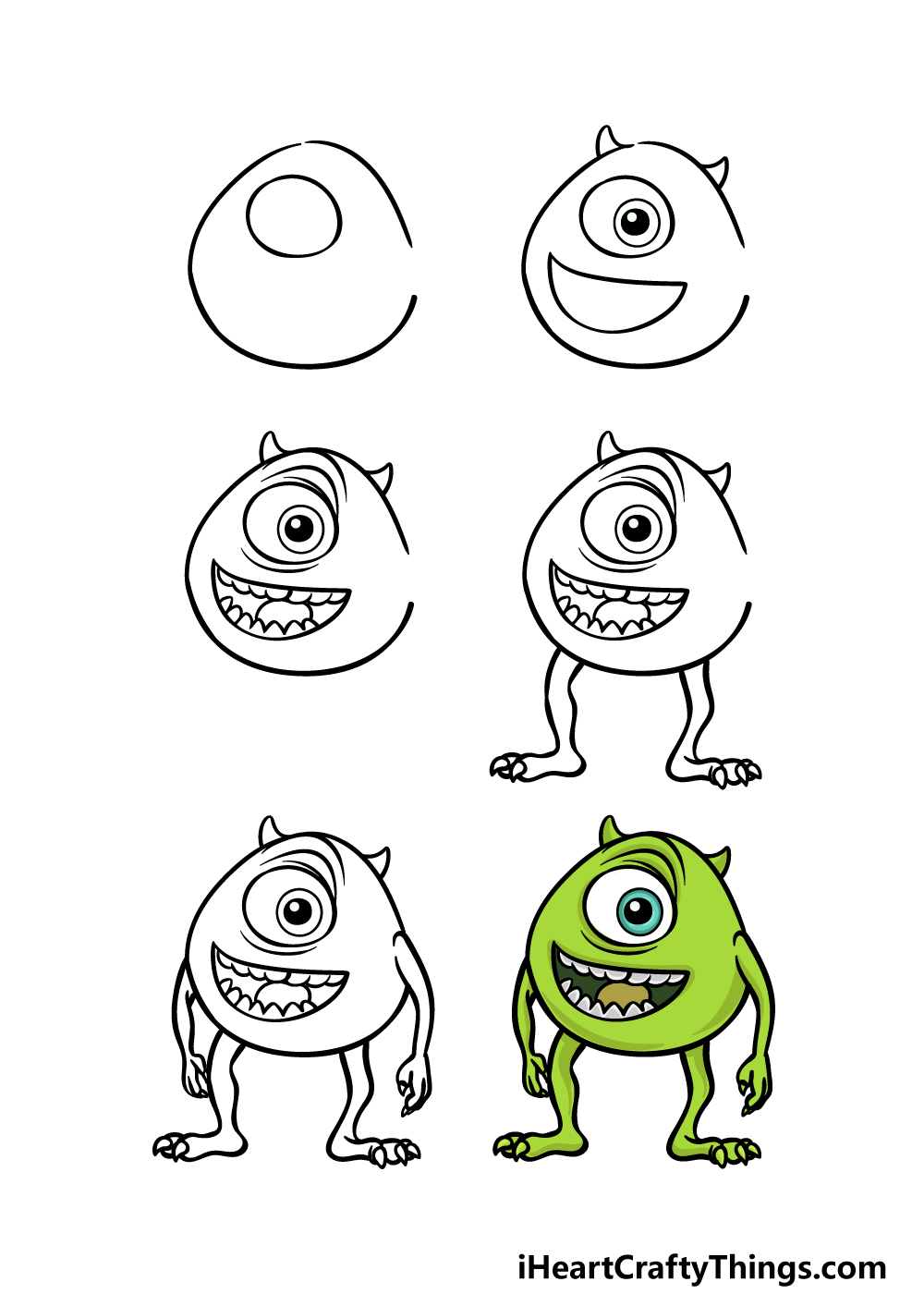 How to Draw Mike Wazowski – Let's Get Started!
Step 1
Mike's body is small and round, and it also functions as his face and head! We will start with the outline for his body in this first step of our guide on how to draw Mike Wazowski.
Mike's body shape would be best described as 'egg-shaped,' however it is quite a squat egg shape. Using some curved lines, you can draw the slightly narrower top of his body and then add the wider base for it.
One of Mike's most distinguishing features is his single large eye, and we will be drawing that now as well.
Much like his body, his eye is not a perfect circle. It is instead a slightly flattened oval shape, and you can add it near the top of his head.
Once you have finished all of these details, you will be ready for step 2!
Step 2 – Next, draw some eye and head details
With his body outline drawn, we shall start working on some eye and head details for this part of your Mike Wazowski drawing.
First, we shall focus on his eye. To do this, simply draw a medium-sized circle inside of his eye. Then draw a solid black circle inside of it with a tiny white circle for the glint in his eye.
Next, we will be drawing his mouth. Use a flat yet slightly curved line for the top of it, and then draw an arcing curved line beneath it.
Finally, we shall finish off this step by adding his two little horns on top of his head with some small, curved lines that have a dulled tip on top of them.
Step 3 – Add even more facial details in this step
For the third part of this guide on how to draw Mike Wazowski, we will be adding even more detail to his face. Once again, we shall start with his eye. Start by drawing a curved line underneath it.
Then, we shall be adding some more lines above his eye to give it a more wrinkled look around it.
Once you have finished with the eye area, we will then add some detail to his mouth. First, use some curved lines on the upper and lower edges of his mouth for his sharp teeth.
Between them, we will add a round shape for his tongue sitting there. Then it's on to step 4!
Step 4 – Now, draw the legs for Mike
Mike's starting to look like the monster that we know and love now! He still needs some limbs, so we shall add them in this and the next step of your Mike Wazowski drawing.
He has two rather spindly legs, and he has some sharp little claws at the ends of his toes.
You can use some curve lines for his leg outlines, and as you can see in the reference image they will be facing opposite directions.
Step 5 – Finish off your Mike Wazowski drawing
Now it's time to finish off this picture so that you will be ready for some coloring fun in the next step of our guide on how to draw Mike Wazowski.
We will be finishing him off by adding his arms hanging at his sides. Use some more curved lines to draw his thin arms hanging down, and add some sharp nails to the ends of his fingers as well!
You could also change the positioning of his arms for different poses. Maybe one of his hands could be holding a microphone, as Mike enjoys doing stand-up comedy!
If you're feeling ambitious, maybe you could look up some pictures of his best friend Sulley and draw him hanging out with Mike.
These are just a few ideas, but there are so many ways you could add some fun touches to this image. We look forward to seeing your creative touches!
Step 6 – Finish off your Mike Wazowski drawing with some color
We will now finish this Mike Wazowski drawing off with some color. Mike tends to stand out, as he has a bright green color scheme to compliment his unique design.
In our reference image, we went with his classic coloring, but even when sticking with green there are ways to make this image more dynamic.
We used a combination of dark and light greens to create a shading effect for Mike, and you could use this as a guide if you would like to do a similar effect.
If you would like to Make the colors nice and bright, you could use some colored markers or acrylic paints to color him in and make him pop off the page.
That is just a suggestion, however, so which colors and mediums will you use for Mike?
Do this to take your Mike Wazowski drawing to the next level
Let's make your Mike Wazowski sketch even better with these fun tips to try!
This drawing of Mike Wazowski shows him in his most standard appearance, but he will occasionally have some accessories and items of clothing. These could be added to the drawing!
For example, he will sometimes wear a blue cap in the movies along with a few other items of clothing.
You could use clothing from the movies, or you could show how else you would like to dress this character!
What sorts of looks could you create by adding some clothes for Mike?
In the movies, Mike Wazowski is often joined by other colorful monster characters. These would also be fun to add to the drawing, and you would have so many to choose from!
The most obvious choice would be to add Mike's best friend Sully standing next to him, as these two characters are inseparable.
That would be one option, but you should feel free to add any other characters that you like from the movies!
You can also change a few details on the character himself to add a different look for your Mike Wazowski drawing. There are a few ways that you could do this, such as changing the pose that he is in.
Right now, he is in a simple standing pose, but you could have him running, jumping or dancing instead. Or, you could show what emotion he is experiencing by changing his facial expression.
Even small changes like these can make the drawing look really different and unique!
Finally, you could add a background to your Mike Wazowski sketch to finish off the scene. There are a few different approaches you could take when adding a background.
One would be to use a scene that you like from the movies. You could replicate the background in order to recreate the scene that you like.
Or, you may prefer to draw an entirely unique background setting of your own design to take Mike on a new adventure!
Your Mike Wazowski Drawing is Complete!
All of the details are complete and the colors filled in for this lovable monster, and that means that you have successfully completed this guide on how to draw Mike Wazowski!
Even though he seems to have a rather simple design on the surface, he can still be a bit tricky to draw. Hopefully by using this guide you found it to be easy and lots of fun!
We have many more guides on our website, and many of them deal with other awesome characters from film, cartoons and even anime, among many others.
We update the list of guides often, so be sure to keep checking it out!
Once you have finished this Mike Wazowski drawing, we would love to see how you represented this character! You can show us by sharing your artwork on our Facebook and Pinterest pages.