All you need is two silver paper plates, our koala printable template and a little creativity and kids will have this adorable koala craft whipped up in no time at all!
Read our simple how-to instructions for making this cute koala craft below and then watch a full video tutorial near the bottom of this post.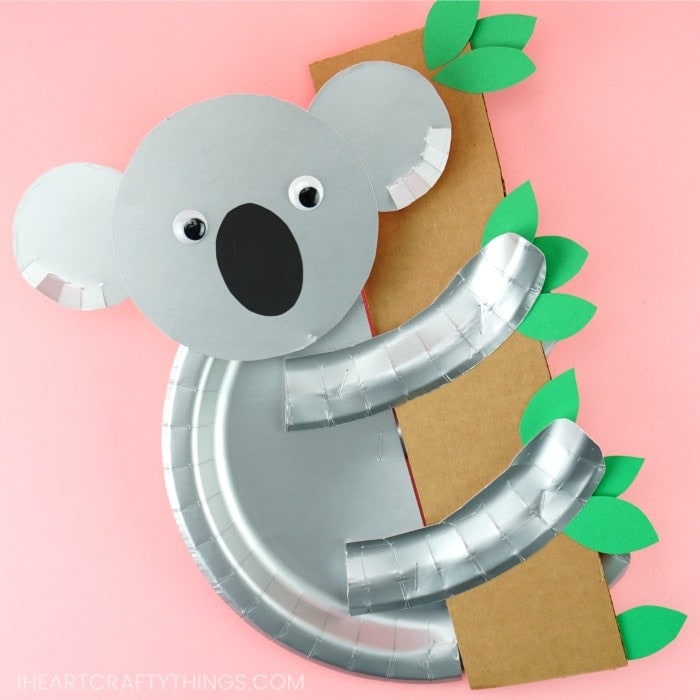 Koalas are adorable creatures! This cute animal craft would go along great with a unit about Australia and is perfect for preschoolers and elementary-age children.
Whether you make this paper plate craft at home or school, kids are going to love it!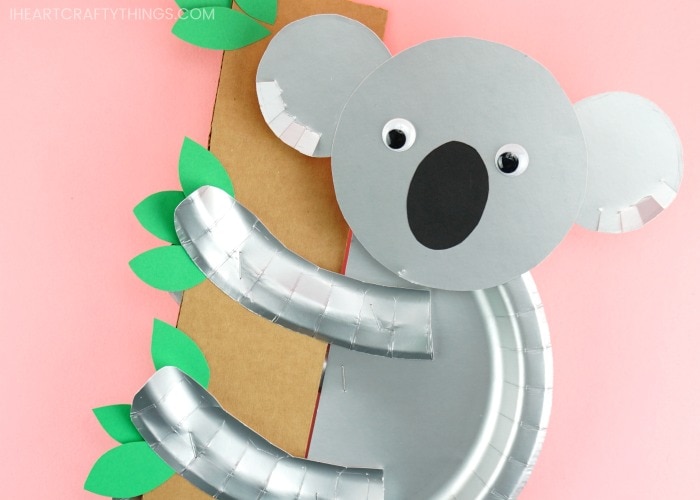 Paper Plate Koala Printable Template
This post contains affiliate links to the products mentioned. Read our disclosure policy for more information.
Supplies Needed for Koala Craft
Instructions for Making a Paper Plate Koala
Step 1: Start by downloading and printing out the koala printable template. Cut out each of the pieces of the template.
Step 2: Trace the koala face template on the back and center of a silver paper plate. Cut a slit on each side of the paper plate (dividing it in half) until you reach the circle you traced. Cut out the koala head making sure to keep the rim of the paper plate intact.  See pictures below.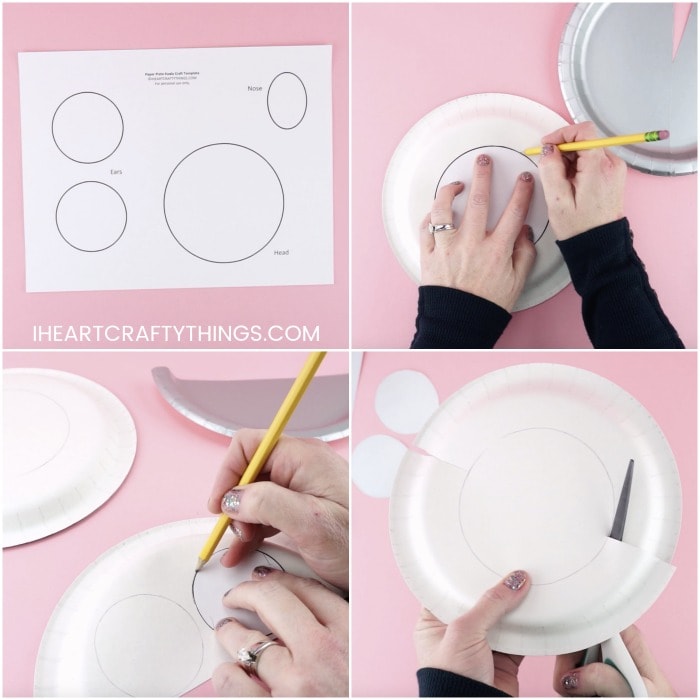 Step 3: Cut out along the rim of the two paper plate pieces, removing the excess center from the paper plate. Then cut each of those sections in half to create the koala arms and legs. Use scissors to cut a rounded edge on each of the sloth legs.
Step 4: Cut a second silver paper plate in half. Trace the two koala ear templates on the back of one of the paper plate halves. Then cut out the two ears.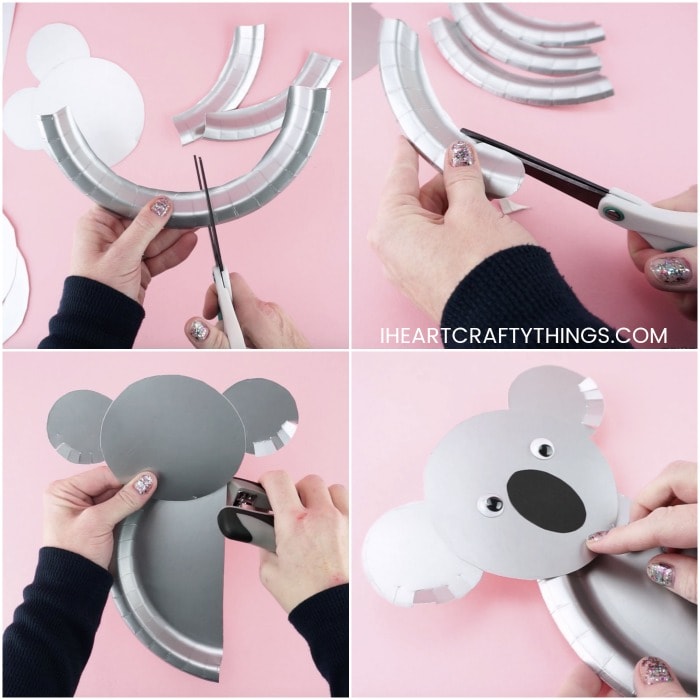 Step 5: Glue the two ears onto the koala face. Cut slits along the bottom of each ear and bend them up and down to create fur texture to your ears.
Step 6: Use a stapler to attach the koala head onto the top of the second paper plate half.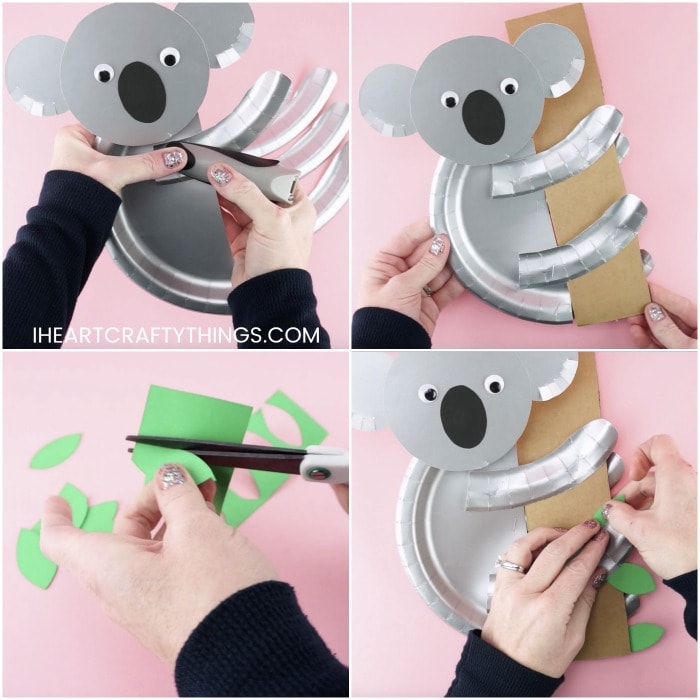 Step 7: Use the printable template to cut out a koala nose from black cardstock or construction paper. Glue the nose and two googly eyes on the koala face.
Step 8: Staple the koala arms and legs onto the sloth body. Make sure to staple one arm and leg on the front and back of the paper plate to add dimension to the craft.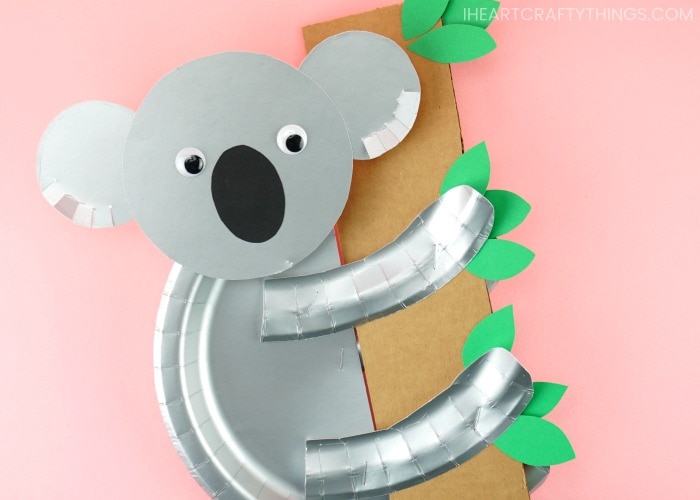 Step 9: Cut out a section of cardboard for a tree branch. Use a stapler to staple it between the koala arms and legs so it looks like he is hanging from a tree branch.
Step 10: Cut tree leaves from green cardstock paper or construction paper. Use a glue stick to glue each of the leaves around the tree branch.
Make sure to tuck some leaves under the legs and glue some on the back of the tree branch to add extra dimension to the craft.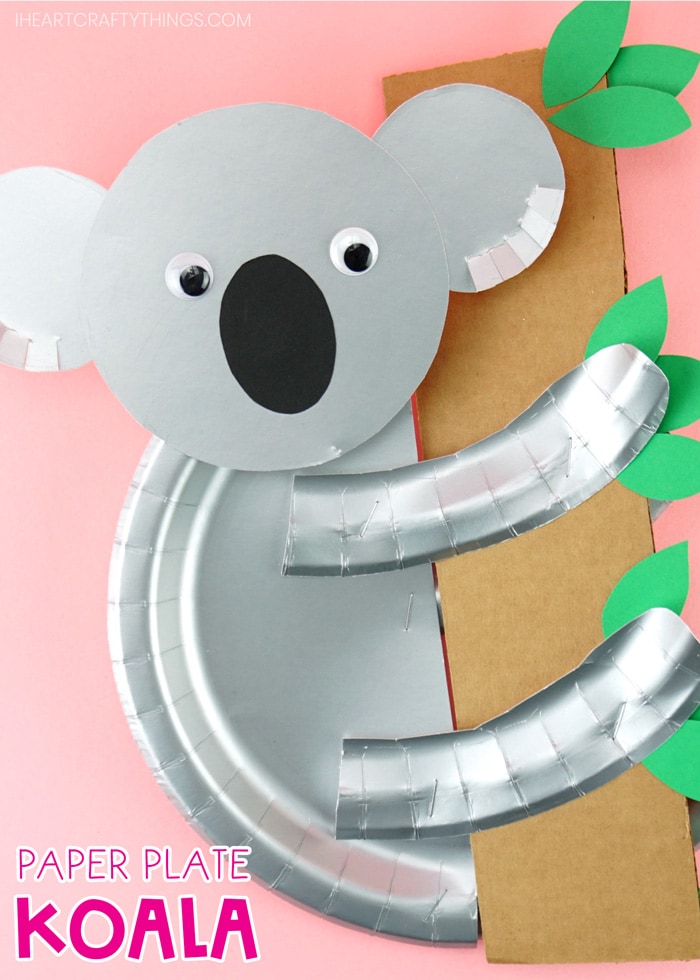 Video Tutorial: How to Make a Paper Plate Koala Craft
Watch the video below for a step by step guide on how to use our koala printable template to make this cute paper plate craft.
Find more easy paper plate crafts and animal craft ideas by browsing the categories at the top menu bar of our website.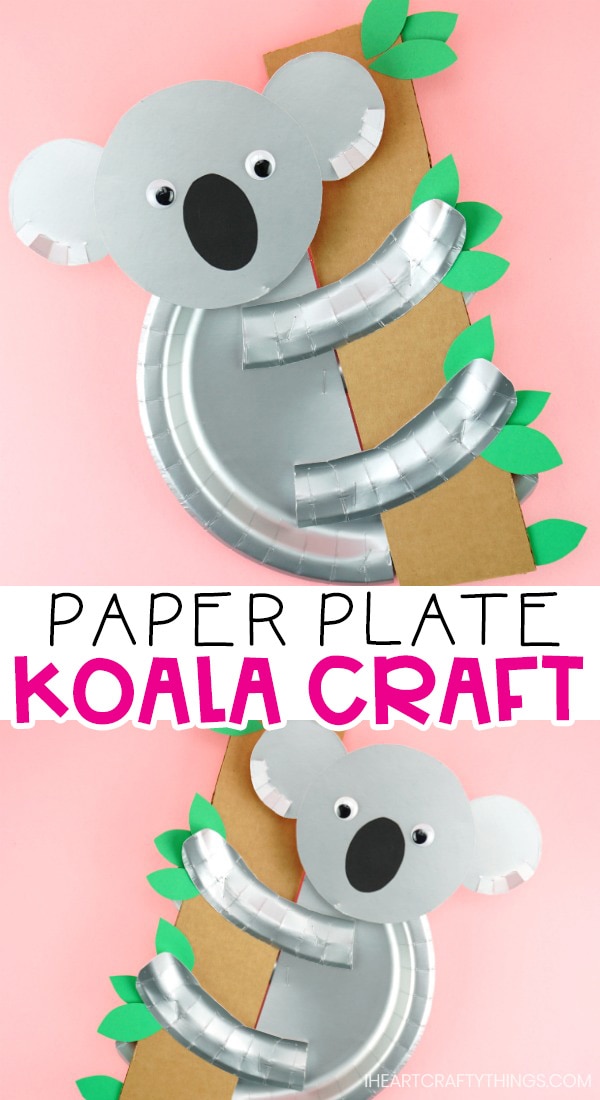 More Fun Paper Plate Animal Crafts
This paper plate giraffe craft is super easy to make and is oh so cute! Toddlers and preschoolers will love making it.
Littles ones will have a blast making this cute paper plate owl craft and it combines great with the book The Little White Owl by Tracey Corduroy.
Our friend Katie over at The Craft Train has another cute Australian animal craft your kids will love. Head over to see how to make a paper plate ringtail possum craft.
Looking for even more animal craft fun? Check out this list of over 20 fun paper plate animal crafts.