For such a prickly little creature, it's hard to believe that a hedgehog can be so cute! They may not be fun to pat on the back, but these adorable critters have still worked their way into many hearts.
There's even a famous video game hedgehog character in Sonic! Their popularity has people wanting to learn how to draw a hedgehog.
If you are one of these people, then we are here to help you!
This step-by-step guide on how to draw a hedgehog in just 6 easy steps will have you creating a prickly pal before you know it!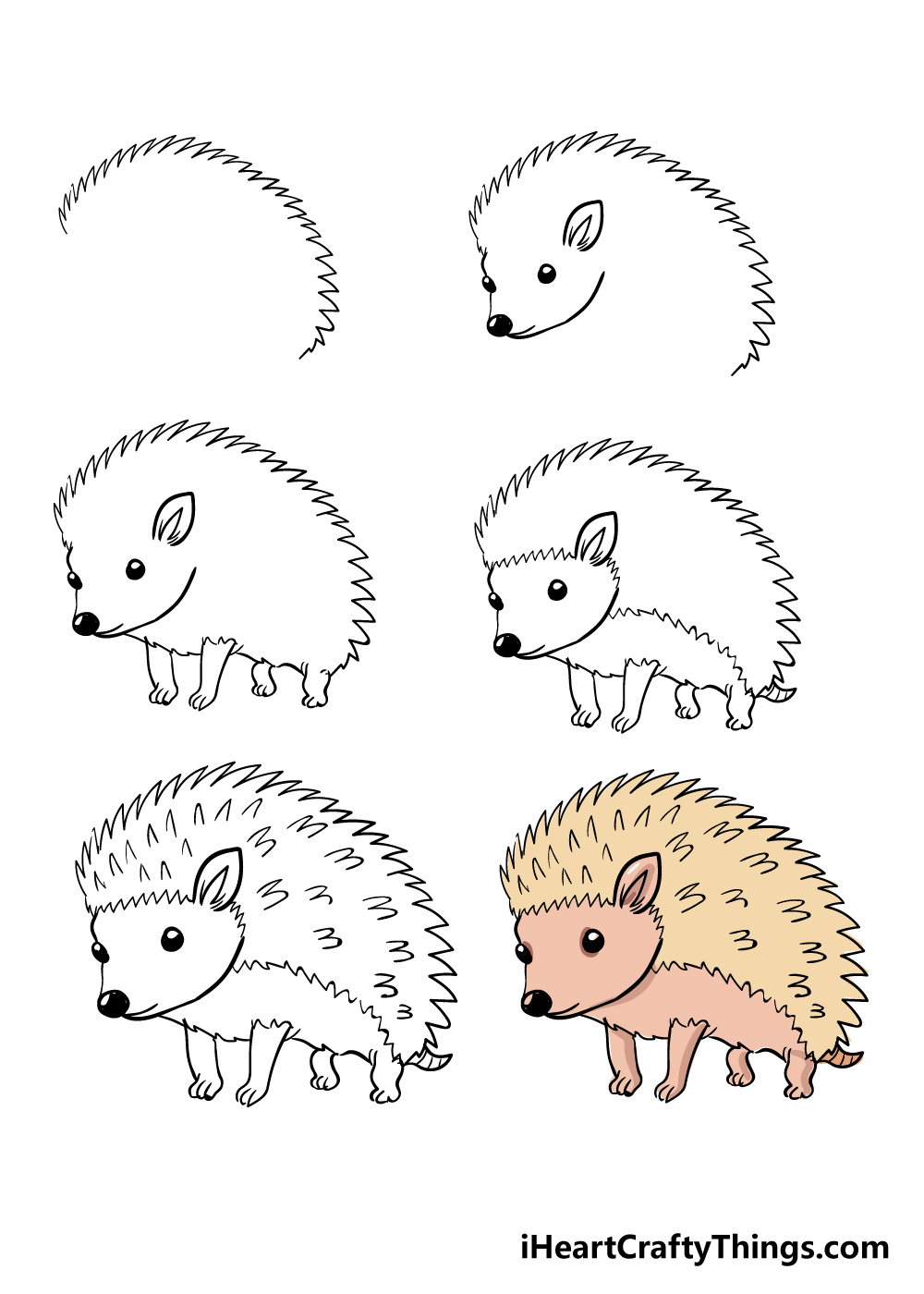 How to Draw A Hedgehog – Let's get Started!
Step 1
The hedgehog is known for its prickly back, so it's only fitting that we shall start with that for this guide on how to draw a hedgehog.
To do this, simply draw a line that curves quite sharply in on itself. This will be no ordinary line, however, and you can draw it with some sharply jagged edges.
It will make sense when you refer to the reference image!
As we mentioned, this will form the back of your hedgehog, so we shall move on to the next step.
Step 2 – Draw a face for your hedgehog
A hedgehog may be kind of prickly, but they more than make up for it with their adorable faces! For that reason, we shall add a face in this step of our guide on how to draw a hedgehog.
The face will be drawn onto the left-hand side of the curled-up body that you drew in step 1. You can create the face with some long, smooth lines to create a pointed snout.
The eyes will then be drawn with two round, black dots that also have a smaller white dot in each one.
The nose will also be drawn with a simple black-filled circle. Be sure to extend a slightly curved line from the nose for a smiley mouth!
Finally, you can use some more curved lines to create the pointy ear that you see in the reference picture.
Step 3 – Now, we shall add some little legs and a belly to your hedgehog
In this part of our guide on how to draw a hedgehog, we shall be drawing some cute little legs onto the belly of your hedgehog.
You can use some simple, straight lines to form some short little legs, and then add some little paws to the end of them.
The legs at the front will be a bit longer than the ones at the back, which are quite short. Finally, you can use some more jagged lines between the legs to form the furry belly of your hedgehog.
Once you're happy with how it looks, we shall move on!
Step 4 – Add some more prickly details to your hedgehog drawing
Your hedgehog drawing isn't looking quite prickly enough, so we shall fix that in this next step! First, you can use some sharp, jagged lines to create an outline for the face.
Then, you can use some similar jagged lines from the underside of the face all the way to the back of the hedgehog.
Once you have these prickly lines drawn, be sure to add a little tail at the back!
Step 5 – Now, you can add in the final details for your hedgehog drawing
Before you start coloring in your prickly friend, we have a few more details to add in this guide on how to draw a hedgehog.
To add even more prickly detail to this little guy, you can add lots of sharp little lines inside the back outline to create some spikes. You can vary the sizes of these a bit for some variation.
These are the final details that we added, but this is your drawing and you can add any extra ones that you like!
I think that it would make this drawing even better if you drew a beautiful background for it. Maybe you could add some more animal friends for it as well!
What extra details and touches can you think to add to your hedgehog drawing?
Step 6 – Finish off your hedgehog drawing with some color
You have successfully reached the final part of your hedgehog drawing in this sixth step!
You've done a great job drawing this cute critter, but now it's time to take it easy and express yourself with some beautiful colors. As you can see in our reference image, we used a brown and tan color scheme for our hedgehog.
These are colors that you can use for a more realistic look, but you shouldn't be afraid to experiment with more vibrant and stylistic colors.
If you drew a background, then you can also incorporate some nice colors into that.
Drawing some flowers around the hedgehog would be a great way to inject some color into the proceedings if you keep the colors of the hedgehog more muted.
You can also have some fun experimenting with different art mediums! Watercolor paints and colored pencils are great for a more muted, subtle look, whereas acrylic paints and colored pens are great for bright vibrancy.
What colors and art tools will you choose to finish off your image?
Your Hedgehog Drawing is Complete!
We hope that you had a lot of fun drawing this new animal friend alongside us in this guide on how to draw a hedgehog!
We created this guide to make sure that learning how to draw one of these creatures is not only much easier but also very enjoyable.
We hope that we achieved both of these goals for you, and that you discovered how easy it can be to draw a hedgehog!
Now that you can create a wonderful hedgehog drawing, you can take over from here and show us how creative you can be.
We can't wait to see what backgrounds, extra elements and colors you choose to bring it to life!
The fun continues on our website…