Making handprint art is such a special treat! I had so much fun helping my daughter make this handprint heart tree craft this past weekend and I am excited to share it with you. I adore how the paper hearts pop off the page giving the tree a 3-dimensional look. This darling handprint heart tree craft makes a perfect Valentine's Day craft or can also be made for a special Mother's Day craft to give to Mom or Grandma.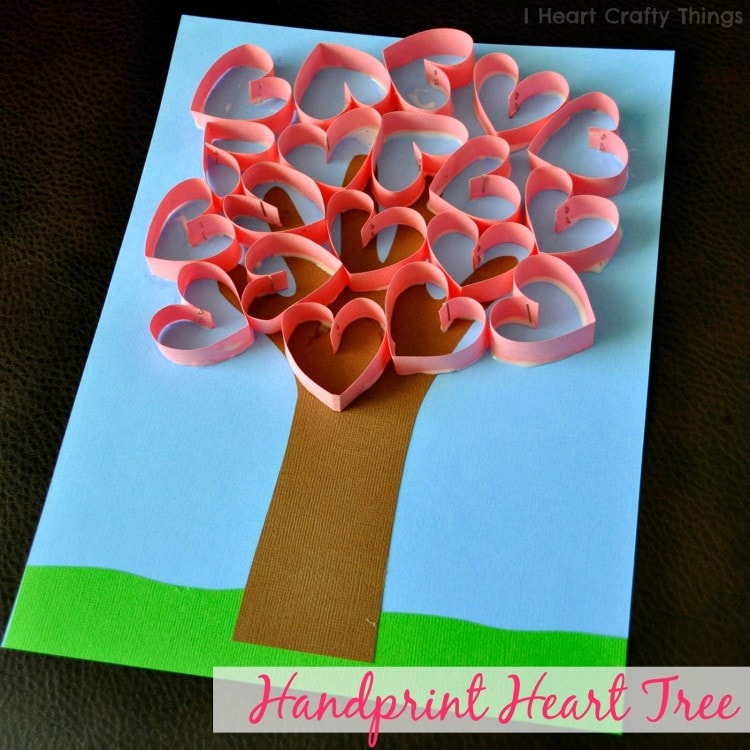 How to Make a Handprint Heart Tree Craft
This post contains affiliate links to the products mentioned. I Heart Crafty Things is a participant in the Amazon Services LLC Associates Program, an affiliate advertising program designed to provide a means for sites to earn advertising fees by advertising and linking to amazon.com.
Supplies:
blue, green and brown cardstock
stapler
scissors
pencil
glue stick
school glue
paper palte
Watch the full tutorial of us making the handprint heart tree craft before you get started. Don't forget to subscribe to our YouTube channel so you never miss a new video!
Handprint Heart Tree Craft Instructions:
1. Start by making paper hearts out of pink construction paper. Cut strips from your pink construction paper 6-inches by 1/2-inch. Connect the ends together with a staple and folded a crease to make a heart (see picture below). You will need anywhere from 15-20 paper hearts for your heart tree craft.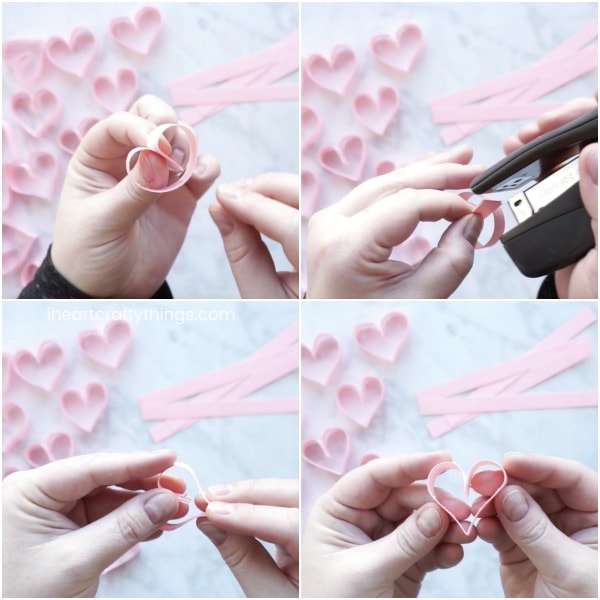 2. To make the background for the tree, cut a strip of green cardstock paper for grass and glued it to the bottom of a blue sheet of cardstock paper. Then trace your child's hand and part of their arm on a brown sheet of cardstock paper, cut it out and glue it on the blue cardstock paper.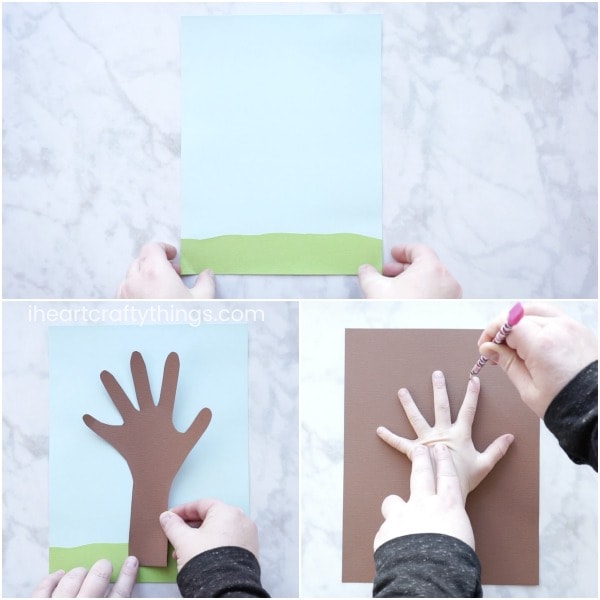 3. Arrange the paper hearts all over the the top of the handprint tree so you can see where you want to glue them on the tree.
Love Coloring? Look at these dog coloring pages
4. Pour a generous amount of school glue in the center of a paper plate. Dip the heart into the glue, making sure that glue gets all over the bottom the heart, and then place it on your tree. Continue dipping the hearts into the glue and placing them on your handprint heart tree until all of them are glued and in place on your tree. The glue will take an hour to several hours to dry completely.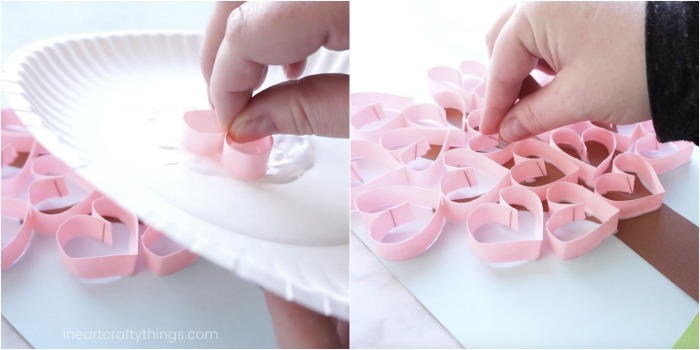 Your handprint heart tree craft is complete!
The hearts popping off of the page on top of the handprint give such a beautiful 3-dimensional effect to the craft. Now you can hang your lovely artwork up for display for Valentine's Day or give it to someone special for a Valentine. These cute trees would also make a lovely Mother's Day gift.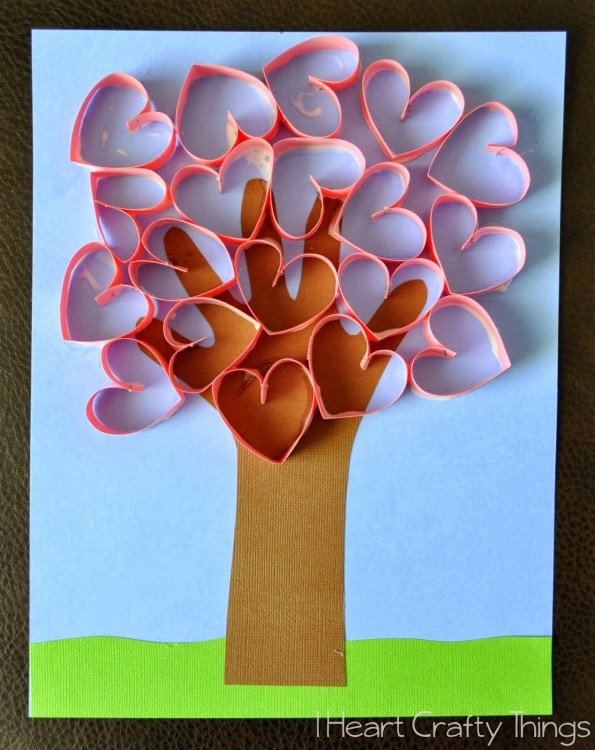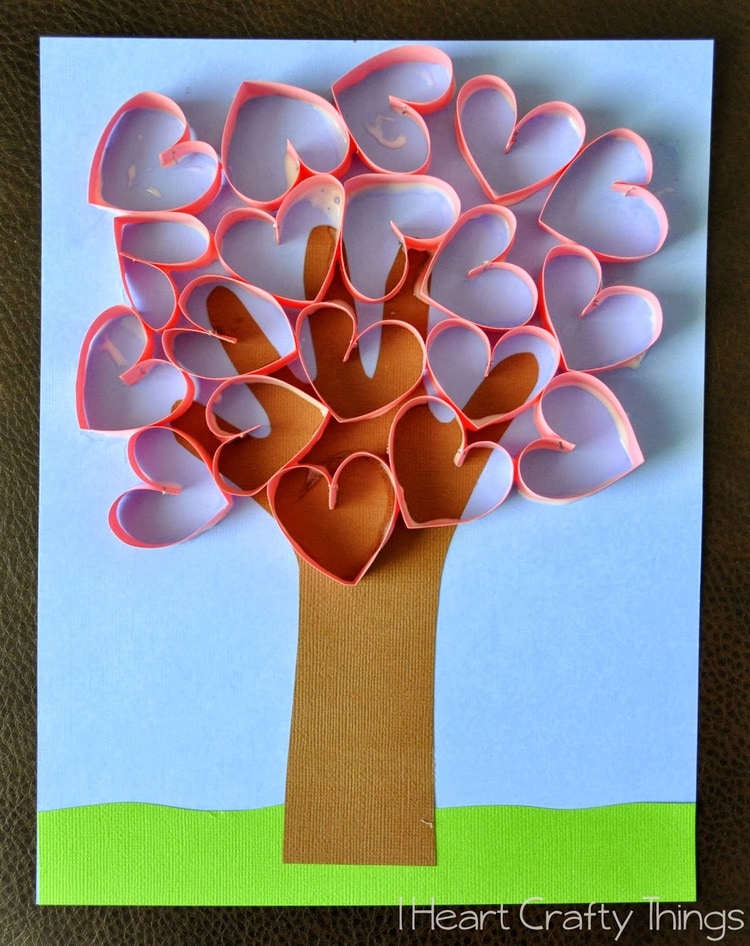 Looking for more fun Valentine's Day Crafts?
This paper plate heart sewing craft is a great way for kids to practice their sewing skills. Kids will also enjoy being creative while doodling on these fun tin foil hearts. If you're looking for a way to craft your own Valentine's Day box make sure to check out how we turned an oatmeal container into a pretty Butterfly Valentine's Day Mailbox.