Every summer when we visit our local aquarium we are always in awe of watching the beautiful jellyfish swim around in their tanks. We especially love the ones that change colors in the dark. They inspired us to make this colorful jellyfish craft that I'm sharing with you today. The best part, it requires no paint so if you've been on the hunt for a fun summer craft that doesn't make a lot of mess, this jellyfish craft is perfect! Make sure to check out more of our ocean crafts while you are here.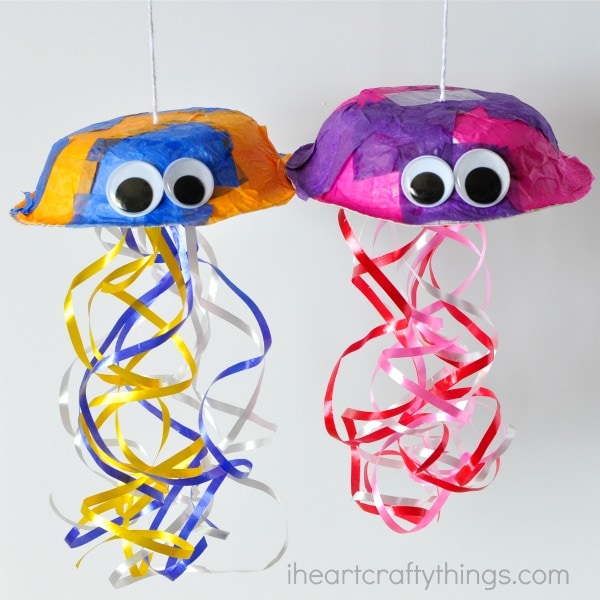 This post contains affiliate links to the products mentioned. Read our disclosure policy for more information.
How to Make a Colorful Jellyfish Craft

Supplies:
Directions:
1. Start by cutting up your tissue paper into square pieces. Use a few different colors if you want to make your jellyfish craft extra colorful.
2. Turn your paper bowl upside down and add school glue all over the bottom of it and the sides. Put your tissue paper squares all over your bowl, covering the bottom and sides of the bowl completely. You might to add a little more glue to corners of tissue paper that are still sticking up. Let your glue dry completely.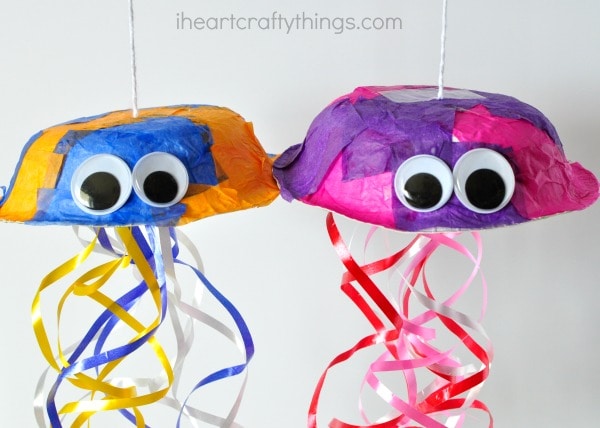 3. Cut several strips of gift wrapping ribbon, bunch them together and use your sturdy packaging tape to tape them down inside the bowl. You'll want to position them so that they hang down the center of the bowl.
4. Use your scissors to poke a small hole in the center of your bowl (you will probably need adult assistance with this part). Push your white string through the hole and tape it inside the bowl with your other ribbon.
5. Finish your cute and colorful jellyfish craft by gluing on googly eyes. Isn't it adorable? My daughter has loved to hold it by the string and walk it around making it's little tentacles jiggle.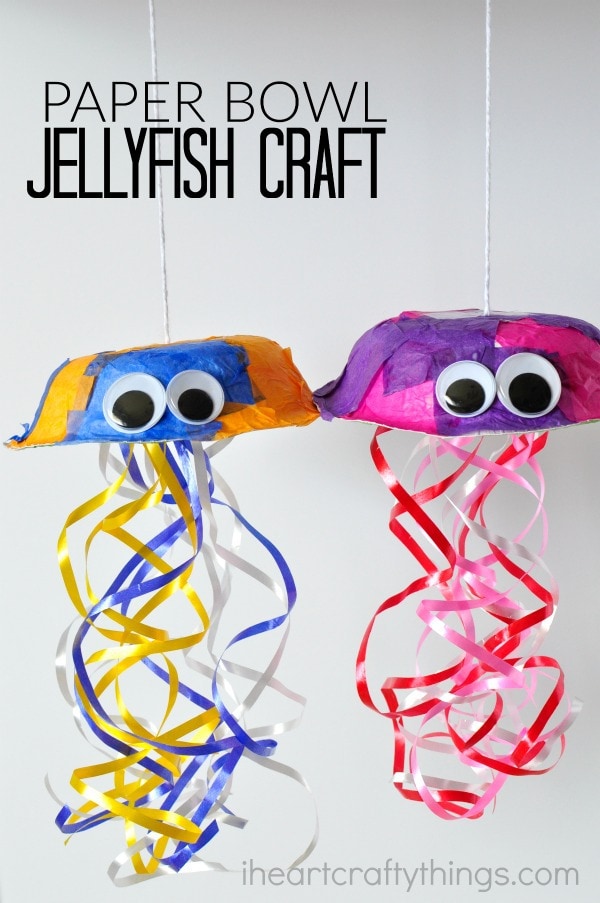 Looking for some fun books to go along with this jellyfish craft? Try one of these:
– Peanut Butter and Jellyfish by Jarrett J. Krosoczka
– Jeremiah Jellyfish Flies High by John Fardell
– Messy Jellyfish by Ruth Galloway