When it comes to any drawing, there are usually two main aspects to it. The first is the drawing itself, and the second aspect will usually be the colors that are added.
A drawing can often really be elevated and made even more beautiful when some amazing colors are added, and this is what we will be exploring in this guide.
Learning how to draw a colorful drawing is a great way to express yourself artistically!
If this sounds like something you would like to learn, then look no further than the tutorial in front of you.
Our step-by-step guide on how to draw a colorful drawing in 6 easy steps will show you everything you need to know about creating some vibrant artwork.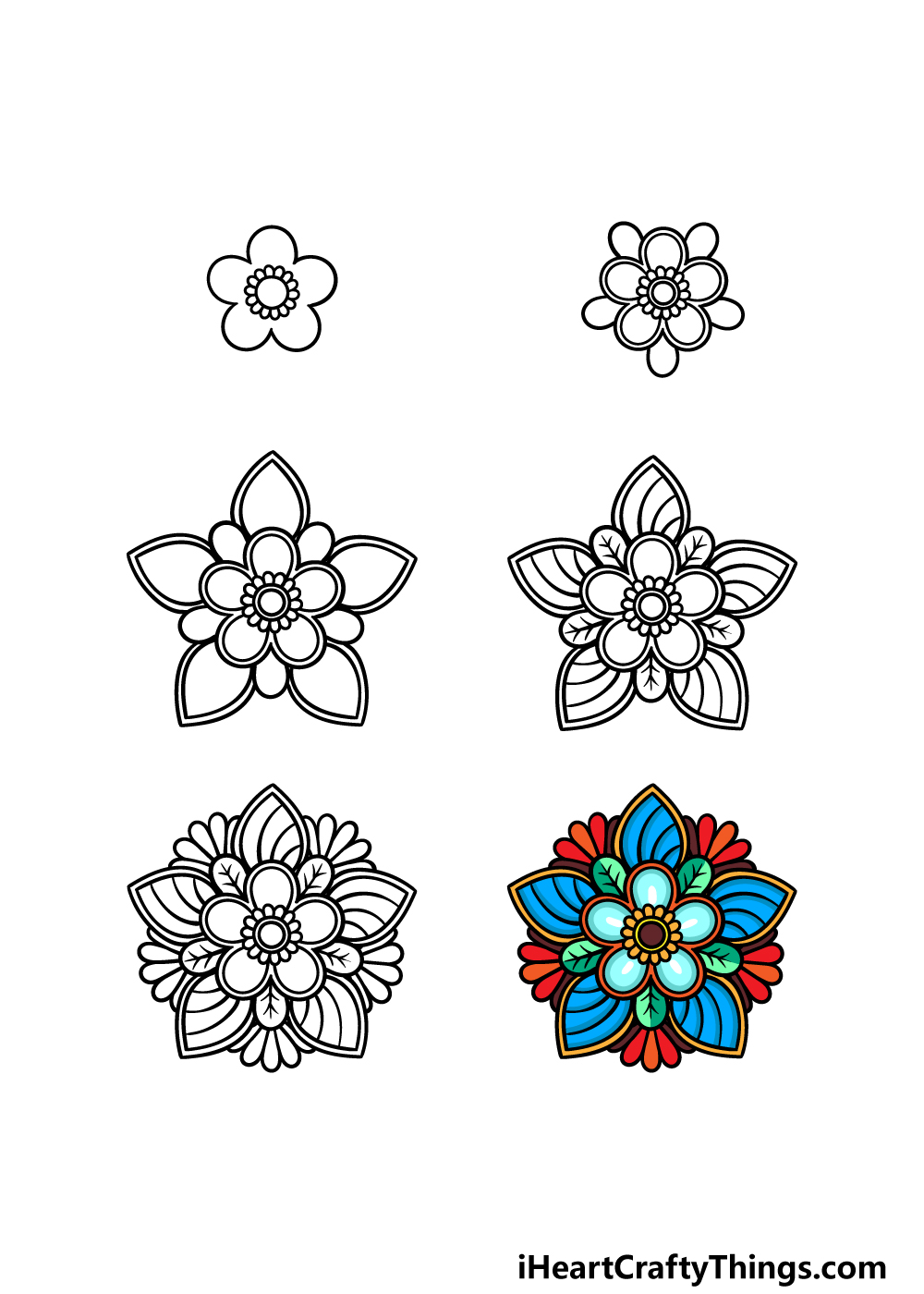 How to Draw A Colorful Drawing – Let's Get Started!
Step 1
In this guide on how to draw a colorful drawing, we will be depicting a pretty floral design for you to color. This will be drawn in several layers that build up to form a beautiful whole image.
For this initial step, you can begin by drawing a circle for the center of the image. You could try to do this free-hand, but it can also be made much easier if you use a tool such as a drawing compass.
Then, you can add several smaller little petal shapes all around this round center. Finally, we will be drawing five large, rounded petals forming a border around this shape.
You could also use that drawing compass to help with these sections.
Once these are drawn, we can start the next layer in step 2.
Step 2 – Now, draw the next layer of this colorful drawing
This step of your colorful drawing will see you adding more layers to this pretty image. First, we will draw some details inside the areas that are already drawn from the last step.
You can start by drawing a smaller circle inside the central circle that's already there.
Then, add another rounded line inside of each of the rounded petals from the previous step.
Finally, we will add a curved petal shape between each dip of those rounded petals, as shown in the reference image.
Step 3 – Draw some larger petals for the design
Now we shall be adding some larger petals to the outer layer of the design in this third step of our guide on how to draw a colorful drawing.
Each of these petals will begin and end on the outlines of those big rounded petals ear the center of the image. These new ones will be larger and have a pointy tip at the end, however.
There will also be another line drawn close to the inner perimeter of each petal. When you have drawn these big petals, it's on to the next layer in step 4!
Step 4 – Next, draw some details for the existing petals
Before we add a new layer to this colorful drawing, we will first add some details to the layers that are already drawn.
We will be adding some vein details to some of the smaller, curved leaves poking out from near the center of the image.
Then, you can draw some curved lines into the large petals that you drew in the previous step to give them some more texture detail.
Once these are all drawn, we can finish off the final touches in the next step!
Step 5 – Add the final details to your colorful drawing
It's almost time to add those all-important colors to the image in the final step of this guide on how to draw a colorful drawing!
The final details that we used in our example are simple yet effective at finishing up the floral design. We added some long, curved lines to the outer perimeter of the image for some more pretty petals.
Once these have been added, you could also create some more unique details of your own! You could add more layers to this design or even create a new one entirely.
If you're feeling extra creative, you could challenge yourself to keep adding layers until you fill up the entire page. What do you think you would like to add to this beautiful floral design?
Step 6 – Finish off your colorful drawing with color
All of the steps in this guide have led up to this one. This is the step where you can bring this colorful drawing to life with some amazing colors!
In our reference image, we showed you just one way that you could go about coloring this image.
We wanted this picture to look beautiful and vibrant, so we used some combinations of both warm and cool colors.
This is an approach that you could take as well, but you should also let your creativity flow as you choose the colors for this amazing drawing!
Colors can really help to add your own feelings and personality to an image, so this is really a step where you should let your color choices flow naturally.
Choosing the art mediums you use for the colors can further help to make the colors pop, so that's part of the fun too! What will you use to finish up this amazing colorful drawing?
Here's how you can make your colorful drawing even better…
Bring some color to your life as we go over some ways to make this colorful sketch even better!
This drawing of a colorful design is quite compact in its design, even though there is a lot of detail to admire. Once you are happy with how you have replicated our design, you could extend it!
To do this, you can take what you learned in this guide and try to stick to the detailed, floral style. Or, you may prefer to shake things up and bring in some new elements.
If you love the design as is but still want to try out some new ideas, then you could create a few more colorful designs of your own! One way to do this would be to separate the page into sections.
Then you could draw a handful of designs that have different details, themes, structures and colors.
This would be a great way to really let your creativity flow as you try out all of the ideas you have for stunning designs!
Another way you could bring some detail to this colorful drawing would be by doing something with the background. This could be as simple as filling it with a single color that compliments the design.
If you're feeling extra ambitious, you could also fill the background in with a pattern or some small shapes. Text could even be used if you have a message you would like to convey in the picture.
How else could you fill in the background?
Finally, perhaps the best way to bring some new life to this colorful sketch would be to play around with the colors!
It may seem obvious, but bringing new colors to this artwork is a great way for you to express yourself.
It could be variations on the existing colors or you could swap one or two out.
Of course, you could also go for a completely unique color scheme while using some fun and interesting art tools and mediums as well!
Your Colorful Drawing is Complete!
With all 6 steps done, you have successfully finished this guide on how to draw a colorful drawing!
Experimenting with patterns and colors can be a great way to relax and let go of some of the stress in your life, and we wanted to show you how you can do that during the guide.
Hopefully the steps in this tutorial made it even easier than you may have ever expected!
Now that you have completed this guide, the drawing journey is just beginning! You've mastered this design, but there is still even more that you could do!
This design is all about expressing your creativity, and you could do so by creating new designs or experimenting with more colors and art mediums.
When you're done expressing yourself with this image, you can find a new drawing guide to take on when you visit our website. We have many for you to try out, and we upload new ones often as well.
It would be great to see how your colorful drawing turned out, so when it's done please remember to share your creation on our Facebook and Pinterest pages!