Superheroes have really taken over the world in recent years!
While they used to have a fairly small appeal with comic book enthusiasts, they are now starring in the most popular blockbusters and showing up in all manner of media.
Captain America is a character that used to be considered a B-tier hero, but thanks to his successful film appearances he is now very popular and recognizable.
His fans often like to learn how to draw Captain America to represent their patriotic hero.
If you are one of those fans, this will be the tutorial for you!
Our step-by-step guide on how to draw Captain America in just 6 steps will show you how to create some cool artwork featuring this colorful hero.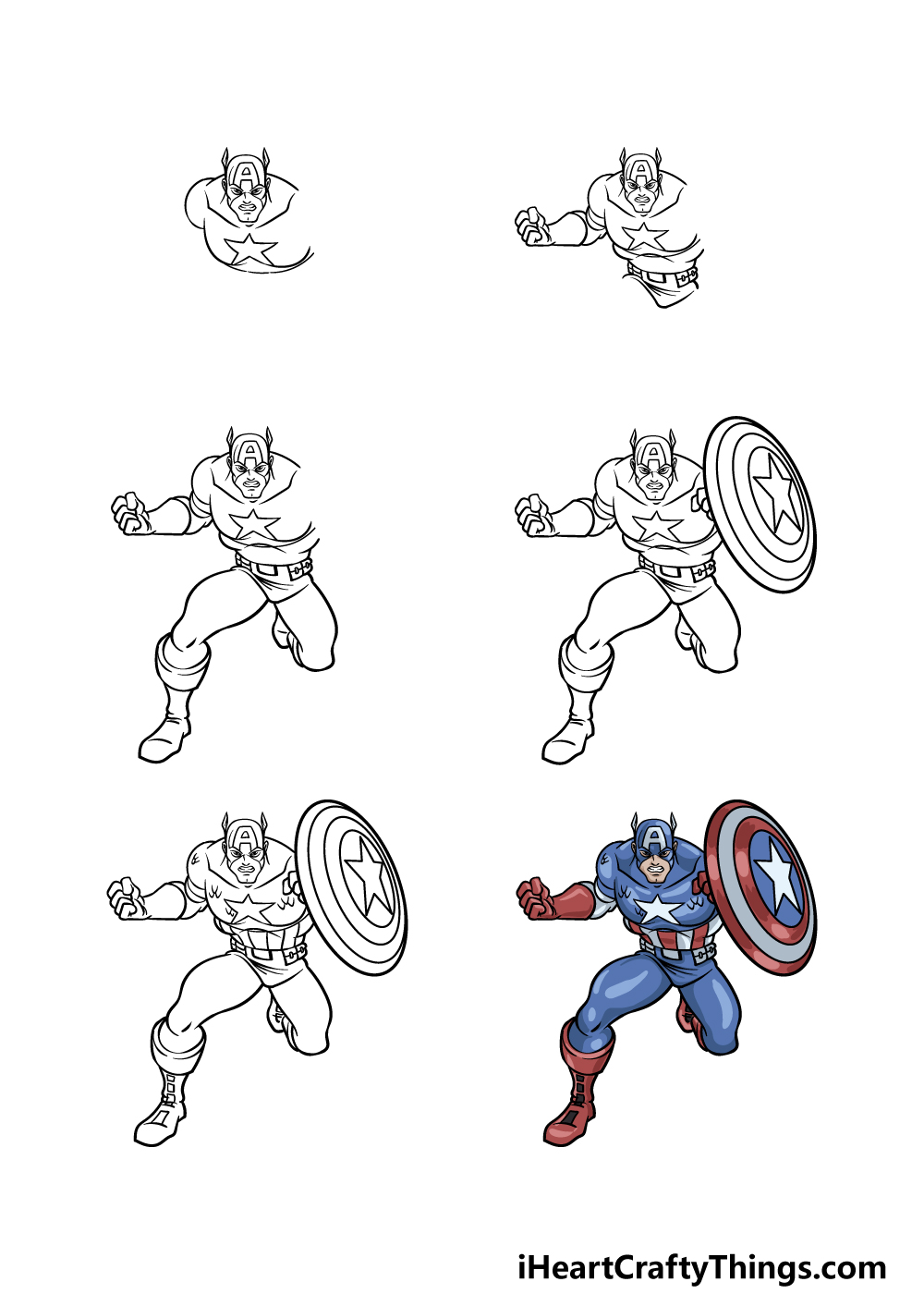 How to Draw Captain America – Let's Get Started!
Step 1
To get started with this guide on how to draw Captain America, we will start with his head and chest.
This portrayal of the character will be done in a classic comic book style, and that means that it will be fairly detailed and a bit stylized.
He wears a mask over most of his face, so you can use some smooth lines for the outlines of the masked part of his face.
Then, draw a curved line across his face for the divide between his face and mask.
Then, draw a large A on his forehead and add some small wings to the side of it. Lastly, draw his eyes, nose and mouth to create his facial expression.
To finish off this step, we will then use some curved lines for his shoulder and chest before finishing off with a star on his chest.
Step 2 – Now, draw his first arm and his waist
For this second part of your Captain America drawing, we will be adding his arm on the left along with his waist and hips.
Use some curved lines attached to his shoulder for his bicep, and then you can draw his gloved hand curled into a fist.
Then, some more curved lines will go beneath his chest for his muscular waist. Finally for this step, you can draw some pouches at his belt and then draw his hips using more curved lines.
That will do it for now, and then we can move to step 3.
Step 3 – Draw some legs for Captain America
Now we can focus on drawing some legs as we move on to this third part of our guide on how to draw Captain America.
We will be portraying him in an action pose as he leaps forward, and to help show this his leg on the left will be extended in front of him.
The leg on the left will be further back in the image, and so it will look smaller. He also wears large boots, as shown in our reference image.
With those drawn, it will be time for step 4 of the guide!
Step 4 – Next, draw his shield
Many heroes have a signature weapon or accessory, and Captain America is no different.
He is known for his indestructible American flag-themed shield, and we will add it to your Captain America drawing now. To do this, carefully draw a flattened circle shape against his arm on the right.
This can be a bit tricky to do, so you could use a pencil first if you're nervous about the shape. Then, draw a few progressively smaller circles within the shield outline that all surround another large star.
Finally for this step, draw his hand poking out from behind the shield, and then we can proceed to the final details in the next step of the guide.
Step 5 – Add the final details to your Captain America drawing
Now you're ready to finish up all of the final details in this step of our guide on how to draw Captain America.
First, draw some lines down vertically across his waist. Then, add some small, curved lines inside what will be the blue parts of his outfit.
Finally, add some details onto his boots, and then you're ready to color him in! Before you do that, you could possibly draw a background.
If you were to do this, what kind of explosive action scene could you think of to add behind him? Have fun getting creative with it and see what happens!
Step 6 – Finish off your Captain America drawing with color
This hero styles himself after the American flag, and for that reason he incorporates red, white and blue into his superhero outfit.
We went with these classic colors in our example image, so you can use this to help you if you wish to keep his colors accurate to how he looks in the comics.
This character has also had some visual variations throughout the years, so you would also have some options for alternate color schemes if you'd like some variety.
Once you have decided on the colors you'd like, there's also fun to be had with the art mediums you choose!
We would recommend some bright mediums like colored markers, pens or acrylic paints for a classic comic book look, but what else can you think of to use?
4 More Ways To Make Your Captain America Drawing Unique
Make this Captain America sketch even more heroic with these 4 fun tips to try!
This drawing of Captain America shows him as he appears in the classic comics. This is an iconic look for him, but you could represent another version of him instead if you prefer.
There would be many sources you could choose from when doing this. For example, you could choose a different comic iteration to draw instead.
Or, you could make him look as he does in his film appearances. What is your favorite look for Captain America?
No matter which forms of media he appears in, one thing they all have in common is that his signature move involves flinging his shield. This could be shown in this picture!
You would need to change his pose a bit and then draw the shield flying away from his arm. If you need some help drawing this, then you could look up a view of this move online to help as you draw.
If you have other cool poses in mind then these could be drawn as well!
In the movies and comics, Captain America is joined by other iconic heroes such as the Avengers. You could draw your favorite heroes as an addition to this Captain America drawing!
You could include any heroes you love from the Marvel universe to fight alongside him. Or, you could create a crossover with a DC character such as Batman as a fun "what if?" scenario.
Finally, once you have your Captain America sketch and any additions, you could take it even further by adding a background.
This could be based on some famous locations from the comics or films.
It would be a great way to recreate some of your favorite scenes! Or, you could also create a brand new adventure for Captain America by putting him in a new scenario or location he's never been to.
Where do you think Captain America could be having some adventures in this drawing?
Your Captain America Drawing is Complete!
This is one of the most popular heroes of recent years, and we hope that you had a thrilling time recreating him in this guide on how to draw Captain America!
Superheroes drawn in this classic style can often be tricky to draw because of the specific proportions and high level of detail.
We hope that this guide made it easy and fun for you to conquer these obstacles!
Now that you know how it's done, you could keep the fun going with your own creative ideas and touches.
We gave a few ideas for how you could do this with a background or some creative colors, but what else can you think of?
Then, you'll definitely want to head to our website, as we have tons of amazing drawing guides waiting for you to discover them!
We bring new ones out regularly, so keep checking in to never miss out!
We would also love to see your finished Captain America drawing, so please share your creation on our Facebook and Pinterest pages for us to see. We can't wait to see your incredible artwork!