There are many famous video game characters that have won fans around the world. There are few characters in video games that rival the fame of Sonic the Hedgehog.
This speedy character is incredibly popular, and he has appeared in many video games and even a successful live-action movie.
He is most often seen in his blue appearance, but with certain powerups he can become the powerful Super Sonic.
This is a popular form for the character, and many fans like to learn how to draw Super Sonic.
For fans of this character, this tutorial will be everything you need to create some awesome artwork!
Get ready for some high-speed drawing fun as we begin this step-by-step guide on how to draw Super Sonic in just 6 easy steps!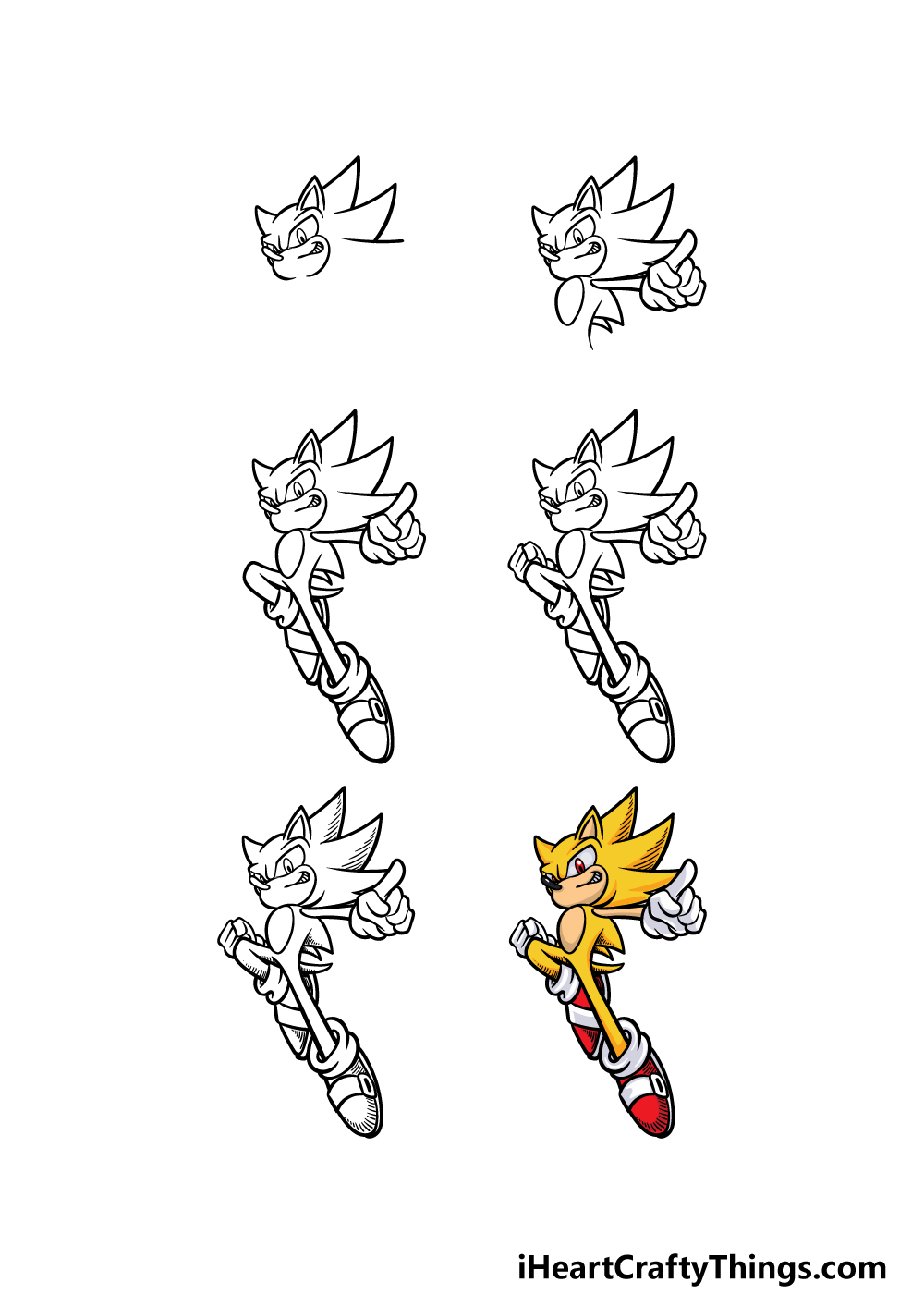 How to Draw Super Sonic – Let's Get Started!
Step 1
As we mentioned at the start of this guide on how to draw Super Sonic, this depiction we will be working on has Sonic in his powered-up state.
When he is in his Super Sonic form, there are a few differences to how he normally looks, and most of these differences are rather subtle.
The gold color he takes on is the main one, but there are also differences such as the way his quills point up instead of down.
For now, you can draw the rounded yet pointy shapes of his eyes, and then add some round lines for his muzzle and mouth.
Finally, use some more rounded lines with pointy tips for the large quills at the back of his head. If you would prefer to depict Sonic in his normal form, simply angle them down instead.
Step 2 – Now, draw his chest and arm
To continue this Super Sonic drawing, the next aspects we will add will be his chest and first arm.
Starting with his chest, you can draw an oval shape under his head, and then use some curved lines to surround it. His back will also have some large pointy sections poking off.
Then, draw a long, thin shape for his arm, and then add his gloved hand pointing out at the end of it. That will leave you ready for the third step of this guide!
Step 3 – Draw the legs for Super Sonic
The pose we are drawing in this guide on how to draw Super Sonic has him leaping triumphantly through the air.
To further illustrate the pose, we will be adding his legs in this third step of the guide. The leg on the left will be raised up, so you can use some curved lines to depict it.
The leg on the right will be straighter and extend downward with his large shoe at the end of it.
Then, you can draw the shoe onto the bent left leg as well. Finish off by drawing his small, pointy tail at his back, and then we can keep adding to this picture in the fourth step of the guide.
Step 4 – Next, draw a fist for Super Sonic
We're starting to get to the final elements and details of this Super Sonic drawing in these last few steps.
For now, we will be keeping things simple in this fourth part of the guide. All you will need to do is draw the fist on the left. Use some curved lines to draw his clenched fist with the thumb folded over it.
Once this fist has been added, you will be ready for some final details and elements in the next step of the guide!
Step 5 – Add the final details to your Super Sonic drawing
You have finished all of the outlines for this picture, and in this step of our guide on how to draw Super Sonic we will focus on some finer details.
To do this, we will be adding lots of small curved lines throughout his head, body and limbs. These lines will help to create a bit more depth to the picture as well as adding some shading to the image.
Once you have added these details, you can then finish off with some final touches and details of your own!
This is where you can really let your creativity flow, as this is all about creating your perfect Super Sonic image.
To do this, you could add elements such as other characters from the Sonic universe or maybe draw a background to show off your favorite Super Sonic scenes and moments.
These are a few ideas, but what else can you think of to finish off this picture?
Step 6 – Finish off your Super Sonic drawing with color
Now it's time to finish off this Super Sonic drawing with some color! The color of this incarnation of the character is the biggest difference between it and Sonic's usual appearance.
As can be seen in our reference image, Super Sonic is colored with bright golds and yellows as opposed to the blues of his standard form.
He also has red pupils and shoes for some color contrast.
You could use these colors to recreate Super Sonic, but if you would prefer to show him in his standard form then you could use some blues to color him instead.
What colors and art mediums will you choose to finish off this awesome image?
Here's how you can make your Super Sonic drawing even better…
Have some speedy artistic fun as we make your Super Sonic sketch look even cooler!
This drawing of Super Sonic shows him in this awesome advanced state, which is evident from the yellow coloring of his fur. If you wanted to show him in his normal state, this could be done easily.
First, you would want to change the color of his fur to blue instead of yellow.
There are a few details you would need to change, but it wouldn't be too hard to create the regular version of Sonic for your picture.
Whether you keep Super Sonic as he is or make him look like regular blue Sonic, you could also add some of his allies to the picture. There are certainly many to choose from!
Some classic examples would be Tails or maybe Knuckles. If you need help drawing these additional characters, you will find many images of them online.
Which characters from the Sonic games, movies or other media would you like to add to this picture?
Every hero needs a threat to face off against, and this could also be added to your Super Sonic drawing. His arch enemy would have to be Dr Eggman, and he would be a perfect addition to your artwork.
Of course, Sonic has faced off against many enemies both big and small in his many appearances in media. This is your chance to show off who your favorite bad guys from the Sonic universe are!
Finally, you could finish off your Super Sonic sketch with a background. There are a few ways that you could go about adding a background to your picture.
One would be to draw a detailed background setting. This could be based on a level from the games or maybe a scene from the movie.
Sonic is known to travel at great speeds, and you could show this as well. This could be done by using lots of strokes of colors to create a flurry of movement behind Super Sonic.
Your Super Sonic Drawing is Complete!
Sonic is truly one of the most beloved video game characters ever created, and we hope you enjoyed recreating this awesome depiction of him in this guide on how to draw Super Sonic!
Drawing famous characters can sometimes be rather tricky because of the specific details that have, but in this guide we aimed to show you just how easy it can be when you break it down.
Now that you have completed this drawing, what fun extra details and ideas can you think of to finish off the picture and add your own personality to the scene?
If you had fun working with us on this guide, you can find many more guides to enjoy on our website! We will be uploading more soon, so checking in often is the best way to never miss out.
When you're ready to show off your awesome Super Sonic drawing, you can share it on our Facebook and Pinterest pages for us to admire!