St. Patrick's Day is an important holiday celebrated around the world. Dedicated to St. Patrick, it is also a celebration of traditional Irish culture.
On this day during the celebrations, the color green will usually be heavily featured, and images such as shamrocks and leprechauns will also be common to see.
It is this last one that we will be focusing on during this guide on how to draw St. Patrick's Day, as you will be drawing a cute leprechaun, and there may be some shamrocks in the mix too!.
This will be a great way to get into the spirit of the celebration no matter the time of year!
So we hope that you will enjoy this step-by-step guide on how to draw St. Patrick's Day in just 6 easy steps!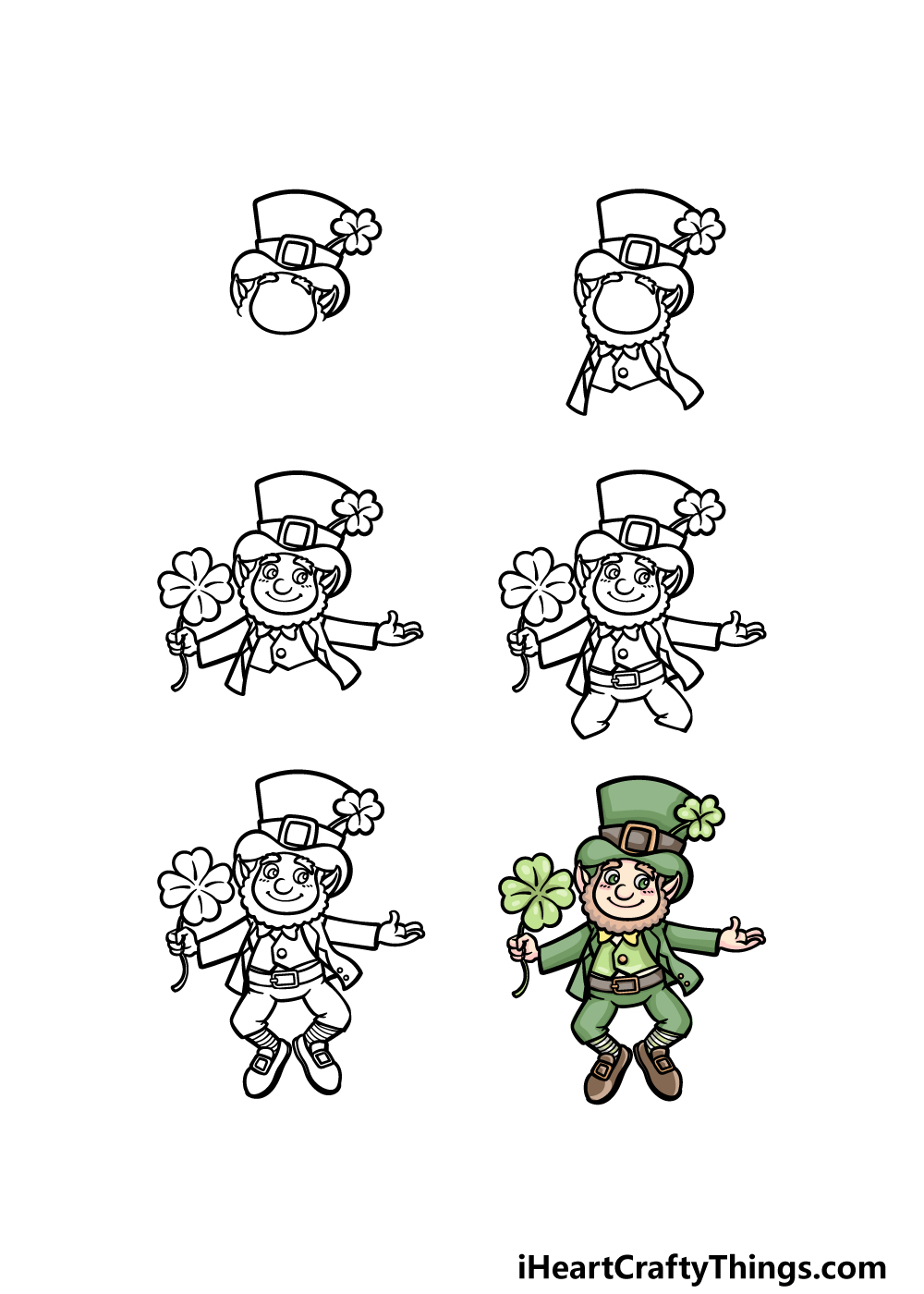 How to Draw St. Patrick's Day – Let's Get Started!
Step 1
We will be drawing a rather classic-looking cartoon interpretation of a leprechaun in this guide on how to draw St. Patrick's Day. you can begin the process by using a curved line to create the bottom of the face.
Then, add some bumpy lines onto the side of the face for the start of his fluffy beard. You can also draw some pointy, elf-like ears poking out of the hair.
Finally for this step, we shall be drawing his top hat. This will have a belt at the base of it above the rim, and then the top of it will be drawn with some curved lines.
Then you will be ready for step 2 of the guide!
Step 2 – Now, draw his beard and start drawing his clothes
For this second step of your St. Patrick's Day drawing, we will be adding the rest of his beard while also starting on his clothes.
To draw his beard, simply extend the bumpy lines that you drew for his sideburns and draw the beard around the bottom of his face. Once that is drawn, we can start drawing his jacket and waistcoat.
You can also add some small, rounded shapes under his face for his bowtie. Then, simply use some more curved lines to recreate the waistcoat and jacket as they appear in our reference image.
Once you have drawn these items of clothing, you will be ready to proceed to step 3.
Step 3 – Next, draw some facial details and arms for the leprechaun
You can start drawing some facial features along with the arms for the leprechaun in this step of our guide on how to draw St. Patrick's Day.
His eyes will be drawn as two small circles with even smaller circles within them for the pupils. His nose and mouth will then be drawn with a few more curved and rounded lines to give him a happy expression.
Then, use some smooth, fairly straight lines for the arms of his jackets extending outward.
You can finish off this step by drawing a hand at the end of each one, and then be sure to add another shamrock into the hand on the left!
Step 4 – Draw his legs in this step
This St. Patrick's Day drawing is already looking really good! He's just missing some legs to dance on, so we shall add those in this and the next step.
For now, we will be adding his belt and pants legs. For the belt, you can draw a rectangle shape for the buckle and then use some straight lines for the strap.
Then we will be finishing off this step by using some more curved lines for his legs. The legs will be outstretched at an angle to make it look as if he is dancing a jig.
Then it will be on to the final details in the next step!
Step 5 – Add the final touches for your St. Patrick's Day drawing
You're now ready to finish off the final touches in this fifth step of our guide on how to draw St. Patrick's Day.
First, use some straight lines to draw his socks poking out from the bottom of his pants. You can also add some striped details to them.
Then we will finish off by drawing some old-fashioned-looking shoes onto his feet, and they will have some square shapes on top of them for the buckle.
Once the leprechaun is complete, it will be up to you to add some final details!
You could draw a background with more iconography from St. Patrick's Day to finish the theme, or maybe you could recreate your favorite St. Patrick's Day celebration you've taken part in.
These are just a few ideas, but how else would you like to finish this drawing off?
Step 6 – Finish off your St. Patrick's Day drawing with some color
For the final step of your St. Patrick's Day drawing, we will be finishing off with some color!
It wouldn't be a proper St. Patrick's Day drawing without lots of green, so naturally we made this our main color scheme when coloring in our example image.
There are also some yellow and brown tones to break it up a bit, as you can see in the picture.
When coloring in your own drawing, you could change up the shades or use some cool art mediums.
Different art mediums can be useful depending on how bright you want the colors to be, so have fun experimenting!
4 More Ways To Make Your St Patrick's Day Drawing Unique
You won't need luck to make this St Patrick's Day drawing even better with these 4 fun tips!
Leprechauns, like the one featured in this St Patrick's Day sketch, are a common symbol of the holiday.
They aren't the only ones, though, and you could add the other symbols to this drawing.
One of the most common ones that you could add would be a pot of gold, as leprechauns are often said to be guarding one of these.
Adding one would also allow you to add some beautiful gold color to the image when it is complete!
Whether you went with our previous tip or not, you could enhance this picture by also adding a rainbow. This is another thing that is often associated with both leprechauns and St Patrick's Day.
The rainbow could be a prominent part of the drawing, or it could be more subtle, perhaps added using a soft medium like watercolor paints.
If you added a pot of gold, the rainbow could be added to look like it is coming from that pot!
This leprechaun we created in this drawing of St Patrick's Day is really cute, but you could make this picture even better by adding more. These leprechauns could come in all kinds of fun designs!
You know how to draw a standard leprechaun now, and you can change various details to make your own leprechaun creations. How many leprechaun friends would you like to add to this image, and what could they be doing?
Finally, you could finish off this St Patrick's Day sketch with a background. This would be a great final touch no matter whether you added all or none of our previous suggestions.
You could go for something classic and traditional like a pretty Irish countryside. Or maybe you could get creative and draw the leprechaun hanging out in a pub or at a party.
These are just a few of the fun ideas you could go with, but you can show off how creative you can be with your own ideas!
Your St. Patrick's Day Drawing is Complete!
That will conclude this very jolly guide on how to draw St. Patrick's Day in 6 steps!
We hope that recreating this cute St. Patrick's Day leprechaun was a fun and rewarding experience for you to take on. Hopefully tackling this drawing was also made much easier when you had some steps to follow!
Now you can really show us what you can do by adding your own details, elements and touches.
You can also incorporate some awesome colors and art mediums to put your own spin on it. We can't wait to see what you come up with!
Be sure to visit our website for more awesome drawing guides! We upload new ones often, so definitely keep checking in for lots more drawing fun.
Please also be sure to share your St. Patrick's Day drawing on our Facebook and Pinterest pages. We always love to see your incredible creations!