Many people throughout the world belong to some form of a religious group. There are so many different religions that span the globe, and each has its own beliefs, values and symbols.
Even if one is not particularly religious, there is a lot to learn from each belief system, and each one should be respected.
In this guide on how to draw religious symbols, we will learn how to draw some symbols associated with some of the most popular religions in the world.
By the end of the guide, you will be able to draw a selection of these symbols!
So get ready for a journey through the world's religions as we begin this step-by-step guide on how to draw religious symbols in just 6 easy steps!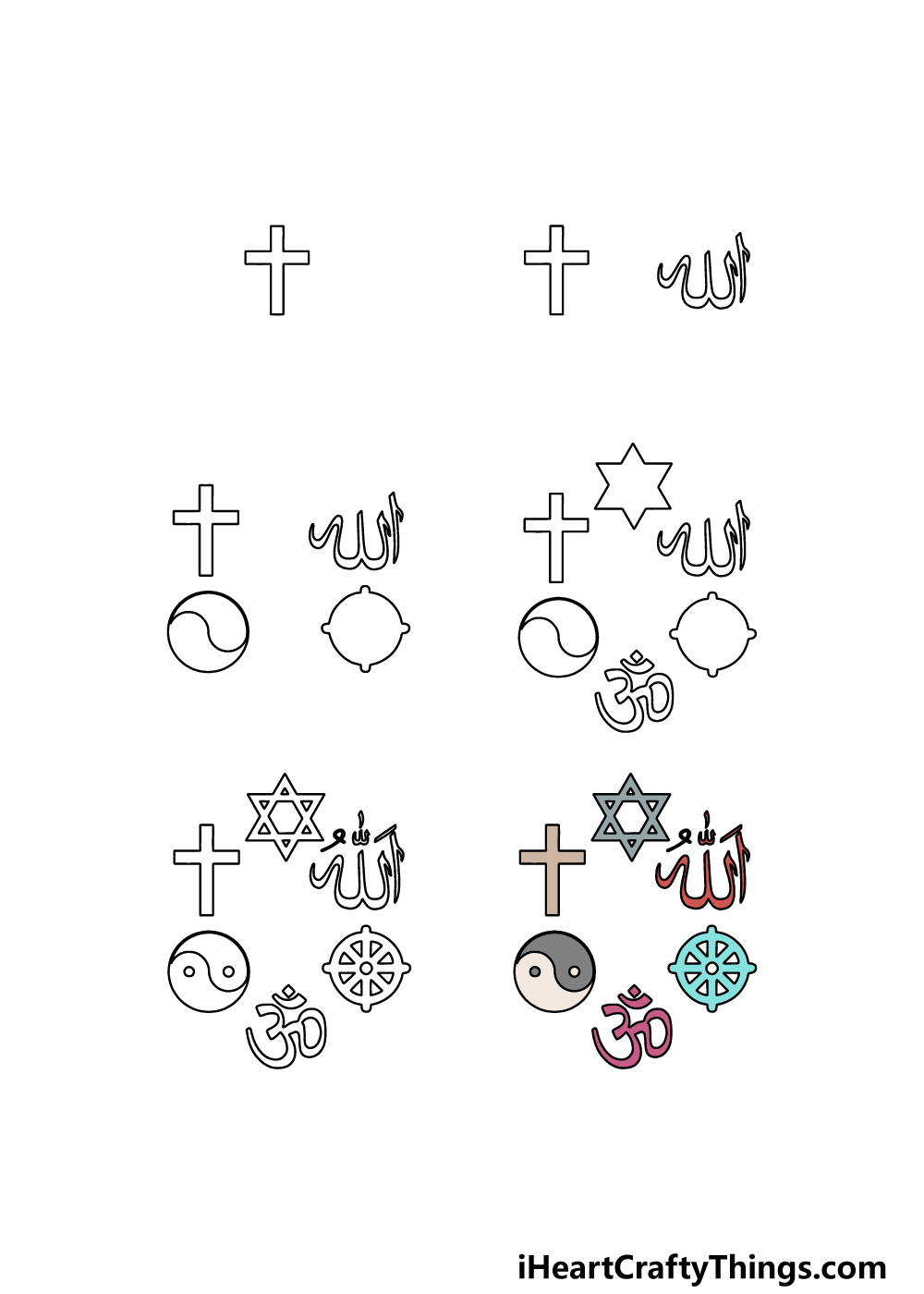 How to Draw Religious Symbols – Let's get Started!
Step 1
We will begin this guide on how to draw religious symbols with one of the easier symbols of the collection.
This first one will be the Christian cross, and for it you may want to have a ruler on hand. The cross is drawn with some simple rectangular shapes, and it forms a bit of a T shape.
While it is a simpler symbol than some of the following ones, it could still prove to be a bit challenging.
Simply take it slowly and try to get the measurements even and straight. Then we can proceed to the second symbol of this guide!
Step 2 – Draw the symbol for Islam
We are turning the focus to Islam in this second step of the guide. The symbol we are portraying here is the name of Allah written in Arabic text.
This symbol can be a bit tricky to draw, so we will break it down into two parts. For now, we will be drawing the lower portion of the symbol.
The main part of the symbol will be shaped a bit like a W with a wavy portion coming off of the left side with a separate section to the right.
We will finish off this symbol in a later step, but first let's move on to the third step.
Step 3 – Now, draw the outlines for the next symbols
For the third step of this religious symbols drawing, we will be drawing the outlines for the next two symbols.
On the left, we will be drawing the symbol of Taoism and on the right we will be drawing the wheel of Buddhism.
For the Taoism symbol, simply draw a perfect circle, and then draw a curved line down the center. We will finish off this one later.
For the Buddhism symbol, we will be drawing another circular shape, and this one will have four small rounded protrusions poking off the outline.
The reference image will show you where these should be placed!
Step 4 – Draw some more symbols
In this fourth part, we will add two more symbols to the arrangement. On top, we will have the Star of David for Judaism, and at the base we shall have the symbol of Hinduism.
For the star, you may want to get that ruler out again! We will be drawing the pointy outline for the star, and then in the next step we shall add the final details.
For the Hindu symbol, try your best to replicate the shape as it appears in our example below.
It can be a bit tricky, so we would recommend using a pencil to map it out while closely copying our example.
Step 5 – Now, you can add in the final details of the religious symbols
You're almost ready for the final step of this guide on how to draw religious symbols, but first we have a few final details to add.
First, use some more straight lines for the rest of the inside details of the Jewish star. These will be drawn using some triangular shapes with a hexagon at the center.
Then, you can add the final details of the Islamic symbol as they appear in our reference image.
For the Buddhist wheel, we will be drawing several small triangular shapes surrounding a central circle shape.
The cross and the symbol for Hinduism are already complete, so the final details will be to add some small circles to the Taoism symbol.
Once these details are complete, you could add some more details of your own! Perhaps you could draw a background or even add more religious symbols that weren't included.
Step 6 – Finish off your religious symbols drawing with some color
Now it's time to finish off this collection of religious symbols with some colors. We showed you a few colors you could choose in our reference image.
We used brown for the cross and then grey for the Jewish star. Then, for the symbol of Islam, we used red and then used blue for the Buddist wheel.
Finally, we finished off with pink for the symbol of Hinduism and used grey for the Taoist symbol.
These are the colors that we chose, but do you think you will choose different colors for your own drawing? We can't wait to see what you go for!
4 More Ways To Make Your Religious Symbols Drawing Unique
Find out how you can make this religious symbols sketch look even better with these tips!
This drawing of religious symbols contains 6 famous symbols. This is a great selection, but there are many more that you could add as well.
For example, there is the Christian fish symbol or a Jewish menorah. These are just two more that you can add, but there are so many other religions you could represent by adding their symbols.
What are some other religious symbols you could add to make this selection more complete?
For this drawing, we made the religious symbols quite simple so that they would be easier to draw. This looks great and serves the purpose, but you could also make them look more elaborate.
For example, you could add some ornate detailing to the cross to make it look like a fancy crucifix.
You could look up some real-life examples of your chosen symbols to find some accessories that represent them.
Then you can use these to help you make the symbols look fancier.
Next, you could take our previous tip even further and add some extra elements to your religious symbols drawing.
We mentioned turning the cross into a crucifix, and if so then you could add a necklace part to it.
Or, you could draw it so that the symbol is on a piece of clothing or another item. This would be a great way to represent the religions even further in your artwork.
Finally, you could also add a background to your religious symbols sketch. This is something that could be done whether you went with the previous tips or not.
For example, you could keep the drawing as it appears in our example and then draw a simple wooden desk texture behind the symbols.
That would be one simple example, but there are many other kinds of backgrounds you could use for it. What is a background that you think would look great behind all of these religious symbols?
Your Religious Symbols Drawing is Complete!
That brings you to the end of this artistic journey! We hope that this guide on how to draw religious symbols was both fun and informative for you to work through.
Some of these symbols can get a bit tricky to draw, but that's what makes a guide like this so essential. We know you will do a great job after working on this guide!
When you have completed the arrangement we designed, you can also change it up and add some of your own details.
We mentioned how you can add your own color choices and change up the symbols as just a few ideas.
What else will you do to put your own spin on this incredible drawing? We will look forward to seeing how you finish it off!
The fun then continues on our website. We have many more amazing drawing guides for you to enjoy there, and we feature other creative goodies as well.
Keep checking in, as we upload new goodies frequently!
You can also share the results of your hard work by sharing your finished religious symbols drawing on our Facebook and Pinterest pages for us to see.