Today I'm excited to share this quick and easy
Flower Dice Game Printable
that is a fabulous math activity for preschoolers. It is inspired by several I have seen over at Glued To My Crafts, like her
Easter Dice Game
and
Snowman Dice Game
. Not only is this game super simple, but it's great for practicing counting and I love how it uses fine motor skills to put those petals all around the flower.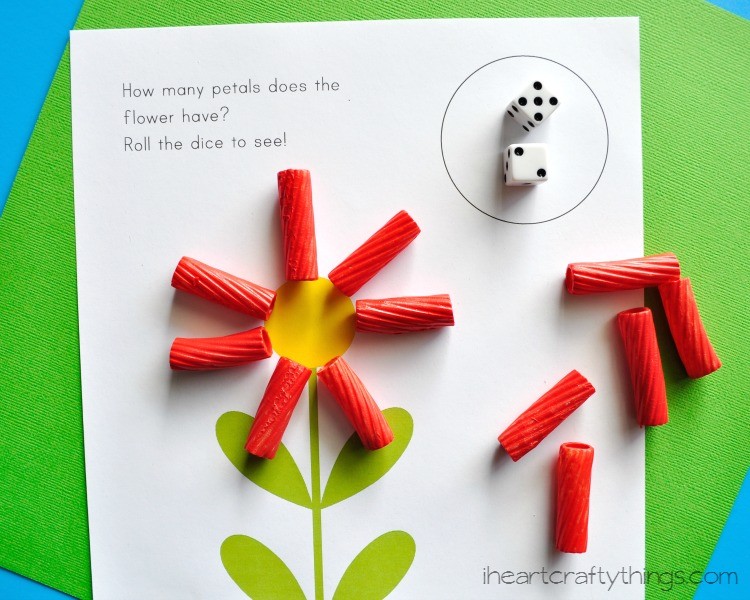 HOW TO SET UP THE FLOWER DICE GAME
Supplies you will need:
– 2 dice
Optional (if you want to use the pasta petals):
– Rigatoni pasta
– red paint
– plastic sandwich bag
– wax paper or parchment paper


NOTE: The free printable includes a set of flower petals for you to cut out and use if you do not wish to use the pasta noodles.


Directions:
1. You will need to prep your pasta flower petals the night before doing this activity. Squirt some paint in the bottom of a plastic sandwich bag. Add your pasta noodles to the bag and seal it shut. Let your preschooler move all of the pasta around in the bag, covering them completely with paint.
2. Pour the painted pasta noodles onto a piece of wax paper or parchment paper, making sure they are all separated from each other, and let them dry overnight.
3. When you are ready to play the game, print off the
Flower Dice Game Printable
. I recommend printing it off on cardstock paper or heavy weight printer paper and get your 2 dice ready.
HOW TO PLAY THE FLOWER DICE GAME
Have your preschooler roll the two dice inside the circle of the printable. Have them count the number they rolled.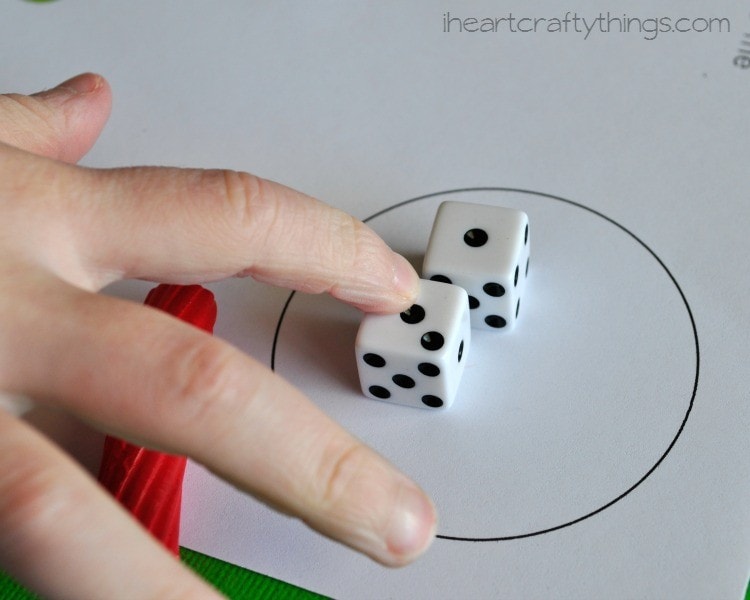 Place that number of petals onto the flower. Then repeat as many times as you want.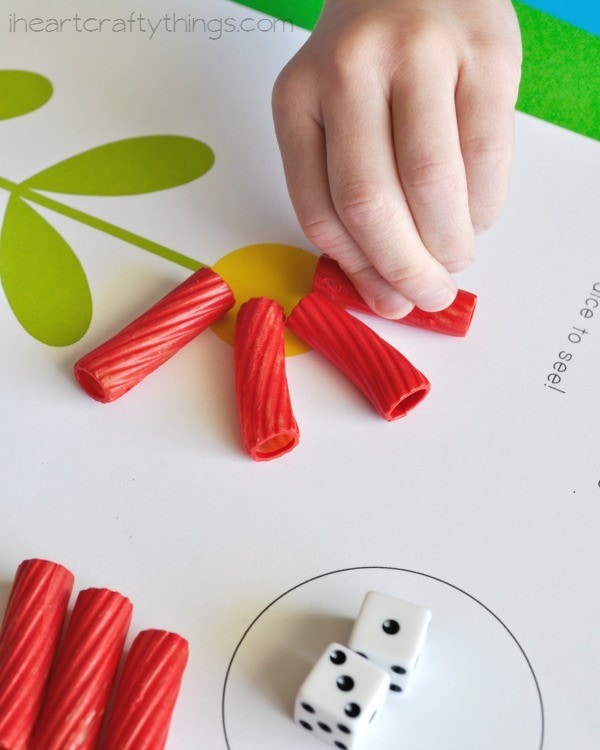 I like to play along with my daughter, each of us taking turns. I feel like if I'm playing along with her she is more engaged and it makes it much more fun her. I think it also encourages her to count out loud on her turns because she sees me do it.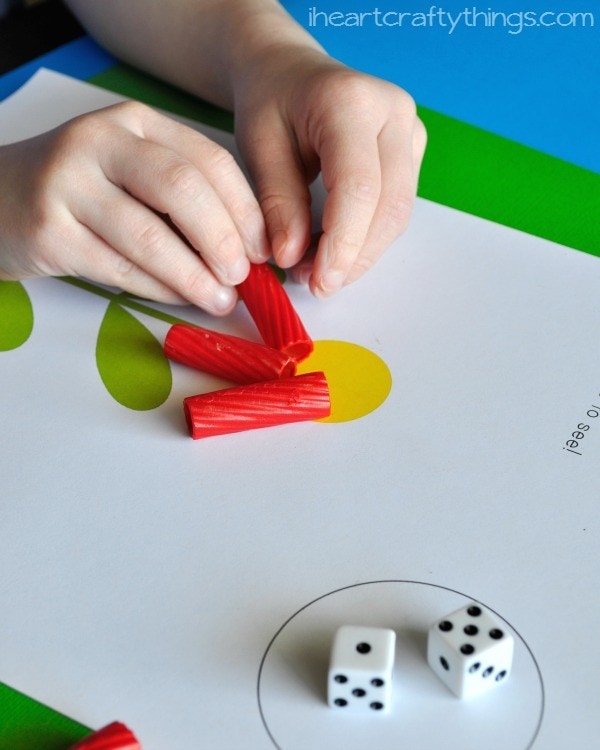 We used red to dye our pasta noodles, but while we were playing she suggested that we should have made more than one color so she could create colorful flowers. I love her creative mind! Colorful flowers are definitely next on our list!
PIN ME PLEASE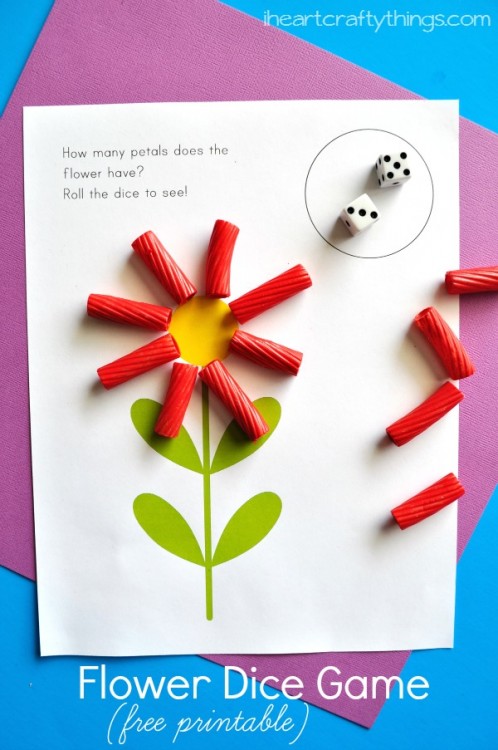 This post is part of a collaborative preschool series where four bloggers and myself have joined together to bring you fun crafts and activities based on a common preschool learning theme. This week we are sharing ideas focused on Flowers and Plants.
Check out all the other Flowers and Plants ideas from our creative preschool buddies:
Learning About Plants: Activities & Printables | A Little Pinch of Perfect
3D Flower Art | Artsy Momma
Painted Tin Can Succlulent Plants | Pink Stripey Socks
Tissue Paper Flower Collage | Hand Made Kids Art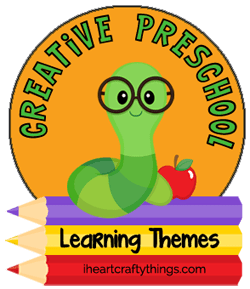 Stop by April 17, 2015 for Bug Crafts and Activities.
You might also enjoy these activities: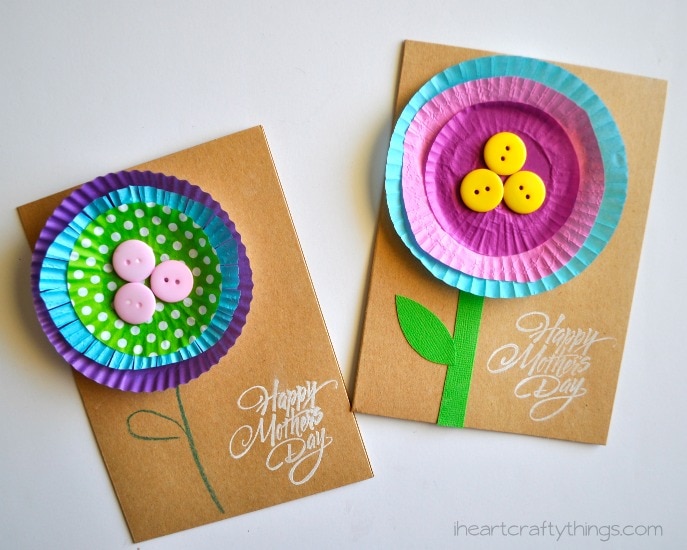 Google+, Twitter, and Instagram for more crafty fun!