Lighthouses serve a very specific yet very important function. On a basic level, they help to prevent ships from running aground.
They can also be a very picturesque addition to any landscape, and this means that they are common in many artworks like drawings and paintings.
If you would like to create your own lighthouse artwork, then learning how to draw a lighthouse would be essential!
The guide that you have in front of you will show you how to do just that!
We hope that you have a great time working on this step-by-step guide on how to draw a lighthouse!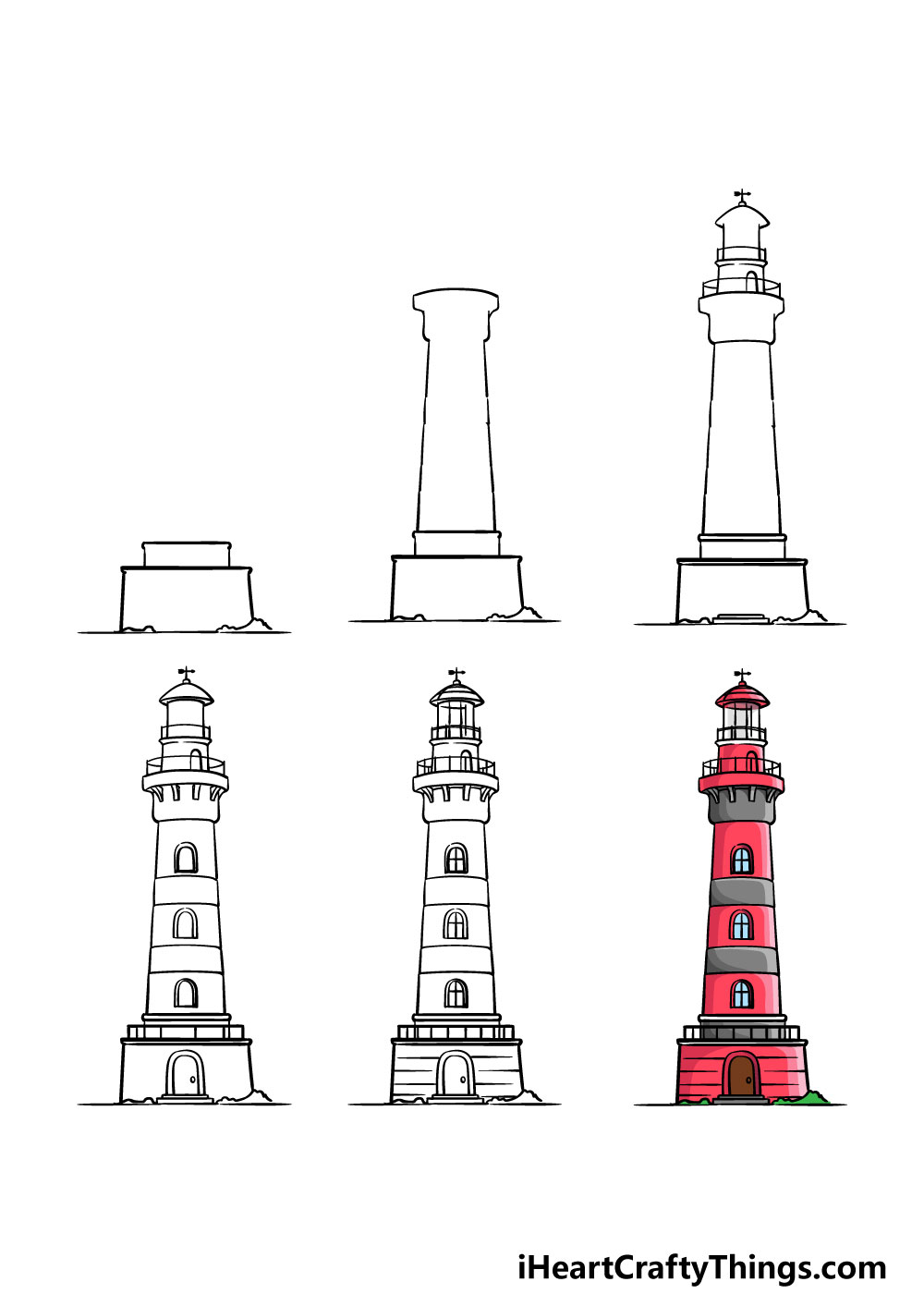 How to Draw A Lighthouse – Let's Get Started!
Step 1
In this step of our guide on how to draw a lighthouse, we will start on the base. For this guide, you will find it much easier if you have a ruler on hand, as there will be lots of straight lines to draw for this lighthouse.
To start with, you can draw a straight horizontal line for the ground that the lighthouse is on. Then, there will be two levels to this base, with the bottom one being wider than the one on top of it.
There will be a small ridge at the top edge of each of these levels, and you can add some subtle shrubbery at the base of the lighthouse.
Step 2 – Draw the body of the lighthouse
Now that you have the base of your lighthouse, you can start on the body of the lighthouse in this step of your lighthouse drawing.
There are two ways that you could do this, and we will cover both in this step!
The way that we have done it in the reference image will result in a bit more detail for the lighthouse.
In this way, the body of the lighthouse will be drawn with many small lines with each one moving slightly closer into the lighthouse.
If you would prefer a simpler method, you could also use your ruler to draw the two sides of the lighthouse if you're finding the first way to be too difficult.
Either way will look great, however, so be sure to go with what feels best for you!
Whichever way you choose, you can then draw the top of the shape as it is shown in our reference image.
Step 3 – Now, draw the top of the lighthouse
You have the body of your lighthouse done, and in this step of our guide on how to draw a lighthouse we will work on the top of the lighthouse.
This top of the lighthouse will be quite thin with a little roof on top of it. There will also be a small, thin railing at the top.
The reference image will guide you as you add the smaller details while drawing!
Step 4 – Next, start adding some finer details
This lighthouse drawing is looking great already! In this step, we shall start to add the final details before we start to color in this picture.
The details in this step will include some aspects such as windows and the door of the lighthouse. There will also be some smaller details added throughout the lighthouse.
Step 5 – Now, you can finish off the final details
You're just about ready to finish off the drawing and start to color it in! The details that we will be adding in this step are smaller ones, but they will make a big difference to the picture as a whole.
These details will be drawn with some simple lines throughout the lighthouse, and these will include the base and the windows of the structure.
These are the details that we would add, but you can continue with your own if you would like as well!
You could draw a background for one idea, or maybe change the weather for a different mood to the picture.
These are just a few ideas you could try, but you should be sure to get creative, have fun with it and see what happens!
Step 6 – Finish off your lighthouse drawing with some color
This has been a tricky drawing to complete, but you have successfully reached the last step of your lighthouse drawing!
This is the step where you get to have lots of fun adding some amazing colors to your picture.
Our reference image shows you just one way that you could color in this picture, but it's just one of many ways that you could go about it.
We used red and black for the example image, but you could use any colors that you like for your own one.
Once you know which colors you would like to use, you can also have some fun choosing the art mediums you will use to bring them to life!
If you would like the lighthouse to look nice and bright then you could use colored pens, markers or acrylic paints for a few ideas. For a more muted, classic look you could use some watercolor paints, colored pencils or crayons for that kind of look.
Which of your favorite colors and mediums will you use to finish it off?
Your Lighthouse Drawing is Complete!
You have reached the end of this guide on how to draw a lighthouse! You should be very proud of the incredible drawing that you have in front of you now.
This wasn't an easy drawing to take on, so we hope that by having this guide to break it down into smaller steps that you found it to be much easier and more fun than expected!
You don't have to stop here, though, and this guide was designed to give you some freedom to personalize it with your own details and elements.
We mentioned a few ideas to try such as drawing a detailed background or by adding some weather details.
There are so many ways you can be creative with it though, and we can't wait to see what ideas you come up with!
We have many amazing drawing guides for you to enjoy on our website, and we upload new ones for you to enjoy frequently as well. Be sure to check in often to never miss out!
When your lighthouse drawing is complete, we would also love to see it! You can show us by sharing it on our Facebook and Pinterest pages for us to enjoy.