The dandelion is a plant that can be found in many places around the world.
They look very pretty with their bushy white tops, and you can blow on them to send these white flowers floating into the air.
Seeing as the flower of a dandelion is made up of many small parts, it can make it tricky to learn how to draw a dandelion.
It's tricky if you don't have the right guide to follow, that is! Luckily you happen to be reading the guide that will make it easier for you.
Our step-by-step guide on how to draw a dandelion in just 7 steps will have you drawing this amazing plant in no time!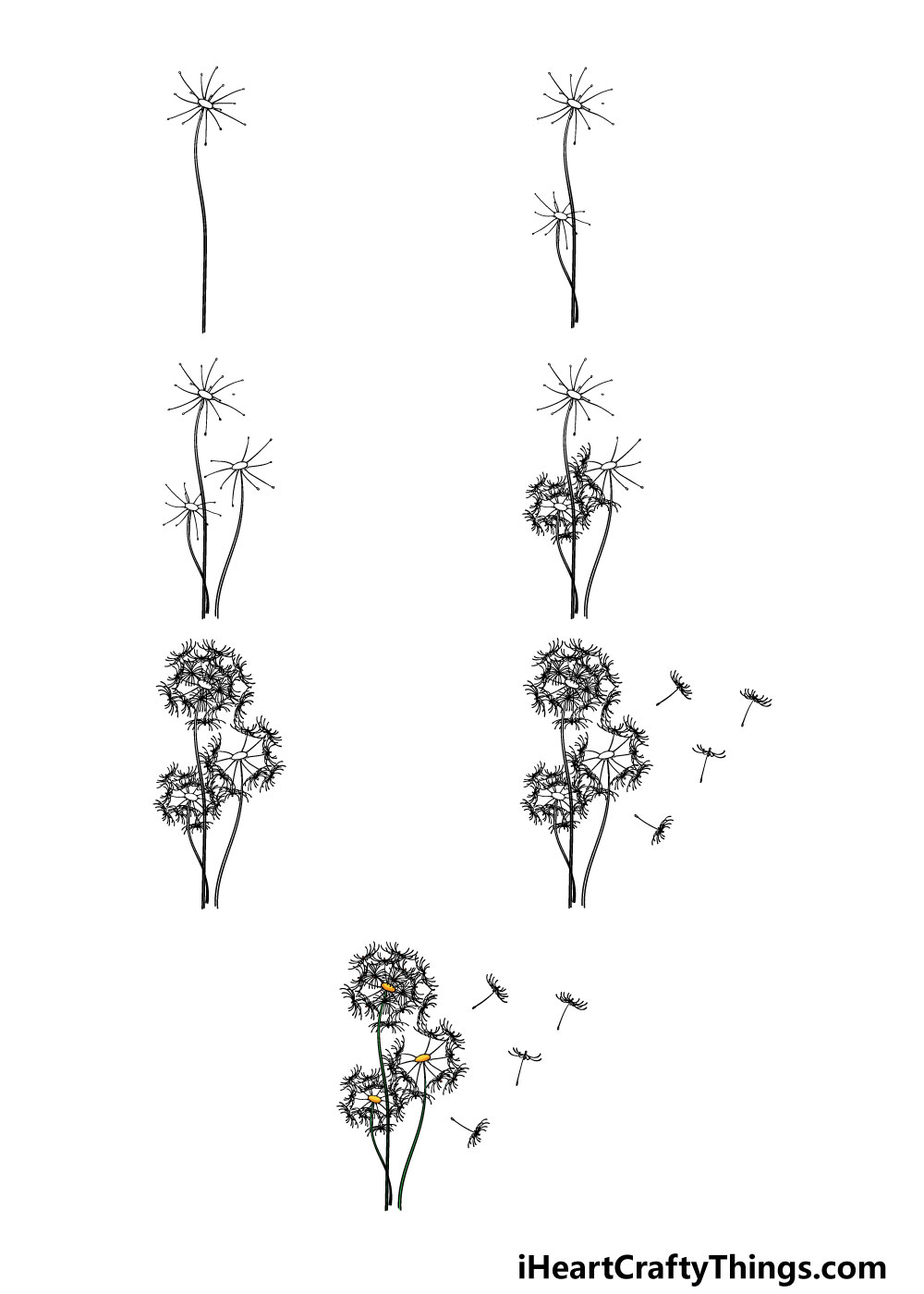 How to Draw A Dandelion – Let's get Started!
Step 1
This first step of our guide on how to draw a dandelion may require some patience and a steady hand.
You should start off this dandelion by drawing a small oval shape that will form the center of the dandelion.
Then, draw some slightly curved lines coming out from this central oval. Each one will have a tiny circle at the end, but you could also use some dots instead.
Once you've finished these aspects, you can draw the stalk of the dandelion. You'll want to use either a very sharp pencil or a fine-tipped pen for this part.
Ideally, you should draw two curved lines running very closely parallel to one another.
If this is proving a bit too difficult, you could draw them a little bit further apart or even use a single thicker line instead of these two thin ones.
Step 2 – Draw a smaller dandelion underneath the first one
For this part of your dandelion drawing, we will be adding a second little dandelion underneath the first one.
This dandelion will be drawn using the steps that you used for the first one, except it will be smaller and lower down this time. The stalk of this one will also be a bit more twisty than the first one was.
That's all there is to it for this step, and we are ready for the next part.
Step 3 – Draw a third dandelion for your picture
We will be adding one more dandelion to make a nice trio in this step of our guide on how to draw a dandelion.
Once again, you can use the tips from the first step to draw this third one. It will be a little bit further away from the previous two that you drew.
Now that you have all of your dandelions, we will start adding details to them in the next few steps.
Step 4 – Now start drawing some of the seeds for the dandelions
One of the most notable features of a dandelion is its light seeds that float away into the breeze. We will start to draw these in this part of your dandelion drawing.
This part may look complicated, but it's not as hard as it looks! Simply draw some small, curved lines coming out from the center of each little arm of the dandelions.
Once you've drawn one or two you'll get the hang of it in no time!
Step 5 – Draw the seeds of the remaining dandelions
Now that you have the hang of drawing these seeds, you can finish off the seeds for the remaining dandelions in this step of our guide on how to draw a dandelion.
Simply keep covering the remaining dandelions as you did in the previous step to have them full of these beautiful seeds.
The dandelion on the bottom right will have slightly fewer seeds as we're going to show some drifting off in the next step.
Step 6 – Now, add the final details
We will be finishing off your dandelion drawing by adding some final details in this part. To finish off the steps of this guide, all you need to do is draw some seeds floating off from the right-hand dandelion.
These ones will look very similar to the ones that you drew on the dandelions earlier, except these ones will be in the air.
Before you move on to the final step, you can also add any extra details that you would like. Perhaps you could draw a background to show where these dandelions are growing!
You could also draw some animals for the background, perhaps a cute rabbit.
These are just a few ideas, but how do you think you will finish off this dandelion drawing?
Bonus: Use Some Unconventional Methods To Color Your Drawing
We're about to look at some ways that you can bring some color to this dandelion drawing. In the step that's coming up, we will look not only at some of the colors you can use but also some of the art mediums you can use.
Before we go over those more conventional methods, we thought it would be fun to go over some other methods you could use to color your drawing that could be a bit more out there.
First, let's look at the fluffy head of the dandelion, which will be quite an intricate part of the drawing to color, but there are some ways you could make it easier and even better.
For example, one interesting way to portray this part of the drawing would be to not color it at all but use something like a cotton ball. With your cotton ball, you could stick it over this part of the drawing.
This would not exactly replicate the look of the way the fluffy part of a dandelion looks, but it would add a nice 3D aspect with some texture. There are ways you could do this for the stem too.
For example, it could be fun to stick a green pipe cleaner over the stem, giving that a nice textured feel as well. These are some very simple examples, but they show you a few of the ways you can go about it.
If you don't want to use that many crafts but would still like some kind of subtle incorporation, then you could maybe use a yellow button or bead for the yellow center of the dandelion.
These are some fun ideas, but what are some other more unconventional ideas to bring color to this dandelion drawing?
Step 7 – Finish off your dandelion drawing with some color
Now that you have finished your picture, you can close off this guide on how to draw a dandelion by adding some color!
In our reference image, we used some green for the step and put a dot of yellow at the center of each dandelion.
There is plenty that you could do to add any other colors you would like, however! You could use your favorite colors over the lines of the dandelion to give it a more stylistic look.
If you drew a background or some extra elements then you can also color these in for even more color variation.
For a drawing like this, some watercolors would create a nice soft look that would suit these soft dandelions.
Any mediums you use will bring something beautiful to your image, however, so we can't wait to see what you decide to use!
5 Tips To Make Your Dandelion Drawing Even Better!
Enjoy some calming drawing fun as we make your dandelion sketch even better!
This drawing of a dandelion shows 3 of these fluffy plants. This is a great arrangement, but you could add many more to create a field of dandelions!
As you have finished this guide, you have all you need to create as many dandelions as you want for your arrangement.
Depending on how much space and patience you have, you could create hundreds of dandelions if you wanted to!
When you have had your fill of drawing dandelions, you could then add other kinds of flowers and plants. This could be as simple as adding some dirt and grass to finish off the scene.
Or, you could show off your favorite colorful flowers that can join this dandelion trio. Which plants and flowers would you like to include in this scene?
Next, you can take our previous step even further by adding a complete background setting. Once again, how far you take this would depend on your own preferences.
For example, you could create a simple garden scene for your drawing. Or, you could make a whole cottage background with a building, yard decorations and more.
These are a few ideas, but you should make any background you like!
Another way to add some character to your artwork would be to add some living characters. These could be small creatures such as rabbits or mice that are enjoying their day.
Or, you could take it a step further and add a human character, even if we just see a portion of them. They could even be based on yourself!
Finally, we would recommend having some fun by using an art medium that is out of your comfort zone as you color in your dandelion sketch.
For instance, if you don't typically use watercolor paints, then they would be great for these dandelions.
That is one example, but there are so many mediums, arts and crafts that you could use to make it even more incredible.
Your Dandelion Drawing is Complete!
That brings you to the end of this guide on how to draw a dandelion! When taking on a new drawing, it can be frustrating if you go in blind and don't know what to do.
Guides like this one break it down into smaller, more manageable steps so that you can master it with no frustration while also having lots of fun!
You can keep the creativity going by adding your own elements and details. Whether you do this by drawing extra elements, by adding a background or with some creative colors we know it will look amazing!
We have many drawing guides for you to enjoy on our website! Be sure to visit us there often to catch each new guide as it comes out.
Once your dandelion drawing is done, we hope that you will share it on our Facebook and Pinterest pages for us to enjoy!