2. Once it was dry, I turned it over and traced a bat wing pattern on the back of it for all of our wings. (I just free-handed the bat wing on a separate piece of paper to use for our pattern.)
3. Cut out all of the wings, lay them out, and brush some school glue on the front of them with a paint brush. Then sprinkle purple glitter all over them. You can dump any excess glitter into the trash can.
4. Once the wings were dry, we glued our bats onto our grey cardstock. Start by gluing on the cupcake liners, then a wing on each side. Finish your bats by gluing on googly eyes and use a white crayon to draw on the mouths.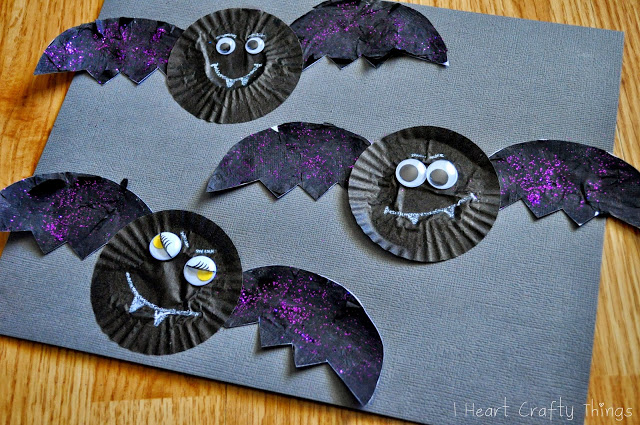 Here is how my 3yr old's bats turned out. She wanted a purple paper to match her purple glitter.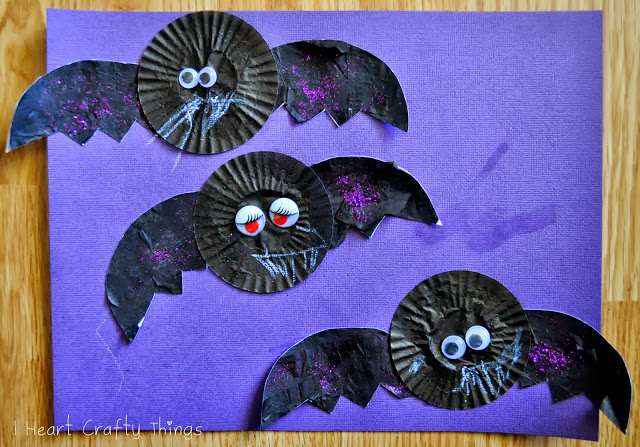 If you are looking for a simpler way of creating this craft with a larger group, you can skip out on the tissue paper wings and just use black paper sprinkled with the glitter (or leave out the glitter entirely).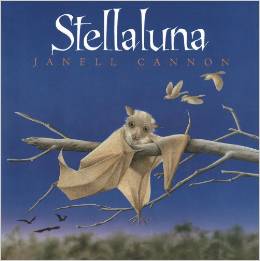 You can follow I Heart Crafty Things on Facebook, Pinterest,
Google+, Twitter, and Instagram!