Of all the symbols of America, few are more iconic and recognizable than the flag itself. The colorful red, white and blue immediately portrays the patriotism and national pride of the citizens of America.
Despite how iconic this flag is, it can be surprisingly challenging to learn how to draw the American flag while keeping it accurate.
This guide you're about to work through will show you that it doesn't have to be difficult when you know what to do!
Our step-by-step tutorial on how to draw the American flag will have you creating this symbol of America in no time!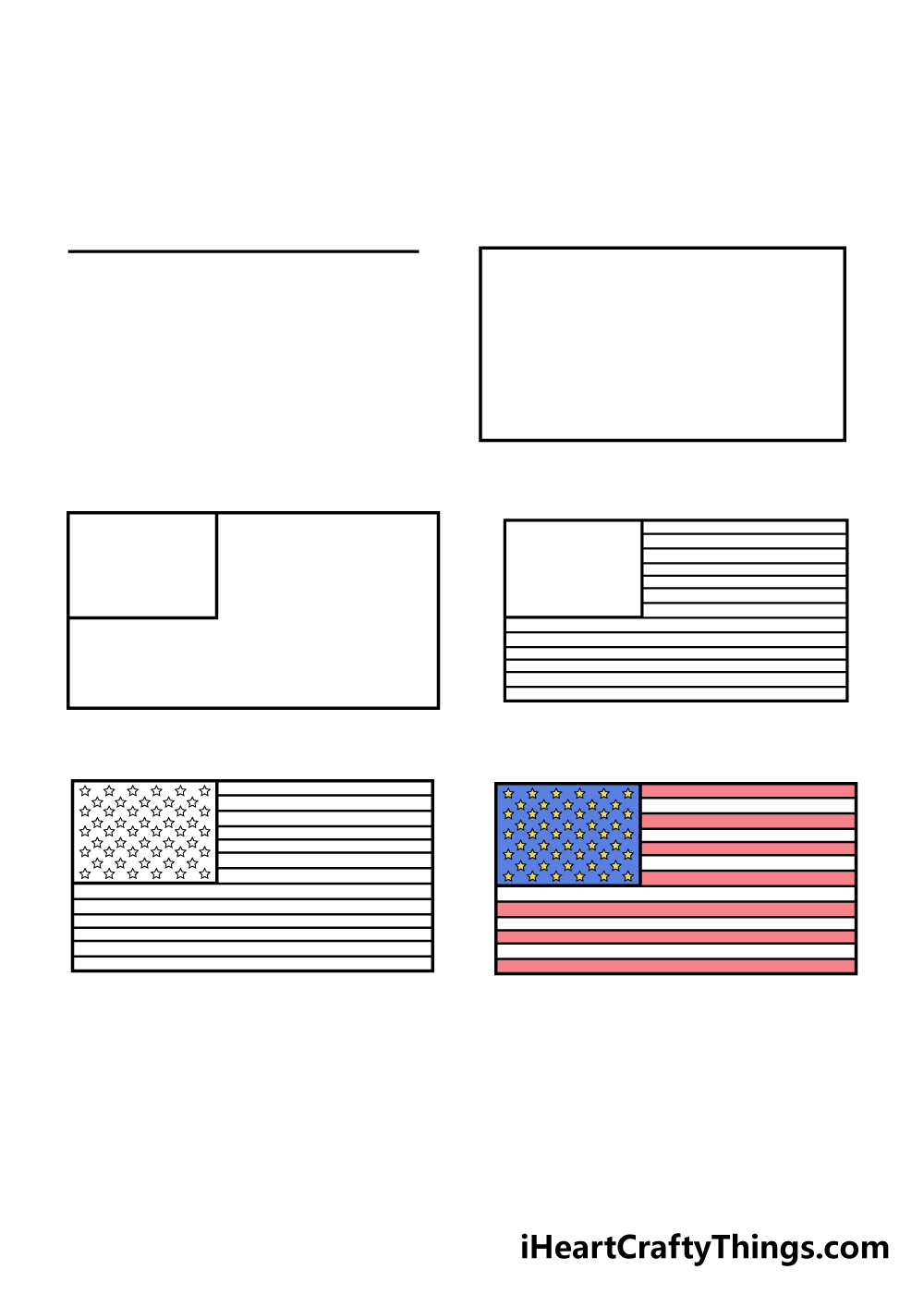 How to Draw The American Flag – Let's Get Started!
Step 1
For this first step of our guide on how to draw the American flag, you will need a ruler to make your life easier!
Once you have your ruler ready, this next step should be a very easy one for you to do. All you need to do is draw a straight horizontal line that will form the top of the flag.
That's all there is to it for this step, so it's on to step 2!
Step 2 – Draw the rest of the flag outline
Hopefully you still have your ruler handy, as you will be needing it for this next step of your American flag drawing.
To complete the outline of the flag, simply draw the remaining three sides of the flag as shown in the reference image. You should end up with a perfect rectangle.
To get the angles of the corners right, you could use a tool like a set square to help you as you draw.
Step 3 – Now, draw the rectangle inside of the flag
The stars of the fifty states are an iconic feature of the flag, and we will be drawing the rectangle that they are contained in for this step of our guide on how to draw an American flag.
To do this, simply use your ruler to draw a rectangle in the upper left corner of the flag as shown in our reference image.
Step 4 – Add the stripes of the flag in this step
This next step of your American flag drawing may seem deceptively simple on the surface as you're only drawing some lines, but it can be trickier than it looks!
The reason for this is that if you want the flag to be accurate you'll want to make sure there are thirteen stripes on the flag.
If you're keeping the distance of the stripes even, it can be easy to either un out of space or have too much space at the end!
You can avoid this problem in two ways. For the first, you could draw the lines with a pencil first and then use your pen when you get the spacing right.
Alternatively you could leave out the bottom edge of the flag and then draw it in when the stripes are correct. However you do it, you'll soon be ready for the final touches!
Step 5 – Now, you can add the stars of the flag
Before you add the classic American flag colors to your drawing, we have one more important step in this guide on how to draw the American flag.
The flag is sometimes nicknamed the stars and stripes, and since you've already drawn the stripes it's time to add the stars!
We mentioned earlier that there are fifty stars on the flag to represent the fifty states, so we will draw them in this step.
There is a bit of a pattern that you can follow here, as you can draw a row of five stars vertically, and then follow it with four stars next.
Keep doing this pattern until you have all fifty stars! This is a step that can require a bit of patience as you draw each star, but it will be worth it!
Much like the stripes that you drew previously, you could use a pencil first until you get the spacing of the stars right. You could then go over this pencil with a pen to finish it off.
Before you move on to the final step, be sure to draw any extra details that you would like! Some ideas could include a background to show what type of day it is in the background.
You could also draw a flagpole for this flag to be flying from! What details will you add before you color in your flag?
Step 6 – Finish off your American flag drawing with some color
Now that your flag is drawn, there's one step left to finish off your American flag drawing!
The flag is well known for the red white and blue color scheme, so that is what we went for in our reference image.
For an extra touch in our drawing, we colored in the stars with a light yellow as well. You could also leave these white if you prefer!
Then, you could use your favorite shades of blues and reds for the rest of the flag. For the stripes, you will alternate with red and white, and it should end up with red being the color for the first and last stripes.
When coloring in a picture with smaller details like this, it can be helpful to use art mediums that allow for precision to make your life easier.
Some examples of mediums that you can use would be colored pens, markers or colored pencils. If you would like to use paint then you'll want to use a thin-tipped paintbrush if you can.
Which colors and art mediums will you use to finish off this image?
Here's how you can make your American flag drawing even better…
Make a beautiful patriotic artwork with these fun tips for your American flag drawing.
We created a rectangular static version of the iconic flag for this American flag sketch, but you could change it to look more dynamic.
One way to do this would be to change the design to look like it is flowing fabric.
This can be more difficult than you think, so you may want to look up some pictures of real flags to help you out. It may also take a few attempts, so you may want to use a pencil first until you get the hang of it.
Another way to make this American flag drawing even better would be to draw a background. You could add the flag onto a pole, and this would go well with our previous suggestion.
Then, you could create a wonderful background setting with the sun or maybe some clouds behind it. What are some background setting ideas that you can think of for this patriotic scene?
The American flag is the main symbol of American patriotism, but there are many other symbols you could add. For example, you could look up some pictures of a bald eagle and then use that to help you add one to the picture.
Or, you could draw some silhouettes of American presidents besides the flag or maybe a slogan that captures what patriotism means to you.
These are just a few of the fun ideas that you can use for this page, but what other patriotic symbols can you think of?
The US flag is often associated with July 4th, and so this drawing of the American flag would be perfect for an Independence Day card!
You could do this by drawing the picture onto some hard cardboard and then fold it over.
Then, incorporate any of the tips that we have spoken about here and then you're ready to write an Independence Day message! We're sure that anyone you gave this card to would really love it.
Your American Flag Drawing is Complete!
That brings us to the end of this guide on how to draw an American flag! We hope that this guide showed you how easy it can be to recreate this iconic symbol of America.
It can be harder than it seems thanks to the many small elements, but if you follow this guide you'll be able to do it!
When you're ready for more drawing fun, then you're in luck as we have plenty of awesome drawing guides for you to enjoy!
We upload new guides all the time as well, so be sure to visit often to never miss out!
We would also love to see your incredible American flag drawing when it's done, so we hope that you will share it on our Facebook and Pinterest pages for us to enjoy!