Do you have an empty egg carton laying around the house? If so, here's an easy way to repurpose it into a gorgeous flower garden craft that kids will love to play with.
Preschoolers and kids of all ages are going to love the entire process of creating this fun spring craft. From designing and creating each colorful flower, to planting them in their garden—They are sure to have loads of fun!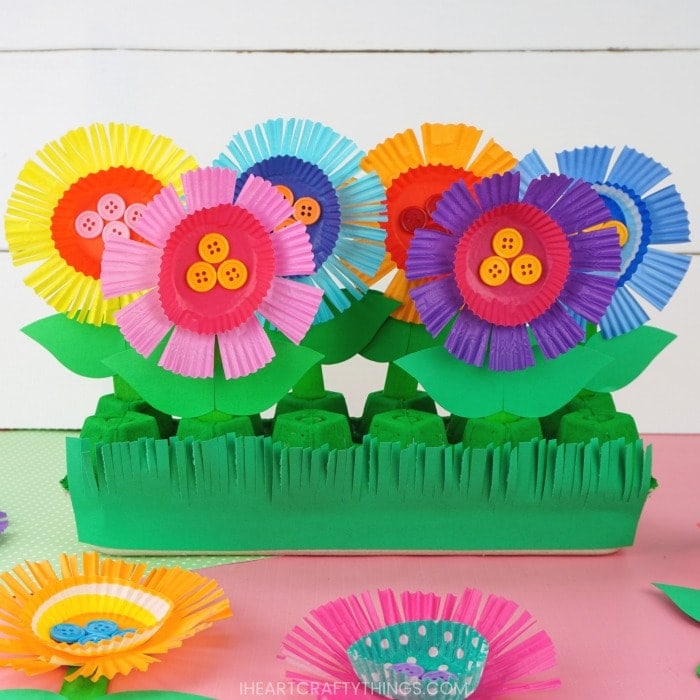 Making each flower is a simple process by using pre-colored green craft sticks, cupcake liners and buttons. Our flower petal template comes in handy too, but kids are welcome to cut out and create their own flower petals if they like.
Combining different colored cupcake liners is a fun way for kids to get creative by making unique and colorful flowers. Adding polka-dot or other patterned liners is another fun way to create some fun flowers for your garden.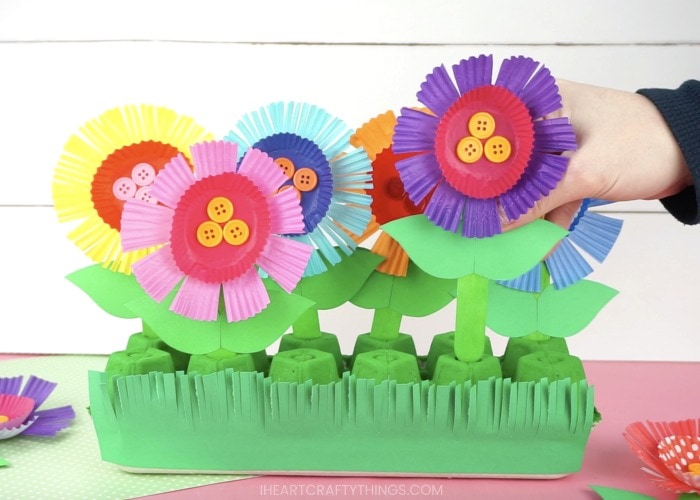 Easy Flower Garden Craft for Kids
The best part of this craft project is when kids get to plant each of their flowers inside their garden. Not only is this a fun activity for little ones, but it's great for working fine motor muscles in the hands too.
Read our simple step-by-step instructions below for how to make this amazing flower garden craft. You will also want to make sure you watch our easy video tutorial inside this post before you get started.
Supplies needed to make this fun egg carton craft
This post contains affiliate links to the products mentioned. Read our disclosure policy for more information.
flower garden template <—– Get the Template Here
egg carton
green paint
sponge paintbrush
green cardstock or construction paper
cupcake liners (regular size and mini)
buttons (We received our adhesive buttons from Orientaltrading.com. All opinions expressed are my own.)
scissors
herb scissors (optional)
extra strength glue stick
craft knife (adult use only)
Instructions for making your own flower garden craft
1. Start by using a sponge paintbrush to paint the bottom of your egg carton with green paint. Set aside the egg carton to dry completely.
2. Download and print out the flower craft template. Print the flower petal shapes on green cardstock and the 2-inch circles on white cardstock. Each page has enough pieces for six flowers. Cut out each of the pieces of the template.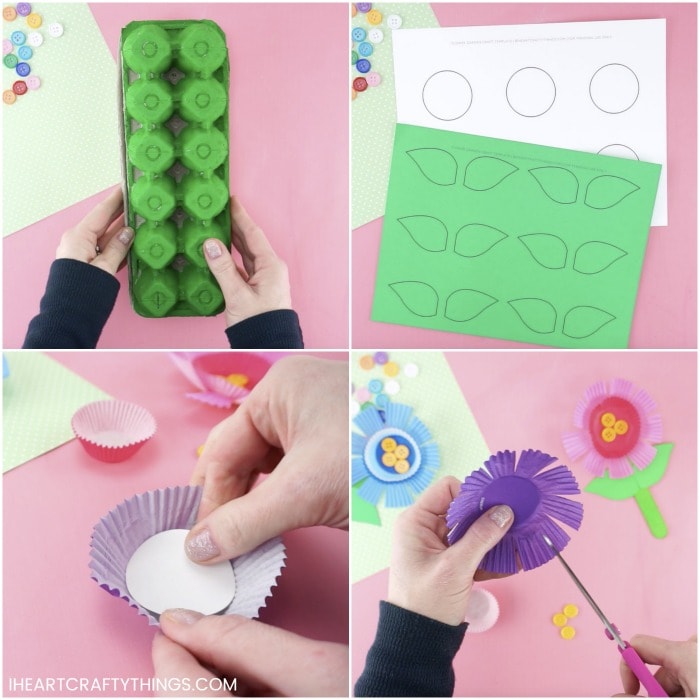 Time to make each of the flowers for your garden
3. Glue a 2-inch circle on the inside of a regular sized cupcake liner. This add stability to the flower and creates a place to glue the flower onto the stem.
4. Invert the cupcake liner so the outside color is facing up. Use scissors to cut slits around the entire perimeter of the cupcake liner rim to make flower petals.
5. Add glue in the center of the flower. Slightly flatten out a mini cupcake liner and glue it down in the center of the flower.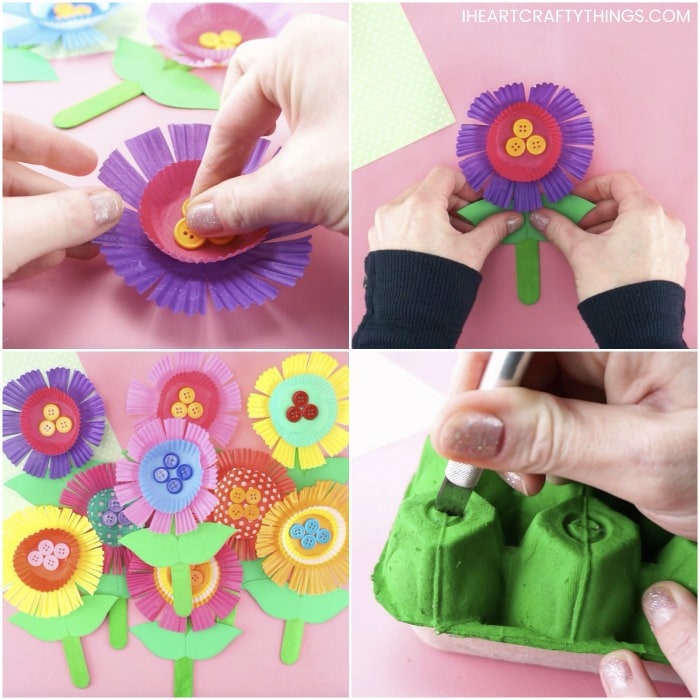 6. Glue buttons on the inside of the flower. We used these adhesive buttons from Oriental Trading. They are amazing because they don't require any glue at all. Simply peel the backing off and place them on the inside of the flower.
7. Add glue at the top of a large green craft stick and attach your cupcake liner flower. Then add glue in the middle of the green craft stick and glue two flower petals on it to complete your flower.
Make several flowers in different colors to plant in your flower garden. We recommend between 5-8 flowers per egg carton.
Note: If you don't have pre-colored large craft sticks, simply paint some regular ones with green paint at the same time you are painting your egg carton.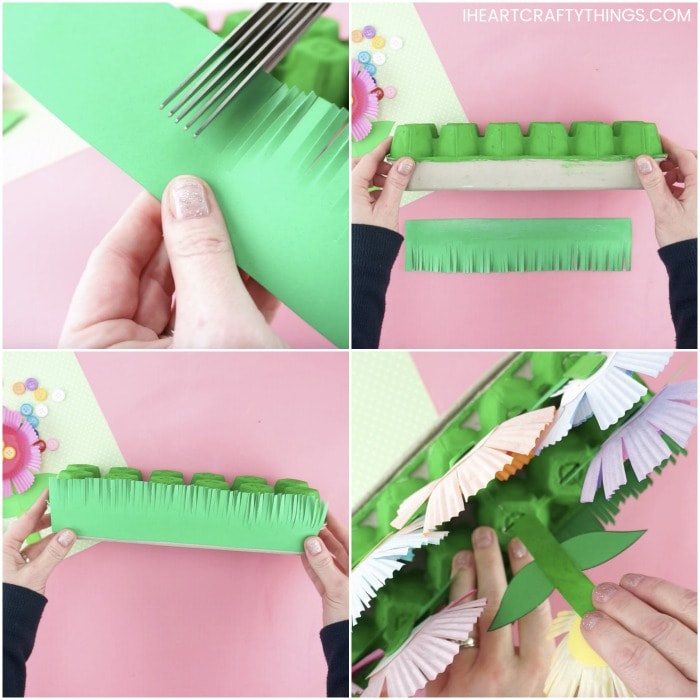 Finish assembling your egg carton garden
8. Using a craft knife or scissors, have an adult cut a small slit in the center of egg each carton slot. Make sure the slot is long enough for the craft sticks to fit into.
9. Cut a strip of green cardstock or construction paper that is about 11-inches long and 3-inches tall. Use scissors or herb scissors to cut slits along the top of the paper strip to make grass.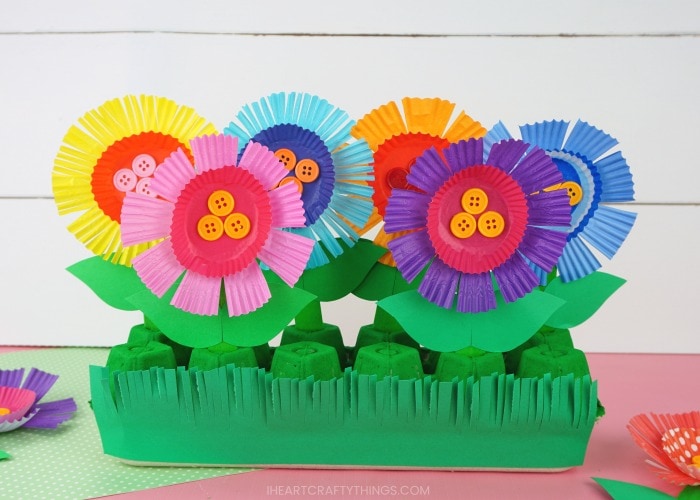 If you don't already have a set of herb scissors in your craft supplies, I highly recommend them. They are perfect for project like this where you need to cut grass, or cut thin flower petals like in our cupcake liners.
10. Add glue on the bottom half of the green grass paper strip and glue it along the bottom of your egg carton (which is really the top). See pictures above for reference.
You can add sections of grass around the entire perimeter of your egg carton if you want. This is ideal if you are using the flower garden for a center piece on a table.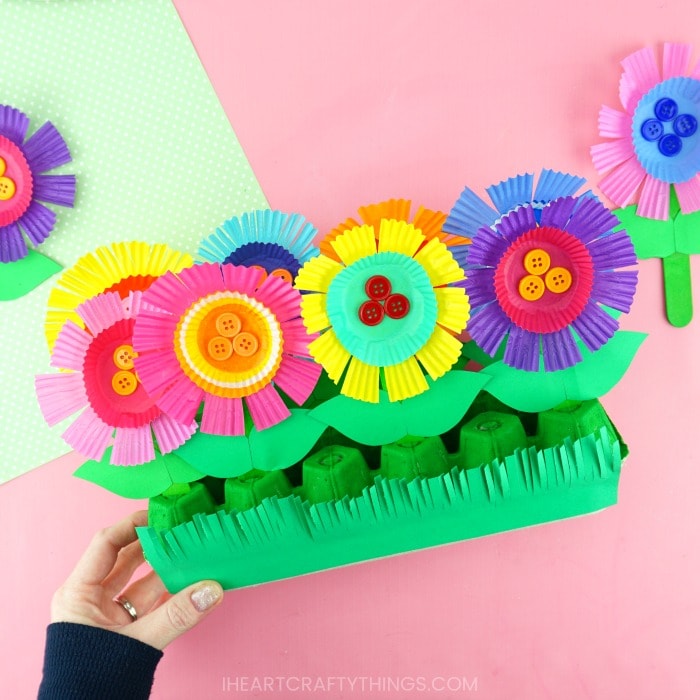 Time to plant your flowers in your garden
Now comes the fun part! Once the egg carton garden is created, children can plant each of their flowers in it. Simply hold a flower at the top of the stem and press it down into one of the slits in the egg carton.
Plant only a few flowers, or fill your garden up completely with colorful flowers. You might even like making some extra flowers to interchange them throughout the season.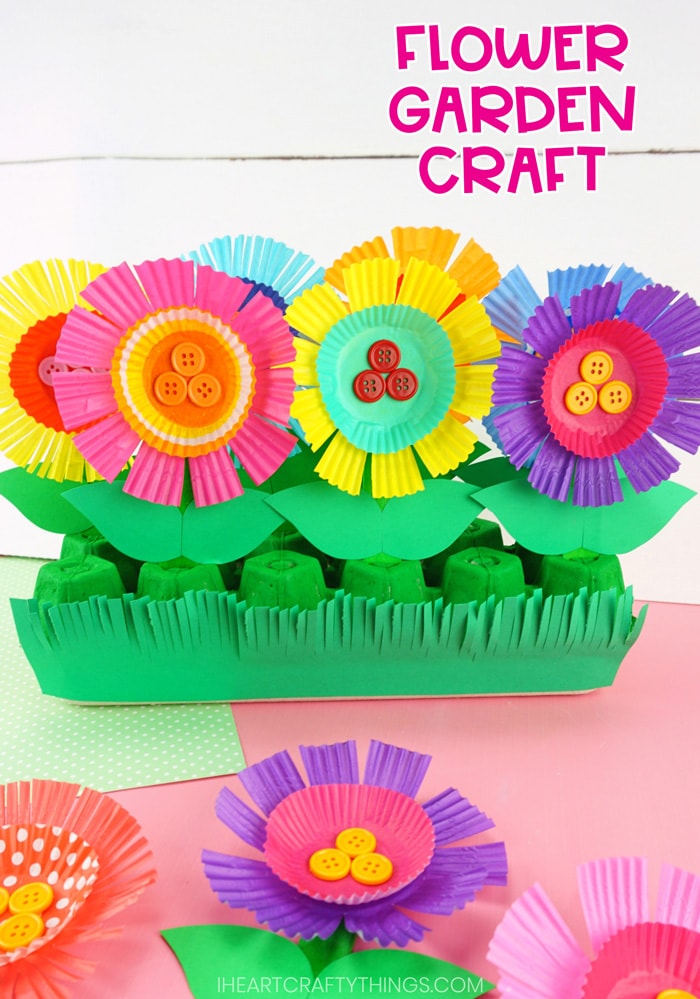 More fun Flower Crafts for Kids
These easy flower windsocks are another fun and colorful way to enjoy flowers this spring or summer. Our template makes the project super simple.
Pop up cards are always a huge hit for kids. See how simple these pop up tulip flower cards are to make!
Learning about flowers in preschool? Kids will love this interactive paper plate growing flower craft.
3D flower crafts are always a favorite at our house every spring. Check out this awesome list of beautiful 3D Flower Crafts kids will love making.