Nowadays, adding emojis to your text is essential to get your message across clearly.
Emojis enable us to accurately convey our emotions through digital communications despite not being able to see each others' faces.
If you want to draw something easily in a short period of time, this heart-eyed emoji could be what you're looking for.
We have curated a step-by-step tutorial on how to draw emojis summarized in 9 easy and simple steps. With this comprehensive guide, drawing emojis is made easier.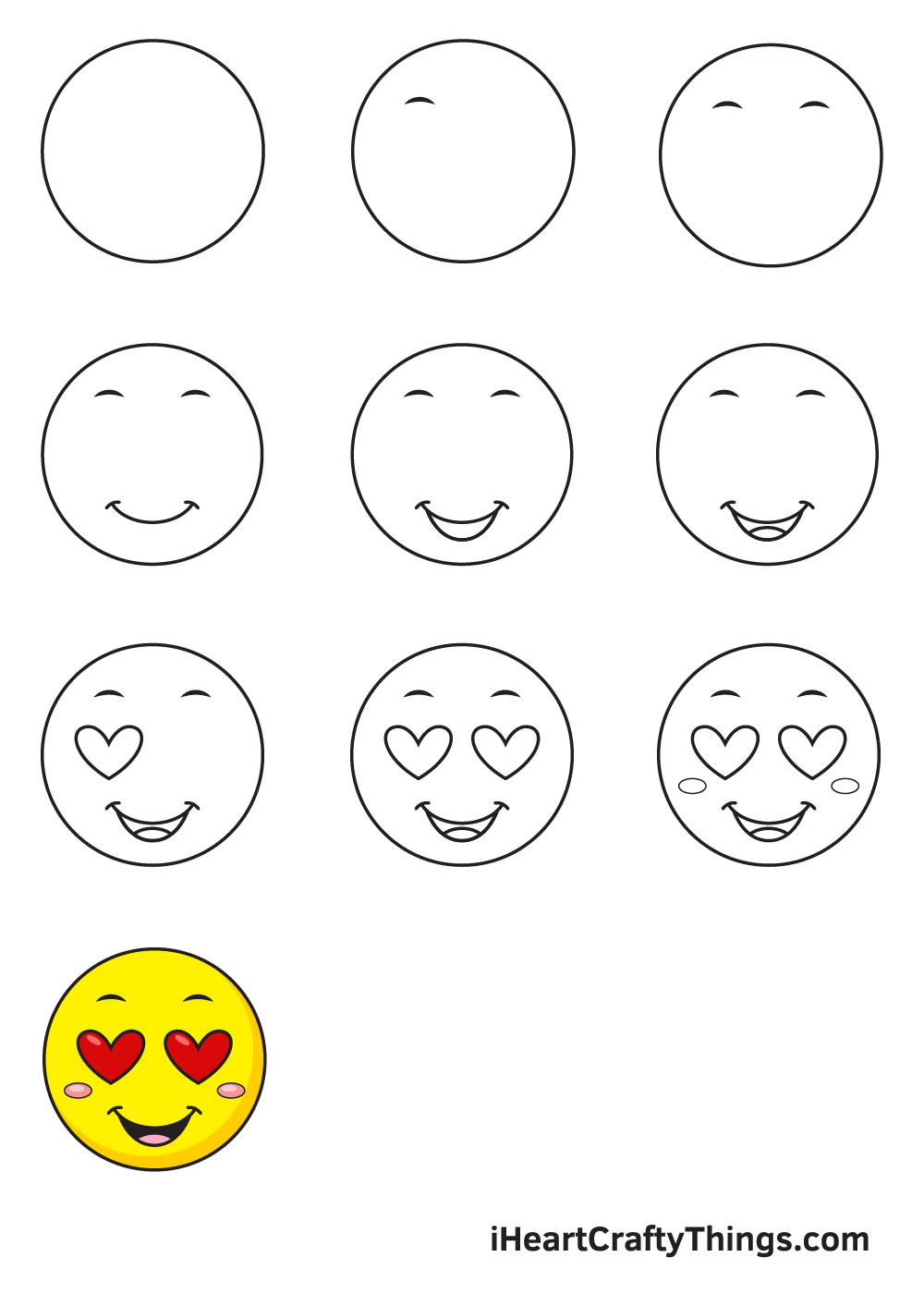 Each step is accompanied with comprehensible illustrations that serve as your visual guide as you follow the instructions. All you need is a piece of paper and any type of tool you can draw with.
Whether you are a novice or an expert in drawing, we're sure you can follow these steps effortlessly. What's more, you can add your own style and improvise in every step.
Mix and match colors to customize your artwork and make it unique. Feel free to let your imagination wander and unleash your creativity.
Have fun and use your artistic skills!
How to Draw Emojis — Let's get started!
Step 1
Starting in the middle of your paper, draw a perfect circle to create the outline of the emoji's face. If you can't freehand a perfect circle, don't worry!
There's a tool that you can use to aid you in drawing a flawless circle, which is called a "compass". Feel free to use it if you like!
In order to ensure that the circle will be drawn in the middle, draw a vertical and a horizontal line across your paper.
These will serve as your reference lines to help you determine the perfect spot to draw your circle in. Remember, the point where the two lines meet should be positioned in the middle of your circle.
Step 2 — Draw the Left Eyebrow
Draw a downward curved line on the upper left corner within the circle to create the first eyebrow.
Step 3 — Next, Draw the Right Eyebrow
Right beside the first eyebrow, draw a second curved line to complete the eyebrows. Make sure that the eyebrows are even and aligned with each other.
Step 4 — Now, Draw the Emoji's Mouth
At the bottom part of the emoji's face, draw a wide upward curve. When drawn correctly, this curve should represent the upper lip of the emoji.
Step 5 — Put a Wide Smile on its Face
Draw another upward curve at the bottom of the mouth, connecting both ends together. This will be the bottom lip of the emoji.
In this step, however, the curve should be slightly lower than the one in the previous step. This will create the impression of a huge grin.
Step 6 — Draw a Tongue Within the Mouth
Inside the mouth of the emoji, draw a downward curve to form the tongue. After finishing this step, you should now be able to see the emoji's big smile.
Step 7 — Draw the Left Eye
Right underneath the left eyebrow, draw a heart shape. This will be the first heart-shaped eye.
Step 8 — Then, Draw the Other Eye
Now that we have finished drawing the first eye, we will be working on the other eye next.
Beside the left eye and underneath the right eyebrow, draw a second heart shape to complete the eyes.
Make sure that the heart-shaped eyes have the same size. It is also crucial to ensure that they are even and aligned to each other.
Step 9 — Create a Blushing Effect
Below the heart-shaped eyes, draw two tiny sideways oval shapes to create the illusion of a "blushing effect." This blush may seem small and insignificant, but it actually emphasizes the facial expression and the emotion of your emoji.
Here, you can see the emoji drawing is nearly finished! The only thing it's missing is a dash of multiple colors to complete your artwork!
Finally, here is the most exciting part—filling in the colors for your awesome drawing! This is the part where you can show off your artistic skills and your ability to mix and match various colors.
This heart eyes emoji is originally colored yellow with red heart-shaped eyes. However, don't let the standards stop you from experimenting with different colors.
Feel free to color the emoji using any color you prefer. After all, it's your work of art!
Don't forget to add a hint of color to your emoji's flushed cheeks!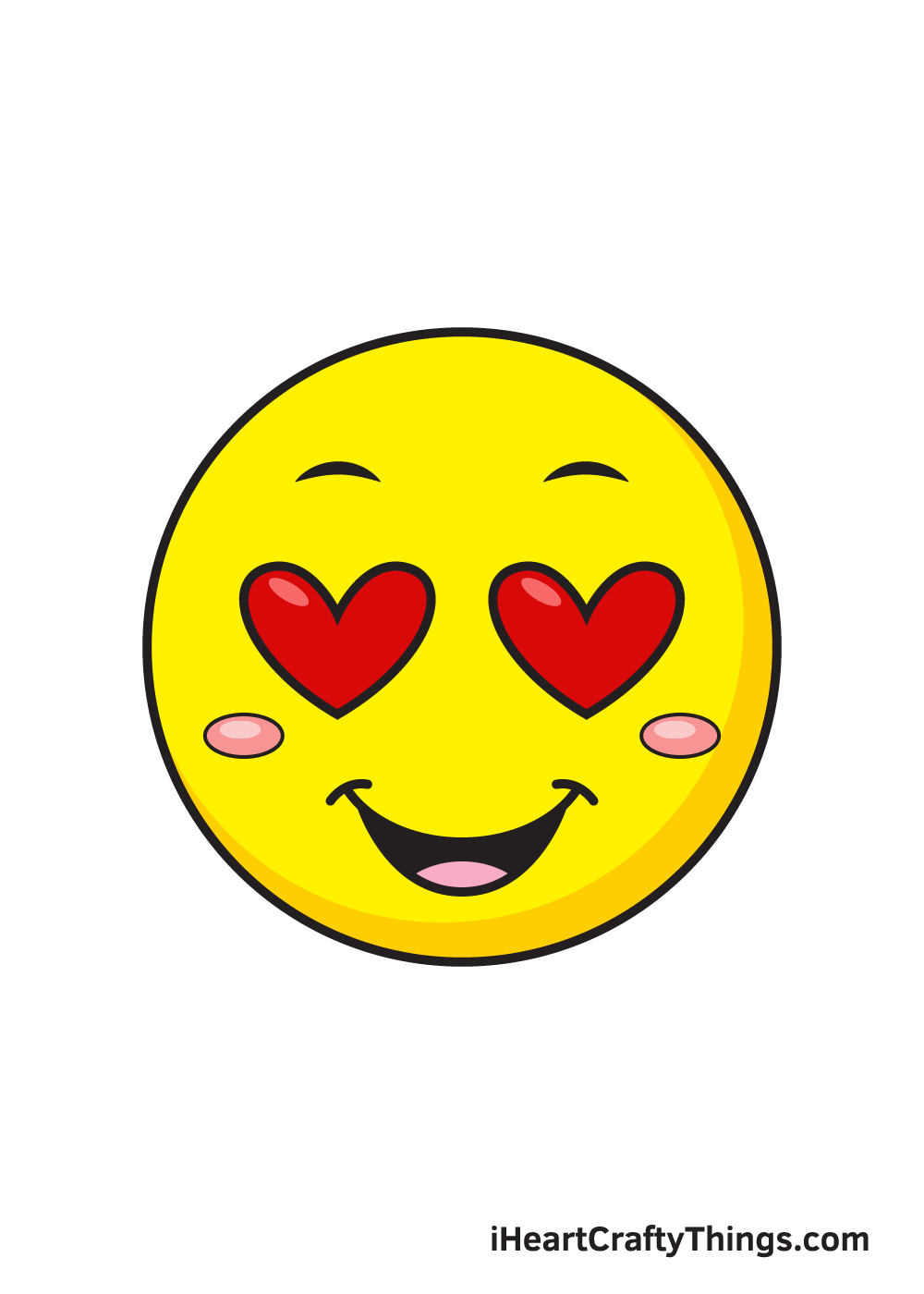 Your Emojis Drawing is Complete!
We hope you enjoy this step-by-step tutorial on how to draw a cupcake. With this guide, you can surely draw and color emojis along with its complex features and elaborate details in no time.
And the most fun part is, you can customize its flavors and play with various colors as much as you like! While you're at it, why not try using different coloring tools as well?
Once you've finished your masterpiece, we're certain you must be feeling very proud of yourself—as you should be! Completing this emojis drawing is definitely fulfilling.
Make sure to show off your work of art and share it on our Facebook page and on Pinterest. We're sure it looks amazing!
We can't wait to see your colorful emojis drawing!