There are many different sporting events that people around the world love to watch and play.
Of all of these, soccer is known to be the most popular of all, and there are billions of fans around the world.
Whether being played in the most prestigious stadiums or in the backyard, it's a sport that anyone can enjoy!
The ball used for the game may look fairly simple, but it can be a bit of a challenge learning how to draw a cartoon soccer ball.
That's what we will be covering in this tutorial, as we will show you how you can draw this famous ball in a fun and easy way!
So get ready to kick off this step-by-step guide on how to draw a cartoon soccer ball in just 6 easy steps!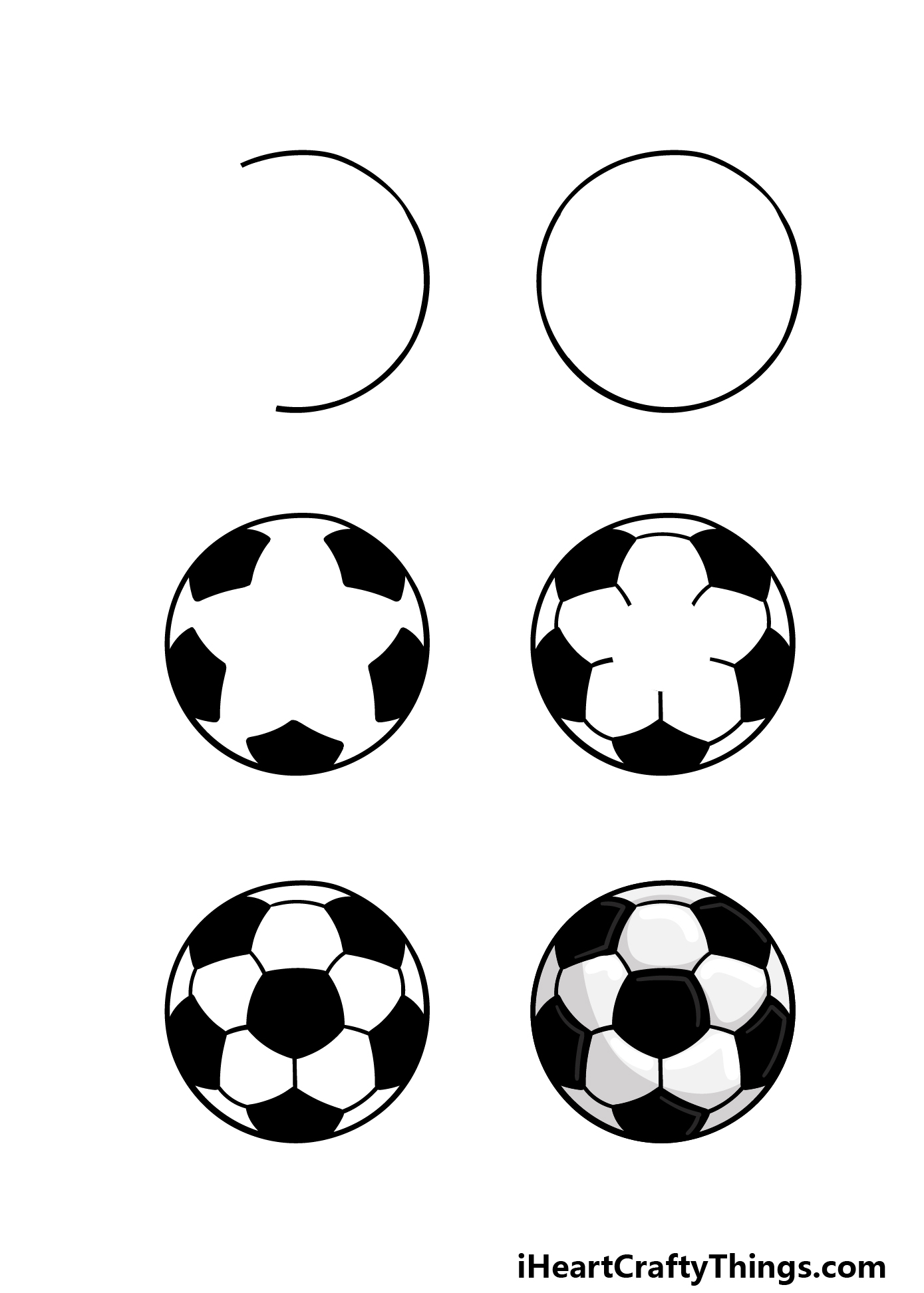 How to Draw A Cartoon Soccer Ball – Let's Get Started!
Step 1
We will begin this cartoon soccer ball drawing by drawing a simple circular shape that will serve as the outline for this ball.
There are a few ways that you can go about drawing this circle. The easiest way by far is to use a drawing compass. This is a tool that makes drawing a perfect circle very simple to do.
If you don't have a drawing compass on hand, you could use a pencil to draw the smoothest circle you can and then go over it with your pen.
We will only be drawing the start of the circle in this first step, but we will finish it in the next step of the guide!
Step 2 – Now, draw the rest of the outline
This second step of our guide on how to draw a cartoon soccer ball will focus on finishing off the circular outline of the ball.
There is only a small space to fill in, so this should be a simple step to complete!
To do it, simply continue the line you began in the first step using whichever method you chose for drawing the circle to finish the gap.
Once the outline is done, we can begin adding some details in the next few steps, so let's continue.
Step 3 – Next, draw the first black patches
Traditional soccer balls will typically be white with black patches, and while they can come in many variations this is how we will draw this particular soccer ball.
This can be surprisingly tricky, so to make things easier we will begin with the shapes on the outer edge of the ball.
Each of these shapes will have five sides, but because of the curvature of the ball we won't see all the sides of these first patches.
There will be five of them surrounding the inner perimeter of the outline, and you can refer to the reference image to see how they should be positioned.
Color in each one a solid black, and then we can continue!
Step 4 – Now, draw the white patches
Between the black patches, there are also plenty of white patches, and we will start drawing these ones for your cartoon soccer ball drawing.
To do this, we will be extending lines coming from each point of the black shapes inward.
There will be a line drawn from every single tip of the patches that are visible, and you should again try to refer to the reference image closely as you draw them.
There is a very specific pattern these lines will be drawn in, but the example image will make it much easier!
Then, we can move on to some final details and touches in the next step of the guide.
Step 5 – Add the final details to your drawing
This step of our guide on how to draw a cartoon soccer ball will see you finishing off the final details for the ball. To do this, we will be adding one more black patch to the center of the ball.
This patch will give us the clearest look at these black patches we've had yet, and it will show us all five edges.
The final black patch will slot nicely into the space left by the lines you drew in the previous step, and once it's added we can then finish off with some details of your own!
There are many ways you could take this drawing even further. One idea would be to draw a background, and this would be a fun way to make this even cooler!
If you drew a background, would you go for a big stadium or maybe draw a backyard setting?
Step 6 – Finish off your drawing with color
It's time to finish off this drawing with some colors! As we mentioned earlier in the guide, soccer balls are not known for being brightly colored.
Despite this, they can still come in bright, vibrant colors, but we will stick to the traditional look for our example.
We used some very light greys and beige colors for this ball in order to give it some nice shading.
You could use a similar approach for your own drawing, but as we mentioned you could also use some brighter colors for your own one!
It's completely up to you, and so are the art tools and mediums you use. Will you go for paints or maybe some colored pens and pencils? We can't wait to see what you go for!
Do this to take your cartoon soccer ball drawing to the next level
Find out how you can make this cartoon soccer ball sketch even better with these fun tips!
This drawing of a cartoon soccer ball shows a ball that is in pretty pristine condition. Anyone who has owned a beloved soccer ball will know they show plenty of wear and tear as time goes on.
You could customize this cartoon soccer ball by showing some of this texture detail to make it look more well used.
You will often see this degradation on the seams of the ball, so that's a good place to start.
How else could you make this ball look more well used?
Another way to customize this cartoon soccer ball would be to add some other small details. For example, you could add a logo to the ball.
This logo could be from a sports team you love or maybe a company that makes soccer balls. You could also add some small unique designs to the ball to personalize it a bit more.
Can you think of any other details you could add to the ball?
Next, we think you could add a character to this cartoon soccer ball drawing to make it look even better!
By doing so, you could show that this ball is in the midst of a game or maybe being used for fun practice.
You could even simply show the leg of the character as they go in for a kick. For this character, you could use someone you know or maybe base it on your favorite professional player.
Finally, you could finish off your cartoon soccer ball sketch with a background. There are a few ideas you could use for a background setting.
For one, you could keep the scale a bit smaller and show this ball used in a small backyard. Or, you could make it a bit bigger and show it on a field.
If you really want to go all out, you could draw a massive stadium filled with fans.
Your Cartoon Soccer Ball Drawing is Complete!
That does it for all 6 steps of this guide on how to draw a cartoon soccer ball, and we hope you had fun replicating this iconic ball!
There are a few tricky aspects when drawing this ball, but these steps show how much easier it can be when you know what to do.
Now you can show off your own creativity as you add some extra details, color choices and other fun elements to your image.
How do you think you will go about finishing off this awesome cartoon soccer ball?
When you're ready for more fun, you can visit our website for more drawing guides and other awesome activities to enjoy. Be sure to visit often, as we have more coming soon!
You can also share your finished cartoon soccer ball drawing on our Facebook and Pinterest pages when you're ready to show it off!