I have become completely obsessed with tissue paper confetti since making our New Year's Eve banner a few weeks ago. That said, I couldn't help but pull it out again and use it for a fun Valentine's Day craft for you. Let me tell you, the confetti delivered once again because I am ecstatic over how pretty this heart suncatcher craft turned out. Simple, colorful and perfect for an afternoon Valentine's Day craft.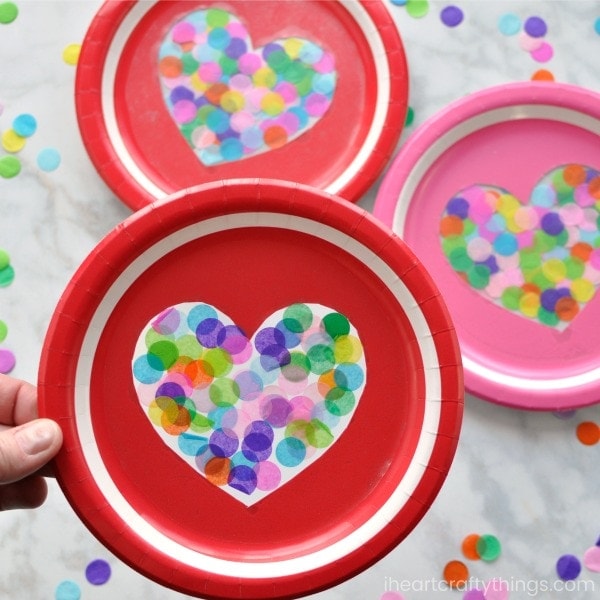 How to Make a Heart Suncatcher Craft
This post contains affiliate links to the products mentioned. I Heart Crafty Things is a participant in the Amazon Services LLC Associates Program, an affiliate advertising program designed to provide a means for sites to earn advertising fees by advertising and linking to amazon.com.
Supplies:
red and pink paper plates (We used dessert size plates from Target but any size of plate will work.)
tissue paper confetti
heart shape for tracing (we cut ours out of cardboard)
bowl for tracing
pen or pencil for tracing
Watch the full tutorial of us making this colorful heart suncatcher craft before you get started. Don't forget to subscribe to our YouTube channel so you never miss a new video!
Heart Suncatcher Craft Instructions:
1. Begin by tracing a heart on the bottom of your paper plate. Poke a hole in the center of the heart with your scissors and then cut the heart shape out from inside the paper plate. I find it easiest to use small craft scissors for this step.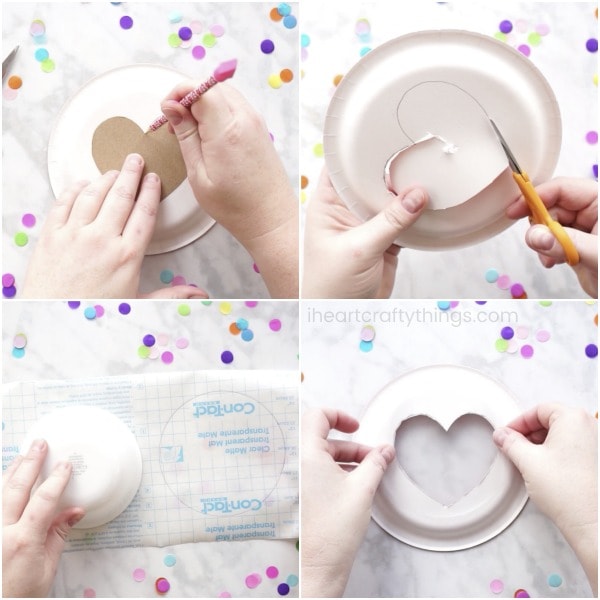 2. Find a bowl that is a bit bigger than the heart cutout and use it to trace two circles on the back of your clear contact paper. Cut out the circles.
3. Peel the backing off one of the contact paper circles and place it onto your paper plate, covering the heart shape completely.
NOTE: In our initial tutorial we put our first piece of contact paper on the back of the paper plate (as you see in the pictures) but then I realized it would be easier to control the confetti from getting outside the heart shape had we added the contact paper on the front of the paper plate first, then added the confetti on the bottom of the paper plate. Total failure on my part. So for a cleaner look, add the contact paper on the front of the paper plate first.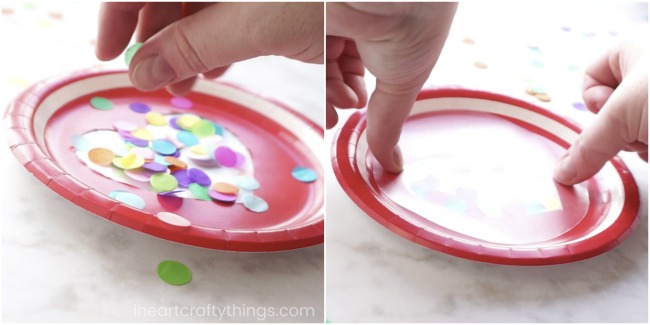 4. Sprinkle your circle confetti over the contact paper inside the heart shape on your paper plate.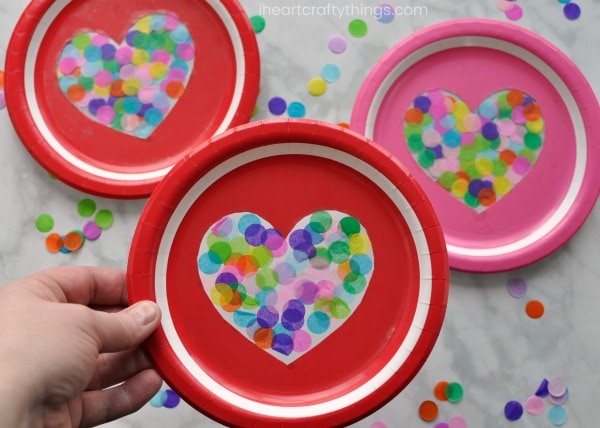 5. Peel the backing off your second circle of contact paper and cover the other side of the paper plate, sealing the confetti in place.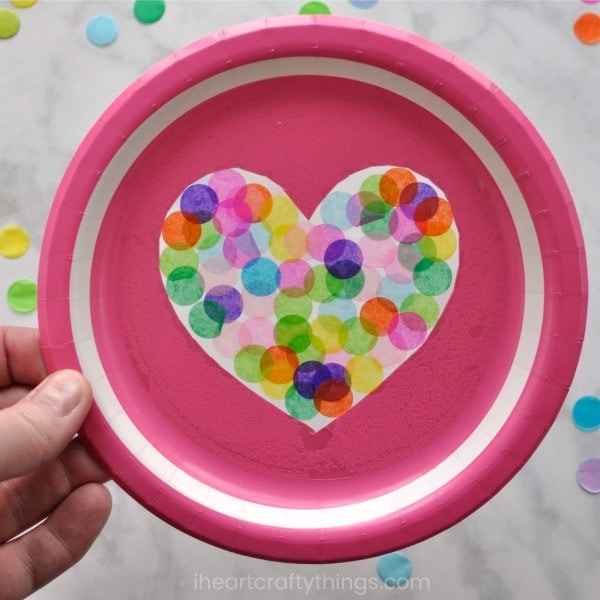 Lift up your paper plate to reveal the gorgeous colors of the tissue paper confetti showing through the clear contact paper. Hang your heart suncatcher craft up in a window to admire, or attach several together with string to make a beautiful heart suncatcher banner for Valentine's Day.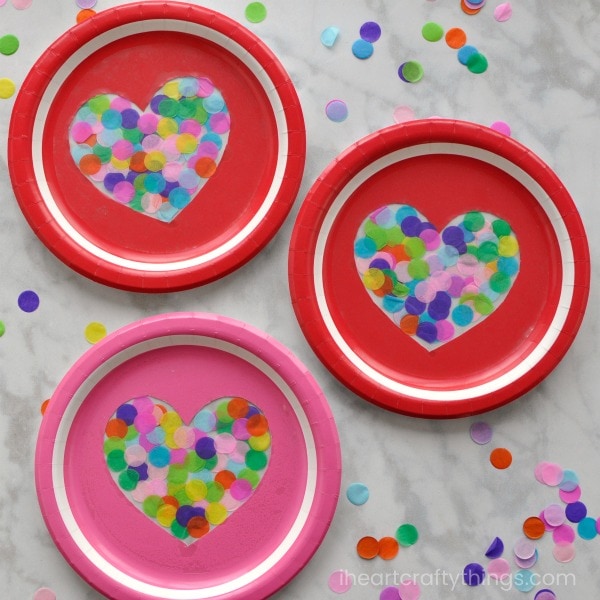 Looking for more fun Valentine's Day crafts?
You'll love this gorgeous handprint heart tree! Kids will also have a blast decorating these fun tin foil hearts. This black glue heart art project is a fabulous craft for older children.