We are slightly obsessed with snake crafts at the moment. I don't know how it happened exactly but we cannot get enough of them.
It might be the fun and colorful patterns that are making me love them so much, or how it's so fun to move them around into different curled up positions. At any rate, they are just fun, fun, fun!
This month I am joining in on the kids craft stars monthly challenge using rocks and we created this patterned rocks snake craft. It's like a busy bag and craft rolled into one and I'm pretty sure I've been having as much fun playing with these colorful rocks as my kids.
They have been a huge hit so go grab some rocks and paint markers and lets get crafting a colorful snake craft.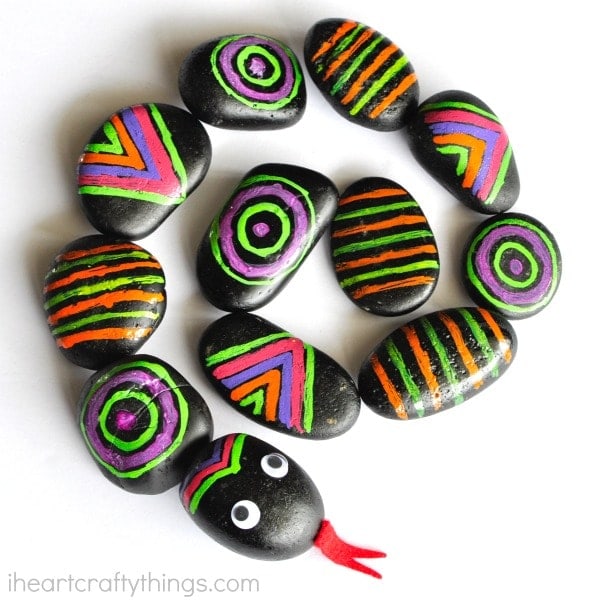 This post contains affiliate links to the products mentioned. Read our disclosure policy for more information.
How to Make a Patterned Rocks Snake Craft

Supplies for this Snake Rock Craft
– 12 black, flat rocks (We purchased a bag at Michaels that look similar to THESE)
– paint markers
– googly eyes
– red felt
– hot glue gun (adult supervision required)
Directions for this Patterned Rocks Snake Craft
1. Lay out all of your 12 black, flat rocks. Use your paint markers to draw patterns onto 11 of the rocks. We chose to make 3 different types of patterns onto our rocks. You can do as many or as little as you want. Let your rocks dry. It shouldn't take too long because the paint markers dry quickly.
2. Cut a snake tongue out of your red felt and use a hot glue gun to glue it on the end of your 12th unpainted rock. Then glue two googly eyes onto the snake head.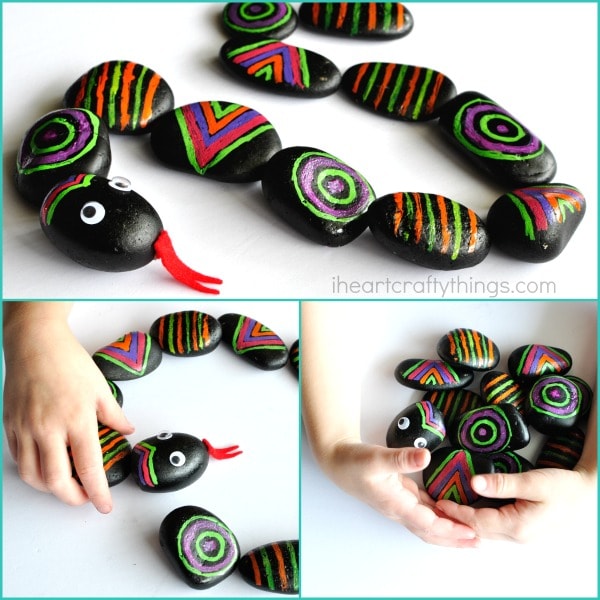 3. Lay the rocks in a pile and let kids get creative arranging them to make a patterned rocks snake craft.
This works fantastic as a busy bag for children. You can store your patterned rocks in a bag and then pull them out during quiet time for your little ones to use for creative play.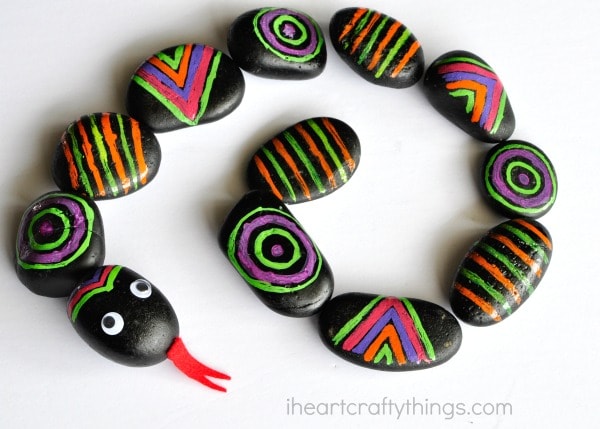 It is also a great activity for toddlers and preschoolers who are learning about patterns. You can start out making the snake with a few rocks and then challenge them to continue the pattern to finish making the snake. Also challenge them to come up with patterns all on their own.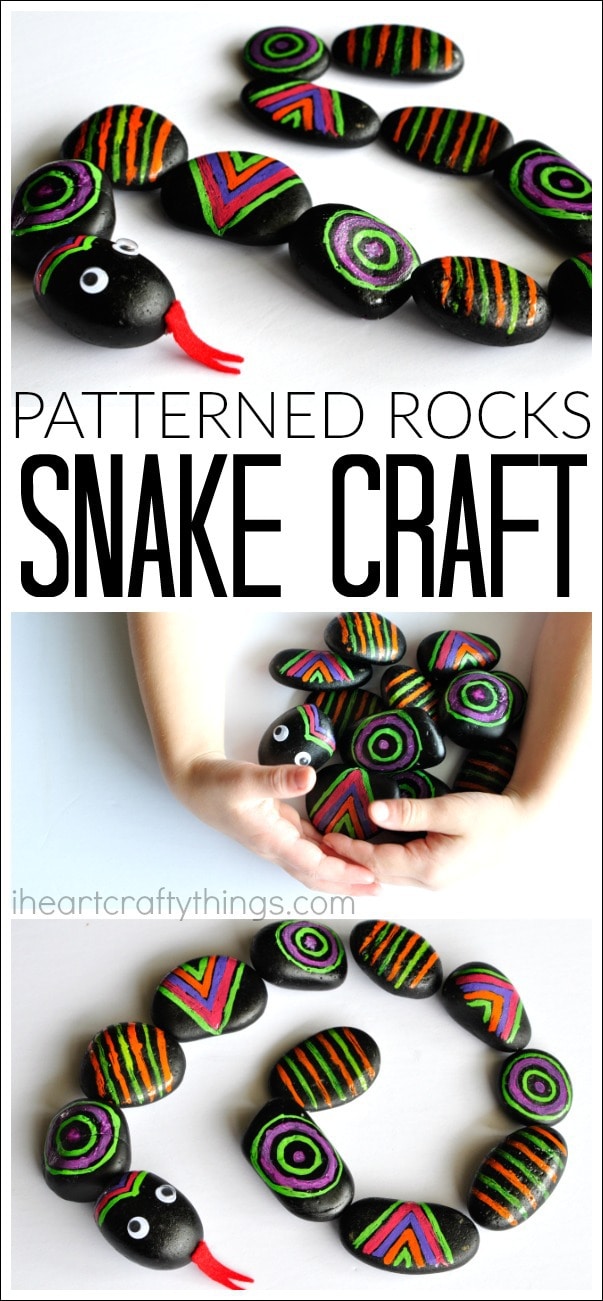 Check out these other stick crafts from the kids craft stars! You can keep up with all of our latest crafts by following our Pinterest Board or following our hashtag #kidscraftstars on Instagram.
Painted Rock Bugs | Easy Peasy and Fun
Watermelon Rocks | Glued To My Crafts
DIY Candy Rocks | Artsy Momma
Lovely Yarn Wrapped Rocks | Pink Stripey Socks
Painted Rock Fish Craft | A Little Pinch of Perfect
DIY Alphabet Rocks With Free Printable Letters | hello, Wonderful
Rock Owls | Crafty Morning