This open ended ugly Christmas sweater craft is sure to delight all ages from toddlers to adults, and beyond! You'll find out quickly that after designing your first sweater you'll need to make one in every color of the rainbow because this Christmas craft is soooo much fun! 
My sewing skills are substandard at best, so my desire to create a custom ugly sweater to wear at a Christmas party has never been a reality for me. Creating something out of paper and embellishments, on the other hand, is right up my alley!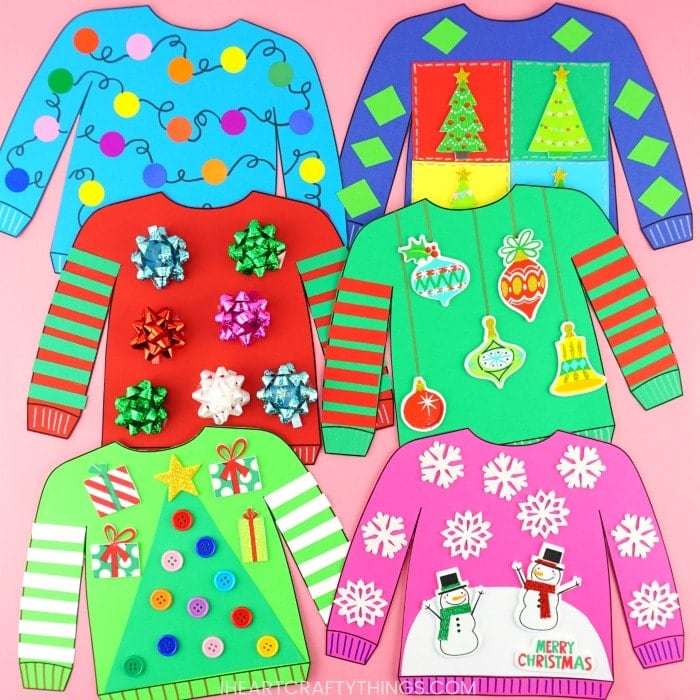 If you are like me and are lacking in the sewing department, don't fear because you can still create the ugly sweater of your dreams! Grab our sweater template below and get ready to master your creativity.
This colorful Christmas craft activity is sure to be a hit anywhere you make it, at home or school. Set up a craft station at a classroom Christmas party, or include this fun activity at an ugly sweater Christmas party you are hosting at home.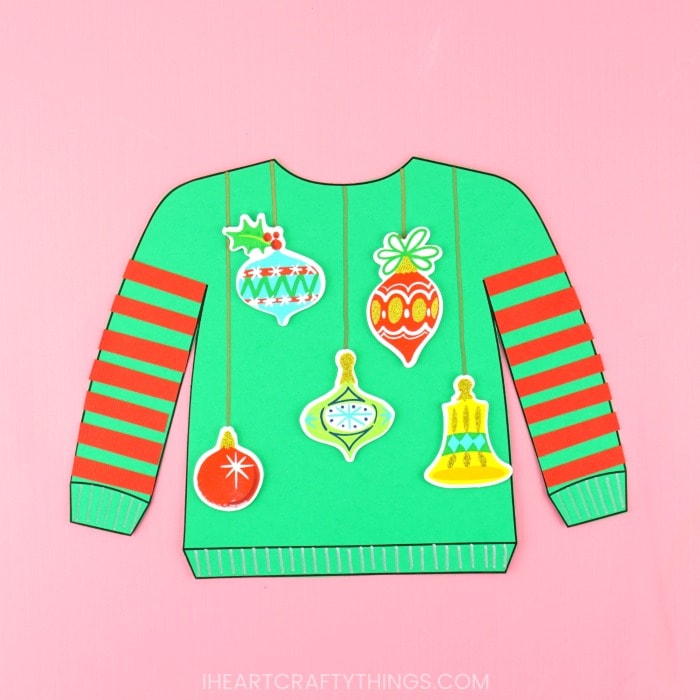 You can punch holes at the tops of each sweater and string them together to make a fun Christmas party bunting, or display them on a classroom bulletin board for holiday decor. Either way, when people see this awesome craft on display, they will stop and admire it's beauty!
Read our simple how-to instructions for making these awesome ugly Christmas sweaters below, and make sure to catch our full video tutorial inside this post.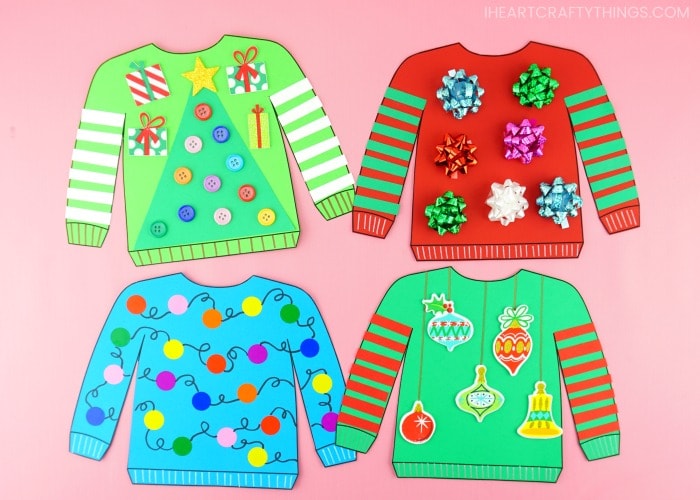 How to Make an Ugly Christmas Sweater Craft
I Heart Crafty Things is a participant in the Amazon Services LLC Associates Program, an affiliate advertising program designed to provide a means for sites to earn advertising fees by advertising and linking to amazon.com.
Supplies needed for this easy Christmas Craft:
Instructions for making your Ugly Sweater Craft
Step 1: We made prep for this fun Christmas craft super easy by giving you access to our free sweater template. Download the template here and print it out on colored cardstock paper.
I recommend printing out an assortment of different colors for children to choose from as the different colors can help inspire a child's design. An assortment of colors is fun even if you are making this craft with only one or two children.
Trust me, after designing one ugly sweater, you'll want to make one in every color of the rainbow.
Step 2: Use scissors to cut out the sweater template. Now your paper sweater is ready for decorating.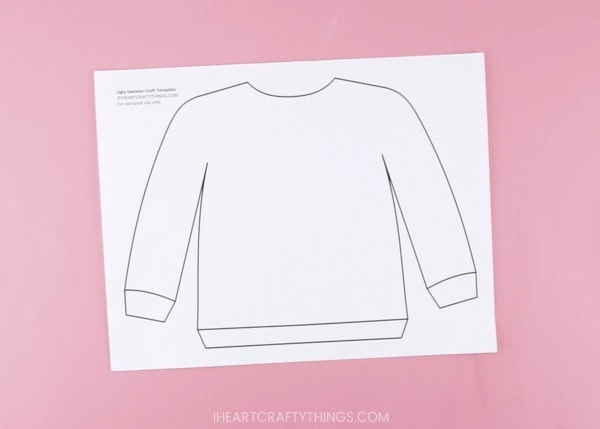 Design your unique Ugly Christmas Sweater
Step 3: Lay out an assortment of colored paper, markers and embellishments for children to decorate their Christmas sweater.
Using scissors and glue, have children use the embellishments and markers to design and customize their ugly sweater.
The complexity of the sweater designs will depend greatly on each child's age group, but that is the beauty of an open ended craft project. No matter what age you are, even adults, will have fun using their creativity to design their Christmas sweater.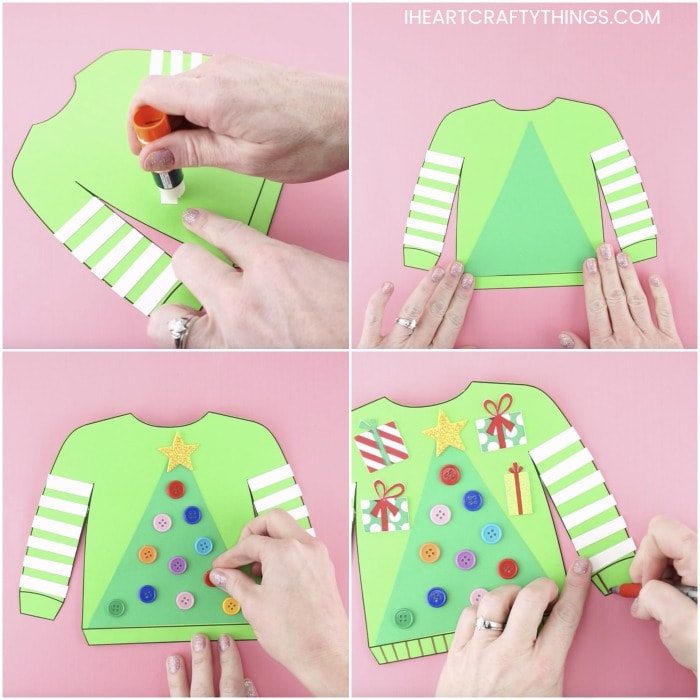 Toddlers and preschoolers will have fun simply peeling the backing off stickers and placing them on their sweater and then using crayons to add additional designs and color.
These self-adhesive buttons from Oriental Trading are amazing for this craft because you won't have to worry about glue drying. They come in a huge bundle of rainbow colors so there will be plenty to use for a large group. (We shared more fun ways to use those buttons over at Fun365.com recently.)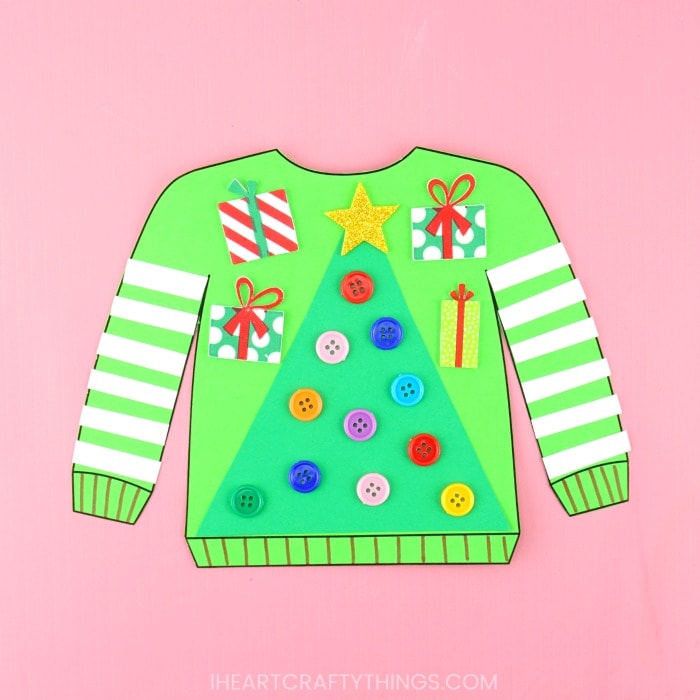 You can find an assortment of foam Christmas sticker packs at your local craft store for decorating too. The stickers we used on our sweaters came from both Hobby Lobby and Michael's.
Elementary-age children and older kids will spend more time planning and laying out their sweater design before assembling it together.
We have six different examples pictured below of fun ways you can decorate your ugly Christmas sweater.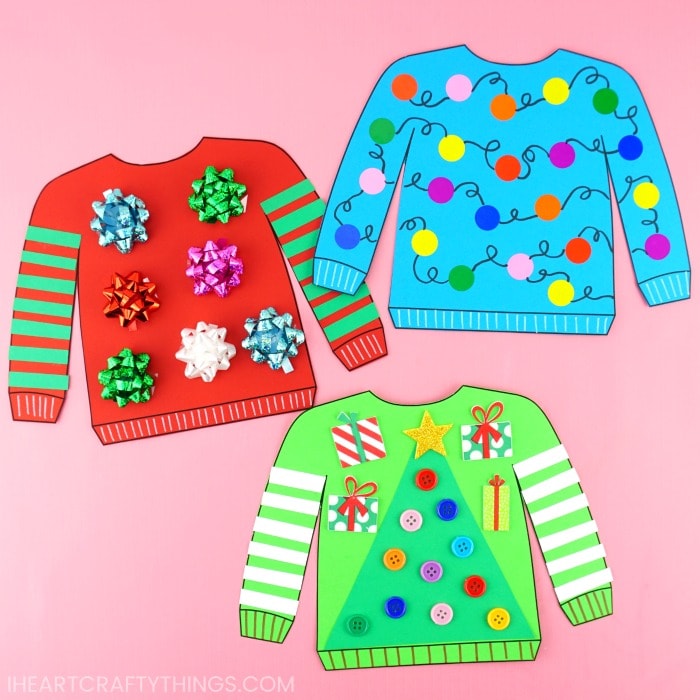 Try gluing different shapes on the sleeves like rectangles or diamonds to make stripes and other patterns on your sweater.
Draw stitching on the sleeves and bottom of your sweater with contrasting colors. Metallic markers and white paint markers are especially fun for adding some festive flair.
Create a sweater full of Christmas lights strung together with colorful circle label stickers and swirly black lines. Or use mini Christmas present bows to decorate your sweater. Don't you love the 3-D effect of the bows popping off the sweater?!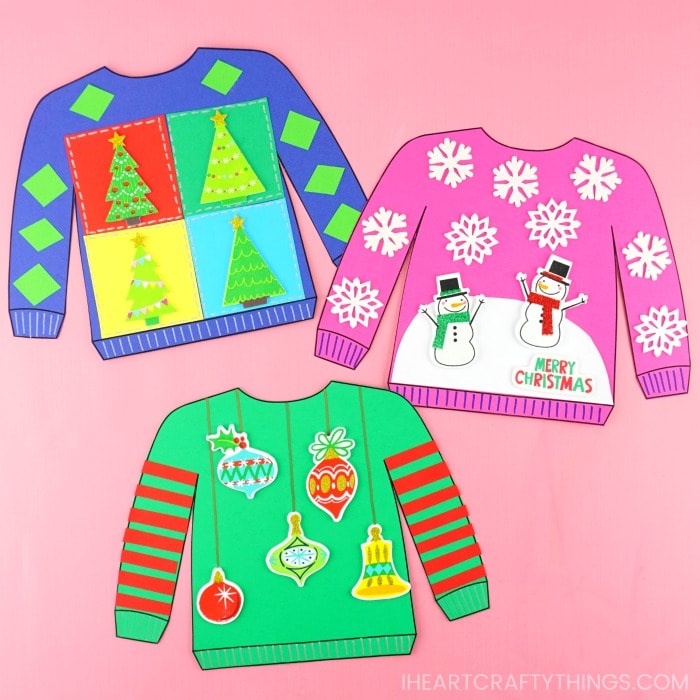 Make a festive holiday theme on your sweater with different felt Christmas stickers.
In one of our examples above we placed ornament stickers at varying levels on the sweater and then used a marker to draw lines down from the top to look like ornaments were hanging on the sweater.
We also used felt stickers to create a wintery snowman scene with glittery snowflakes falling down and adorning the ugly Christmas sweater.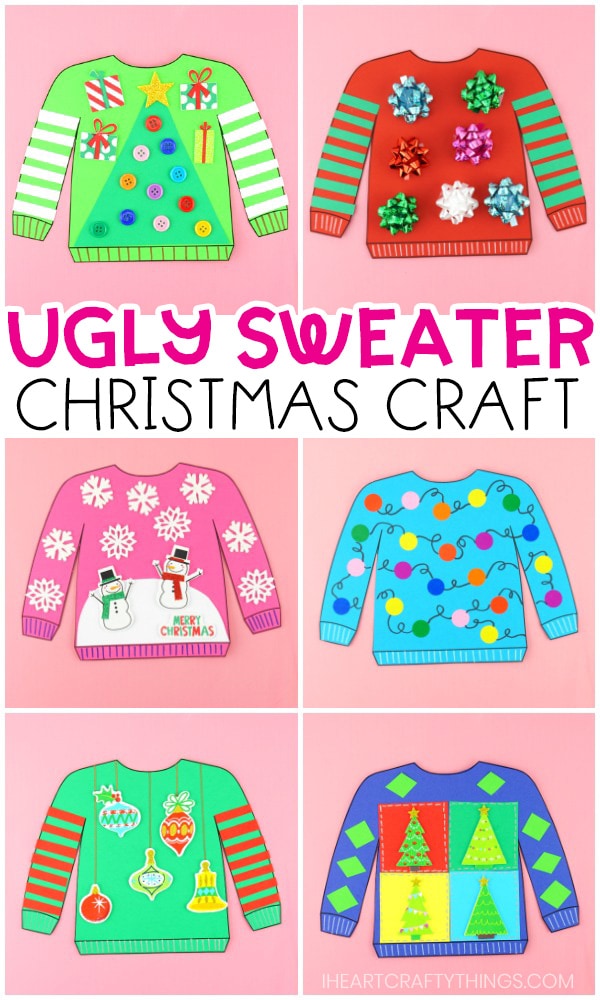 In another example, we created four different quilt patch squares decorated with Christmas trees and glued them together in the center of the sweater. Then sewing stitches were drawn on each of the squares with markers.
No matter how you choose to design your ugly Christmas sweater craft, it is sure to be a stunner!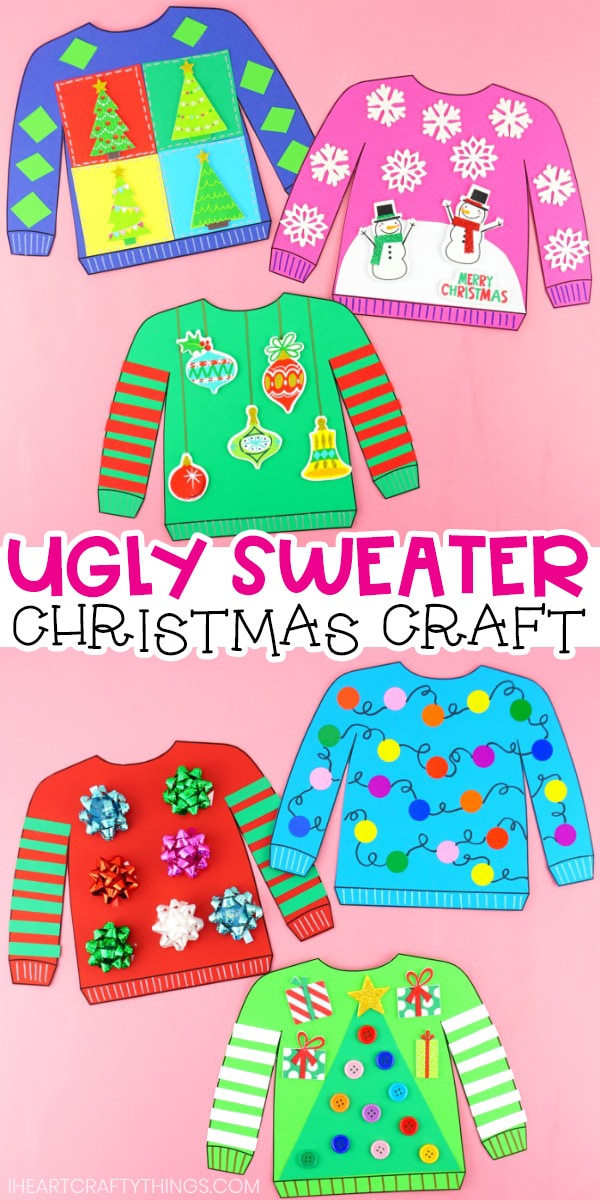 Looking for more simple and fun Christmas crafts for kids? Check out our collection of over 50 beautiful Christmas arts and crafts ideas for kids.