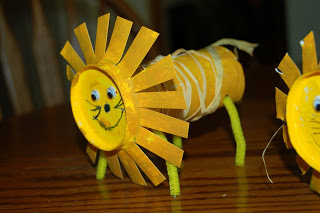 I haven't been successful in finding a preschool for my son yet so I've started doing my own preschool with him at home during the week. I'm trying to go for the "Letter of the Day" theme like on Sesame Street and this week we are working on L. We made this cute cardboard roll lion craft to go with our L theme for the week.


How to Make a Cardboard Roll Lion Craft
Supplies:
– paper cups (one per animal)
– toilet paper roll (one per animal)
– scissors
– tape
– paint and paint brushes
– hole punch
– pipecleaner (one per animal)
– wool or raffia
– permanent marker
Directions:
1. Paint the outside of a small paper cup and toilet paper roll with brown and yellow paint. Then paint the bottom of the paper cup yellow.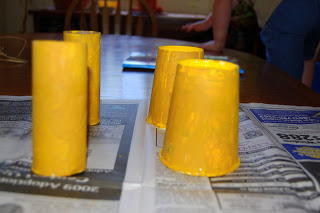 2. Once the paint is dry, cut around the base of the paper cup about an inch from the bottom. Then cut slits around the cup and fold them up to form a mane.
3. Draw on facial features using a permanent marker and glue on googly eyes.
4. Punch 4 holes in the toilet paper roll where you want the legs to go. Cut a pipe cleaner in half, then thread each half through two holes to form the front and back legs. Tape the legs securely in place on the inside of the toilet paper roll.
5. Wrap wool or raffia around the toilet paper roll to add fuzz and texture. (I hung some off the back to make a tail and taped it in place)
6. Carefully glue or tape the head onto the body.