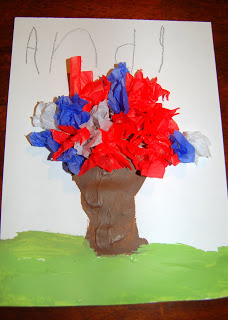 My boys were so tickled to make these special fourth of July trees. They are still too young to understand the whole meaning of the fourth, but I thought introducing them to the red, white and blue colors and the American Flag was sufficient learning for preschool age.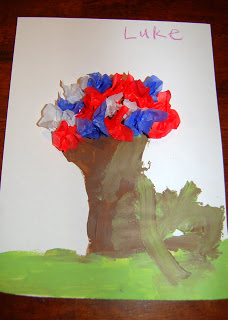 How to Make a 4th of July Tree:
-To make the trunk, trace your child's arm from the elbow up, including the fingers onto a piece of white construction paper. Paint the tree trunk brown and paint green grass at the bottom of the tree.
-While waiting for the paint to dry, cut out 1.5 inch square pieces of red, blue and white tissue paper. (My children were too young to do this part, but I'm sure an older child would love to participate in this step).
-Wrap a tissue paper around the eraser end of a pencil and glue to the trunk. Add as many tissue pieces as you would like to fill up your tree.

After I completed the project I thought it would have been fun to cut out the tree trunk and place it on a blue construction sheet and add white tissue paper clouds after I was done with the tree. Maybe we will do that next year!