Looking for a fun craft to keeps the kids out of the cold winter weather and entertained for the afternoon? If so, you are going to love this paper plate rocking polar bear craft we are sharing today! In this post learn how to make this fun rocking polar bear with our step-by-step tutorial. Find a video of this cute little guy in action near the bottom of the post.
We are so excited to have Shikha from The Joys of Sharing contributing this fabulous polar bear craft today. Last summer we became enthralled with her website after she shared this amazing rocking elephant craft and we are honored to have her here sharing some of her creative talents. Make sure to stop by her website and follow her on Instagram to keep up with her latest arts and crafts ideas.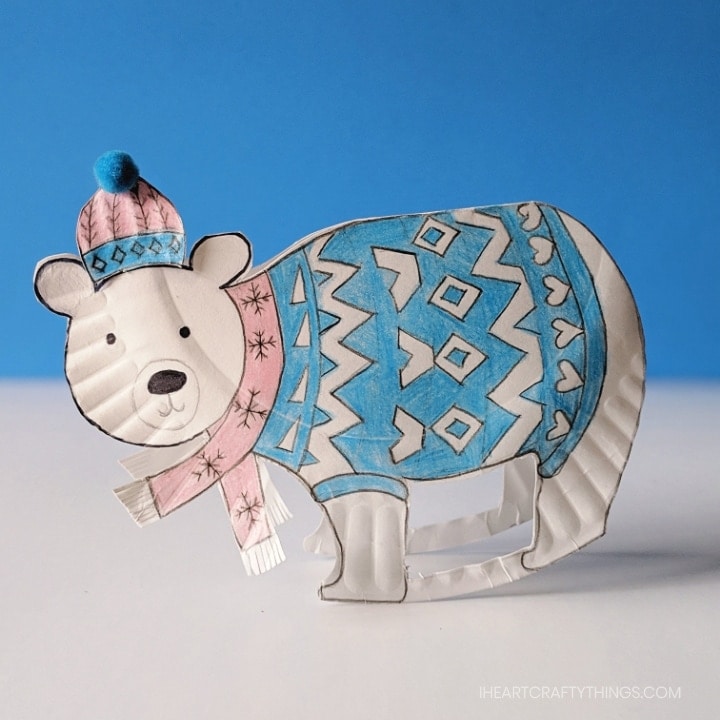 How to Make a Paper Plate Rocking Polar Bear Craft
This post contains affiliate links to the products mentioned. I Heart Crafty Things is a participant in the Amazon Services LLC Associates Program, an affiliate advertising program designed to provide a means for sites to earn advertising fees by advertising and linking to amazon.com.
Supplies:
paper plate
colored pencils
small pom-pom
black marker
scissors
safety cutter
pencil
Instructions:
1. Fold a paper plate into the half.
2. Trace the polar bear's outline on one side.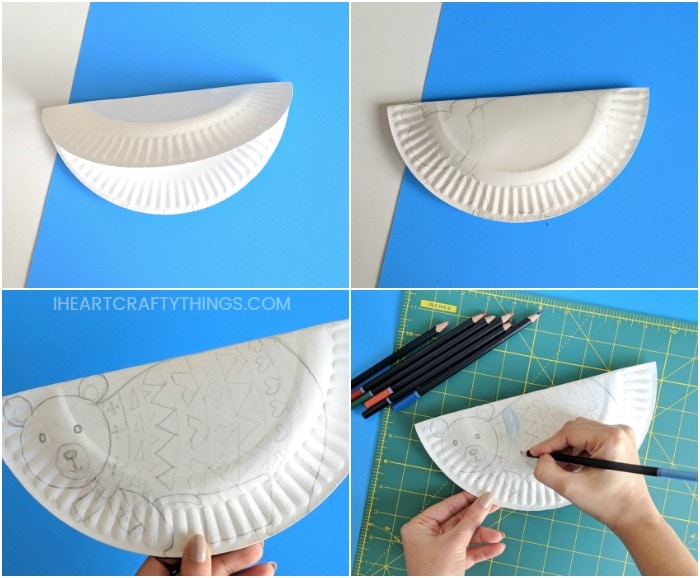 3. Make the pattern for polar bear's sweater and scarf. Also, make bear's eyes, nose and mouth.
4. Fill the sweater and scarf pattern using pencil colors.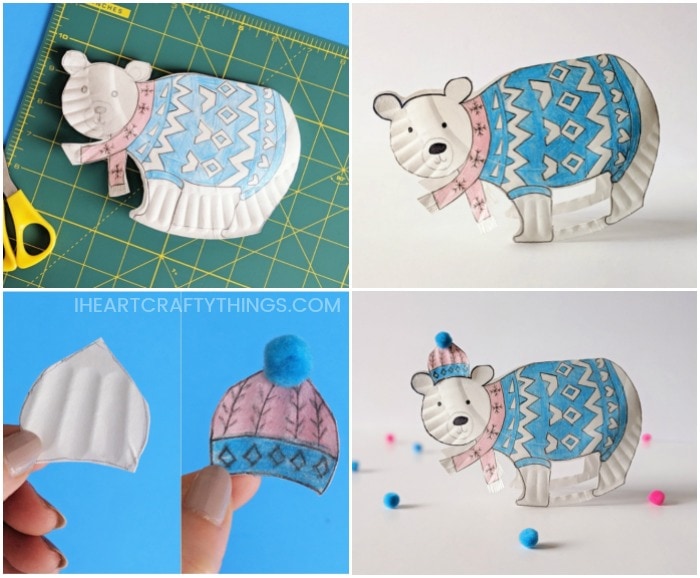 5. Cut out the polar bear leaving the top part intact.
6. Carefully cut out the paper plate section between the legs leaving approx 0.5″ of the paper plate connecting the legs to make the runner. Cut slits on both of the ends of the scarf and fray them a little bit to look like scarves.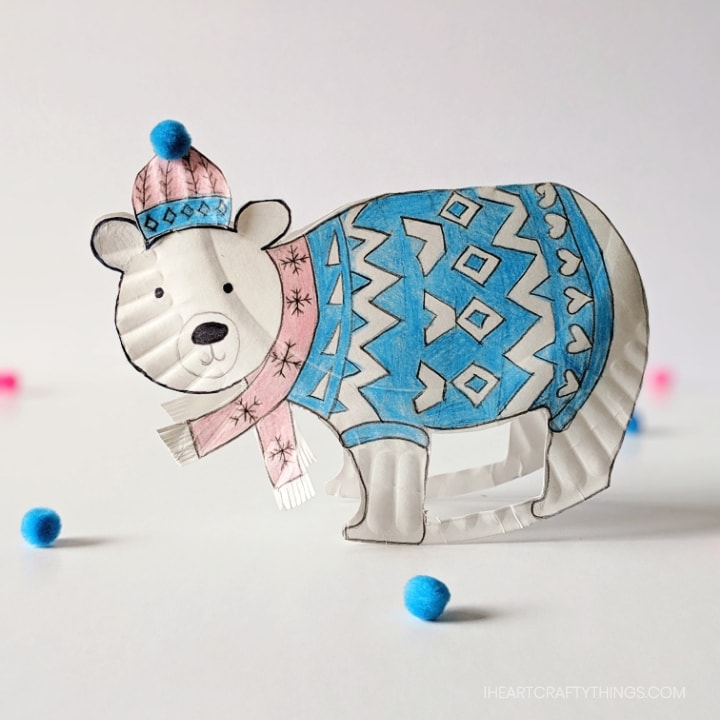 7. Cut out a hat from paper plate scrap left. Make a pattern on hat and fill it with pencil colors. Glue a pom-pom on the top.
8. Attach the hat on the bear's head. And your bear is ready to rock in winter.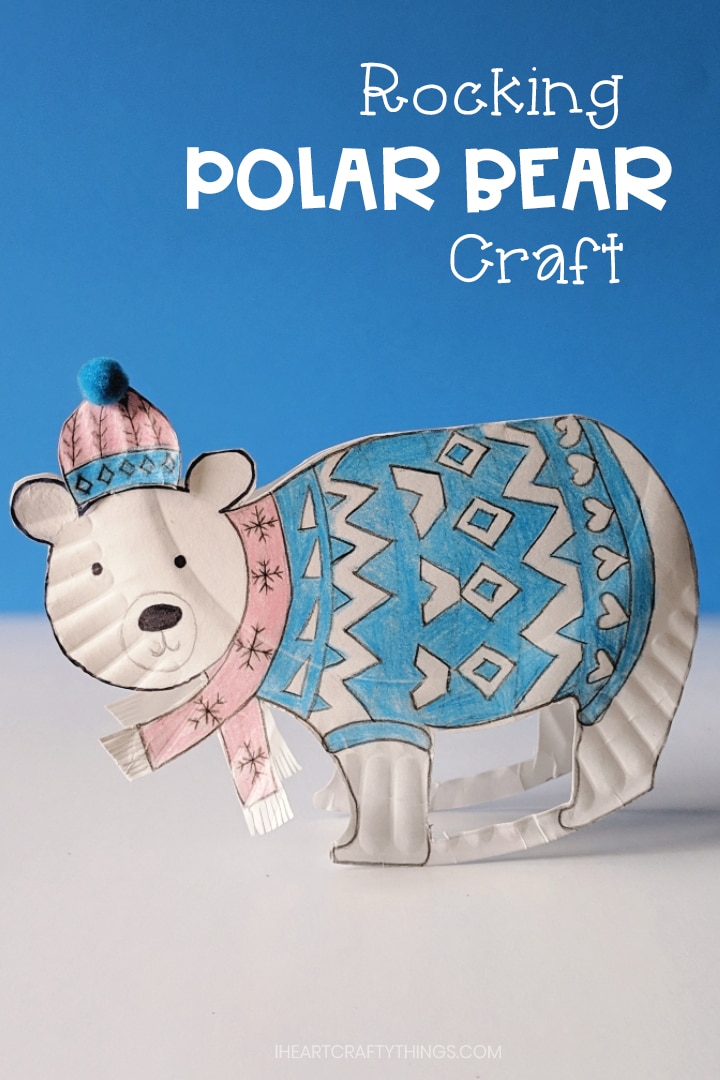 Video Preview of Rocking Polar Bear Craft
Watch the video below to see this fun polar bear craft in action. Simply press down on the back of the polar bear and watch as he rocks back and forth. You can view more easy kids craft tutorials on our Facebook page, or right here on our website.
More interactive paper plate crafts for kids
Chomp, chomp! This paper plate bunny craft is another fun craft kids can play with after making it. Perfect for a spring kids craft or for Easter.
Use a paper plate for a base in this cute swimming jellyfish craft. Kids will love watching their colorful jellyfish dance and swim around in the ocean.
This playful spider web craft is another fun way kids can make a craft and then get to interact with it. Watch your spider move up and down it's web on the paper plate.
Love creating with paper plates? Here are over 20 paper plate animal craft ideas your kids will love!