One of my favorite things about summer is the opportunity to observe so many different types of bugs and insects. One of our favorites is dragonflies.
We have a local pond we often visit in the summer and love walking around it and spotting the shimmery wings of dragonflies as they fly around the pond. Today we are sharing this shimmery dragonfly craft for kids.
Using pretty craft jewels and glittery pipe cleaners makes this dragonfly craft absolutely gorgeous. It's a must to make with your kids this summer!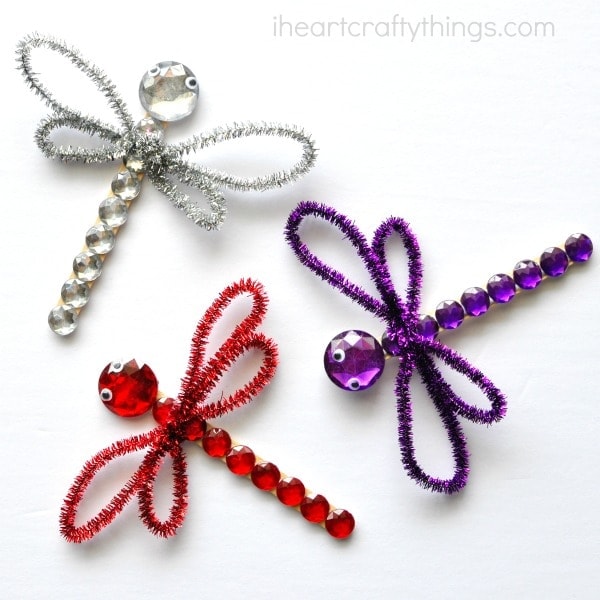 This post contains affiliate links to the products mentioned. Read our disclosure policy for more information.
How to Make a Shimmery Dragonfly Craft for Kids

Supplies Needed for this Dragonfly Craft
– wood craft sticks
– acrylic craft jewels (ours came from this huge Bucket of Bling that we love! You can find one at your local Walmart.)
– tacky glue
– glitter sticks (you can also find these at Walmart)
– small googly eyes
– hot glue gun (adult supervision required)
Directions for this Shimmery Dragonfly
1. Start by gathering up all of the craft jewels you'll need for your dragonfly craft. We used 8 small round jewels and one larger round jewel for each dragonfly. We used the same colors, but you might enjoy getting creative and mixing up your colors.
2. Add a line of tacky glue all the way down your craft stick. Add your jewels onto your glue, making sure to have the large craft jewel on one end for the dragonfly head. Allow the tacky glue to dry.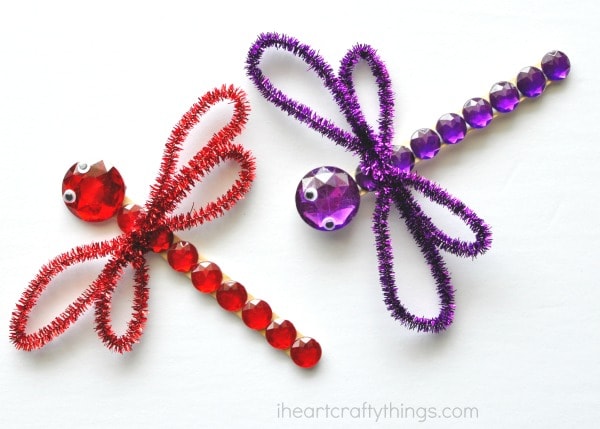 3. While your glue is drying, get your dragonfly wings ready. You'll need two glitter sticks (or pipe cleaners) for each dragonfly. To get the wings ready, take your first glitter stick and fold it in half. Twist the ends together to join them in a circle and then pinch down the center of the circle to form oval shaped wings. Cut about 1-2 inches off of your second glitter stick and do the same thing to form the oval shaped wings. (You can see some pictures of this process HERE.) Twist the smaller set of wings around the larger set of wings in the middle to connect them together.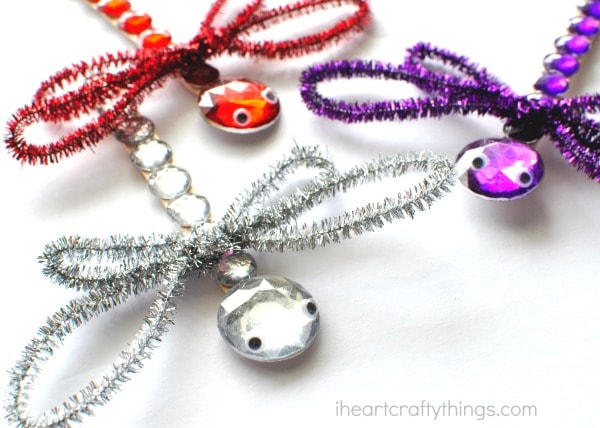 4. Use a hot glue gun to add some glue onto your dragonfly body where you want to place your wings and then press the shimmer stick wings down onto the glue.
5. Finish your shimmery dragonfly craft by gluing small googly eyes onto the dragonfly face. Aren't they gorgeous?!