(Boy do we need a new family picture! This one is a bit outdated.)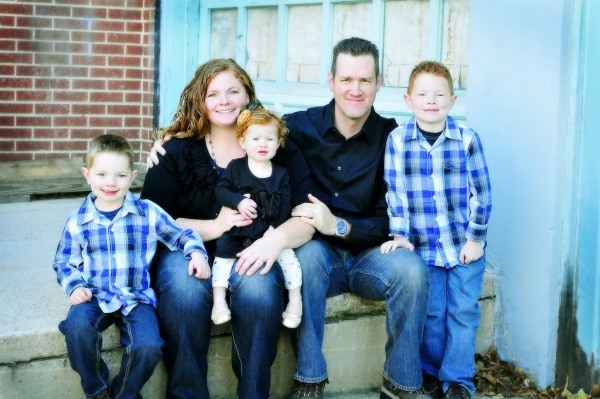 Hello and Welcome to I Heart Crafty Things!
My name is Rachel and I am the creator, author and editor of this website and craft blog. I am a mother of three who gets excited (ok, sometimes overly joyed) about doing arts and crafts with my kids. Here at I Heart Crafty Things you will find fun and simple arts and crafts activities for children, educational activities, printables and creative family fun ideas.

How did I Heart Crafty Things come about?
I started my creative journey several years ago when my oldest son was a toddler and I found that we enjoyed making crafts to go along with the books that we brought home from our local library every week. Designing crafts to make with my children became my hobby and the fact that it involved spending quality time with my children made it absolutely perfect! Over the years as my children have grown (my oldest is now 12) I've also enjoyed sharing fun educational activities and printables that I have used at home with my children. I am not a certified teacher and don't profess to know anything about early childhood education, but I love teaching my children and I love sharing our activities and ideas with you.
Along with our love of book inspired crafts, I also have a serious addiction to crafting with paper plates and cupcake liners. Someone also recently nicknamed me "The Bird Lady" because of my ever growing collection of bird crafts, especially owls. Oh how I love owls!
I am super duper excited that you are here and I hope you heart crafty things as much as I do! If you are new, I would suggest browsing through all of the categories in my menu bar. If you can't find what you're looking for shoot me an email and I can help you find it, or I can help you create it. 😉
Where are we located?
I Heart Crafty Things is located in West Jordan, Utah which is a suburb on the west side of Salt Lake City.
More About Me
My husband and I have been married for 15 years. I have an AAS Degree in Business Education which is pretty much a fancy Secretary degree. I worked for about 7 years as a legal assistant but I left the workforce after the birth of my daughter and I currently enjoy being a stay at home Mom.
A Little Bit of Randomness
If it involves Peanut Butter, I am ALL in! Throw in some chocolate with the peanut butter and I am literally in HEAVEN!! "Chocolate" was one of my first words as a baby.
I am terrified, TERRIFIED of spiders. They are seriously out to get me, I swear it! When I was two I put a black widow in my mouth and attempted to eat it. By some miracle, my Mom got it out of my mouth before it bit me.
Shoes??? Meh…I prefer a closet full of EARRINGS!
The color yellow, the fall season, field trips with my kids and being in nature make me very, very happy! I could eat pizza every day of my life and not get sick of it and I LOVE the smell of paper!
Phew! That was a mouthful.
Questions? Don't be afraid to ask. I love hearing from my readers! You can email me at rachel@iheartcraftythings.com.